Butternut Squash Chips with Cranberry Toppings
Butternut Squash Chips with Cranberry Toppings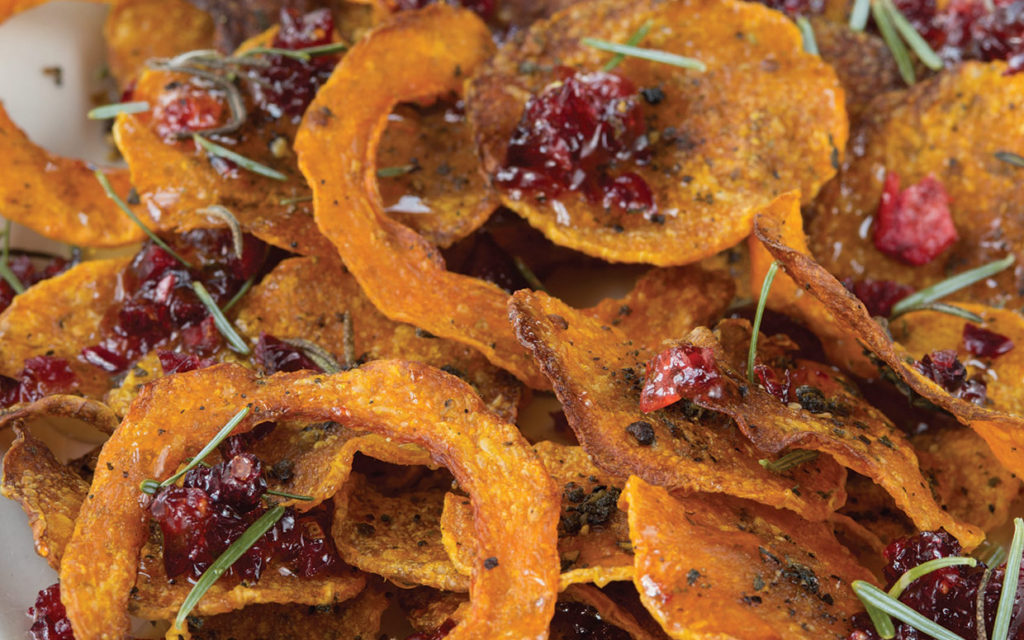 1½ lb (1 medium) butternut squash
2–3 T. oil—walnut oil would be nice
2 tsp. finely chopped fresh sage leaves (6–7 leaves)
½ tsp. ground black pepper
½ tsp. finely chopped fresh rosemary
½ tsp. kosher salt
¼ tsp. ground white pepper
2 T. finely chopped dried cranberries
1 T. honey
½ tsp. freshly squeezed lemon juice
Coarse salt, such as Celtic or Maldon sea salt
Fresh rosemary for garnish
Preheat your oven to 350°F, with the racks positioned in the upper and lower thirds. Line two baking sheets with parchment paper or silicone baking mats and spray or lightly brush them with some of the oil. To prepare the squash, remove about ½ inch from the top and bottom. Divide it into two sections where the neck meets the seed bulb, then remove the skin with a sturdy vegetable peeler or a paring knife. If you plan to use the seed bulb, scoop out the seeds. Cut each section into even, ⅛ inch slices, about as thick as two stacked quarters. A Mandoline or food processer would be helpful here. If the flesh around the seed bulb is less than ½ inch thick, save it for another use. In a wide pot or deep skillet, bring about 2 quarts of water to a boil. Place a bowl of ice water near your cooktop. Cook the squash in 2 batches, boiling each for 1½ to 2 minutes. Don't overcook them or they'll break apart. Carefully scoop the slices into the ice water. Lay the slices on a kitchen towel and pat them completely dry.
In a mixing bowl combine the sage, black pepper, rosemary, salt, and white pepper. Pour the oil into another bowl for brushing. Combine the cranberries, honey, and lemon juice and set the mixture aside. Arrange the slices in a single layer on the prepared baking sheets so that they're close but not touching. Brush them generously with the oil, flip and brush the other side, and then sprinkle them with some of the herb mixture. Bake the slices for 15 minutes, flip them and sprinkle them with more of the seasoning, then rotate the baking pans and return them to the oven on opposite racks. Continue cooking the chips until they're a deep amber-brown and crisp—10 to 15 minutes longer, depending on thickness. Check the chips frequently—they can burn quickly—and remove the ones that finish early. Note: The chips will get crisper as they cool. To serve, spread the chips on a platter and drizzle them with the cranberry topping, coarse salt, and fresh rosemary.
You can use other winter squash for this recipe— kabocha, delicata, acorn—but I think the butternut squash was custom-designed for chip-making. Its neck section yields perfect rounds, and its sturdy, dense flesh makes it easy to handle. Look for a squash that has a long, straight neck and a small seed bulb on its end.
Fry. Butternut squash chips fry up nicely in a couple of minutes in hot oil! Par-boil and dry the slices as described above, then follow a basic frying technique