Holiday Cherries
Holiday Cherries
Perfect with duck, ham or a cheese course. Or try them over a tart, topped with whipped cream.
2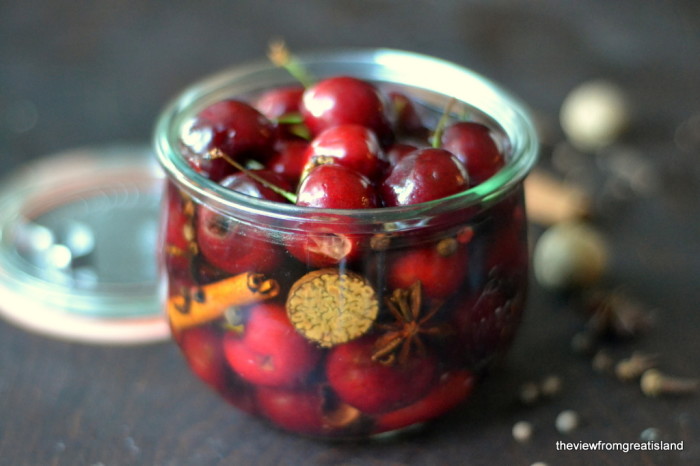 1/2 pounds sweet cherries
3 1/2 C. red wine vinegar
1 1/2 C. sugar
1 tsp. black peppercorns
4 whole cloves
2 (3-inch) cinnamon sticks
2 bay leaves
1 (10 x 1/2-inch) lemon rind strip
Wash and pat the cherries dry. Pierce each of the cherries several times with a fork; set aside.
Place vinegar and remaining ingredients in a nonaluminum saucepan; bring to a boil, stirring to dissolve sugar. Reduce heat; simmer 5 minutes. Remove from heat; let stand 30 minutes. Strain vinegar mixture through a sieve over a bowl; discard solids. Return vinegar mixture to pan; bring to a boil. Spoon cherries into hot jars; cover with hot vinegar mixture, leaving 1/4-inch head space. Cover jars with metal lids; screw on bands. Cool. Refrigerate at least 2 weeks before serving.