Uses for Jams & Jellies
Uses for Jams & Jellies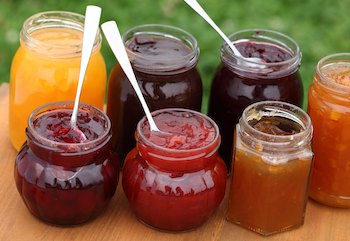 To spruce up store-bought coleslaw, stir in some orange marmalade and toasted chopped almonds.
To balance the flavor of tomato sauce, stir in 1/4 C. grape jelly for every 4 C. homemade sauce. The sweetness of the jelly helps to balance the acidity of less-than-perfect tomatoes.
To make muffins with a surprise inside, spoon 2 tsp. muffin batter into each muffin cup. Make an indentation in the muffin batter with the back of a spoon and ladle in 1 tsp. jam, marmalade, or preserves. Spoon the remaining batter over the jam in each muffin C.. Bake as directed in the recipe.
To make overnight stuffed French toast, cut 1 loaf Italian bread crosswise into 8 to 10 slices that are each about 1 1/2 inches thick. Cut a slit through the top crust of each slice to form a deep pocket. In a medium bowl, mix together 1 package (8 oz.) cream cheese, 2 tsp. confectioners' sugar, and 1/2 tsp. almond extract. Spread the cream cheese mixture equally inside the bread pockets, then spread 1/2 to 3/4 C. strawberry, raspberry or cherry preserves equally inside the pockets, opposite the cream cheese. Lay the stuffed bread in a single layer in a shallow 4-quart baking dish (roughly 15 x 10 inches). In a medium bowl, combine 5 eggs, 1 1/2 C. light cream or half-and-half, 1 tsp. vanilla extract, 1 tsp. confectioners' sugar, and a pinch of salt. Pour evenly over the bread, tilting the pan and swirling the egg mixture to completely saturate the bread. Cover and chill in the refrigerator overnight. In the morning, bring the bread to room temperature, then cook in unsalted butter or oil on a griddle until golden brown on both sides, 3 to 5 minutes per side. Serve with maple syrup.
To make a quick glaze for baked or grilled chicken, mix together cherry preserves and fresh orange juice. Brush onto the chicken before baking or during the last 5 minutes of grilling to create a glaze.
For a quick carrot slaw with a twist, combine 3 C. pre-shredded carrots, 1/2 chopped red onion, 1/4 C. golden raisins, 1 tsp. orange marmalade, 1/4 C. olive oil, 3 tsp. capers, 3 tsp. red-wine vinegar, 1/4 tsp. salt, and 1/4 tsp. freshly ground black pepper.
For sweet and savory slow-cooked brisket, put a 3-pound brisket in a slow cooker, in one or two pieces. In a medium bowl, combine 1 C. ketchup, 1/4 C. grape jam, 1 envelope onion soup mix, and 1/2 tsp. freshly ground black pepper. Add the mixture to the slow cooker, making sure the meat is well-coated. Cover and cook on low until the meat is tender, 8 to 10 hours.
To thicken a vinaigrette, whisk in a few tsp. orange marmalade, apricot jam, or raspberry preserves.
For a quick filling for thumbprint cookies or nut rolls, mix together raspberry jam and almond extract.
To pull together a fresh strawberry dessert sauce, melt 2 tsp. strawberry preserves over medium heat. Add 2 tsp. brandy, a pinch of salt, and 1 pint sliced strawberries. Cook until the berries begin to fall apart. Cool, then serve the sauce over cake or ice cream.
For an easy cherry marinade for grilled chicken, combine:
1/4 C. cherry preserves
2 tsp. olive oil
6 oz. black cherry soda
1/2 tsp. salt
2 tsp. fresh lemon juice
1/4 tsp. ground cinnamon
Add to the mixture 2 pounds of boneless, skinless chicken breasts or thighs and marinate in the refrigerator for 4 to 8 hours. Grill or broil the chicken, then bring the marinade to a boil in a saucepan. Add another 6 oz. black cherry soda, a drained can of dark sweet Bing cherries, and boil for 5 minutes. Dissolve 1 tsp. cornstarch in 1 tsp. cold water and stir into the marinade until thickened. Serve with the chicken. Some grated orange zest makes a nice touch.
For a wonderful sauce for salmon or chicken, mix 1 part blueberry or raspberry jam into 2 parts barbecue sauce. Spoon a layer of the sauce over the salmon or chicken and broil until finished. Spoon a little more sauce over the salmon or chicken before serving.
For a simply outstanding glaze for roasted or grilled leg of lamb, use red currant jelly mixed with fresh orange juice.
To stir up a quick glaze for barbecued ribs, combine 2/3 C. apricot preserves, 2 tsp. Dijon mustard, 1 tsp. toasted sesame oil, and 1/4 tsp. cayenne pepper in a saucepan. Simmer over low heat for 5 minutes, then brush onto the barbecued ribs during the last 10 minutes of cooking.
For an easy apple glaze for pork, combine 1/4 C. apple jelly, 2 tsp. fresh lemon juice, 1/2 tsp. ground cinnamon, and 1/4 tsp. ground allspice. Place 1 pork tenderloin in a small roasting pan and brush with half of the apple-jelly mixture. Roast in a 375°F oven until the center registers 155°F on an instant-read thermometer and the juices run clear, about 25 minutes. Let stand for 10 minutes. Meanwhile, on a broiler pan, arrange 2 cored and thinly sliced red apples and brush with the remaining apple-jelly mixture. Broil 5 inches from the heat until the apple slices are tender, about 5 minutes. Serve with the sliced tenderloin.
To make an easy orange sauce for fruit desserts or cheesecake, boil 3 C. fresh orange juice until reduced to 1 1/2 C., then stir in 1/2 C. orange marmalade and 1/4 C. firmly packed brown sugar. Thicken with a mixture of 1 tsp. cornstarch dissolved in 1 tsp. fresh lemon juice.
To make upside-down muffins, spoon 1 1/2 tsp. your favorite jam or preserves into the bottom of each greased muffin C. in the pan. Top with your favorite muffin batter and bake as directed in the recipe. Run a knife around the sides and invert the muffins onto a rack to cool.
To make a glaze for Brie cheese, stir together 1/2 C. strawberry or cherry preserves, 1/2 tsp. grated lemon zest, and 1/4 tsp. almond extract. Spread over the wheel of Brie and bake at 350°F until the cheese just begins to melt, 12 to 15 minutes.
For a jump-start on cold strawberry soup, combine strawberry preserves and buttermilk as the base.
For a dessert of strawberries with warm rhubarb sauce, cook 1 pound frozen, cut-up rhubarb and 1/2 C. sugar in a saucepan over medium heat until the rhubarb is softened, about 10 minutes. Stir in 1 C. strawberry preserves. Serve warm over 1 1/2 pints sliced strawberries. Garnish with sour cream or whipped cream, if you like.
To doctor up plain yogurt, stir in strawberry, raspberry, or blueberry jam. It's both cheaper and healthier than buying yogurt C. that are premixed with "fruit at the bottom."
For an easy cake filling, mix 1/2 C. your favorite jam, jelly, or preserves with 1 tsp. brandy or liqueur and microwave until the mixture can be stirred smooth.
To quickly glaze a fruit tart or cheesecake and give it a pretty sheen, melt some red currant jelly in a microwavable bowl. Brush the melted jelly over the top of the fruit tart or cheesecake.
Uses for Ketchup
To make real Russian dressing, whisk together 1/4 C. mayonnaise, 1/4 C. sour cream, 2 tsp. ketchup, and 3 tsp. fresh lemon juice. Then, to be truly authentic, fold in 2 tsp. red or black caviar (remember— salmon eggs are very reasonably priced if you don't want to splurge on the serious stuff).
For a basic sweet-and-sour stir-fry sauce, dissolve 1 tsp. cornstarch in 1 tsp. cold water in the bottom of a medium bowl. Stir in:
1/3 C. rice vinegar
1/2 tsp. finely chopped fresh ginger
3 tsp. ketchup
2 1/2 to 3 tsp. dark brown sugar
1/2 garlic clove, minced
1 tsp. rice wine or dry sherry
Add the sauce to the hot wok or skillet at the end of stir-frying and cook until thickened, about 1 minute. This sauce tastes great with chicken, pork, and seafood.
To make an easy braising liquid for beef brisket, mix 2 1/2 C. ketchup with 2 1/2 C. beef broth. Scatter 1/2 tsp. salt and 1/4 tsp. freshly ground black pepper over 2 to 3 pounds of beef brisket. Brown the brisket in a Dutch oven in 1 tsp. vegetable oil. Remove the brisket and sauté 2 large chopped onions in the pan. Add the ketchup mixture and simmer for 2 minutes. Add the brisket, cover, and simmer until the meat is fork-tender, about 2 hours. Skim the fat from the gravy, then slice the meat and serve with the gravy.