Chef Scott Dolich extends morel season by pickling them into a loose, relishlike condiment he calls mojo. At the restaurant, he dips into his supply to dress up spring vegetables like asparagus or ramps or to garnish grilled meats and fish.
1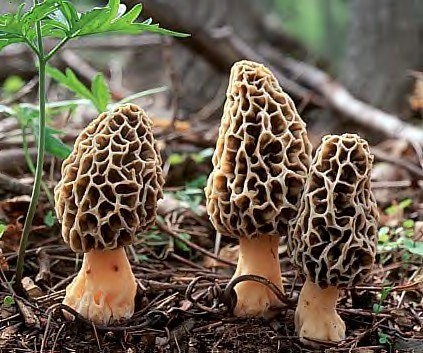 1/4 lb. morel mushrooms
1 C. apple cider vinegar
1 C. beef broth
1 C. vegetable broth
3 garlic cloves, thinly sliced
2 1/4 tsp. salt
1 bay leaf
1/2 tsp. red pepper flakes
3 tsp. EVOO
Submerge the morels in a bowl of cold water and agitate them gently to dislodge any grit. Drain them in a colander and pat dry immediately. Slice off the stems and cut the morels into bite-size pieces. Combine the morels, vinegar, beef broth, vegetable broth, garlic, salt, bay leaf, and red pepper flakes in a large pot. Cover and simmer the mixture over medium heat for 10 minutes. Remove the pan from the heat and let the morel mixture cool slightly. Discard the bay leaf. Drain the morels, reserving the brine. Puree 1 C. the morels with ½ C. the brine in the bowl of a food processor fitted with a steel blade attachment until well combined but not entirely smooth. Add the olive oil in a steady stream with the motor running until well combined. Transfer the puree to a medium bowl and fold in the remaining morels. Discard the remaining brine. Salt to taste. Transfer the relish to an airtight container to cool to room temperature. Stored in an airtight container in the refrigerator, the relish will keep for about l month. NOTE: Morels come into season in early spring and generally stick around through May.