Grapefruit-Rhubarb Preserves
Grapefruit-Rhubarb Preserves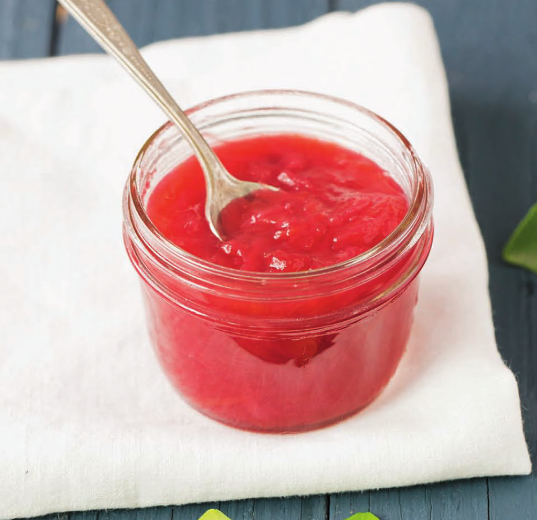 2 lb. (2 medium) Red Grapefruit
1 lb. (4 C.) Rhubarb, sliced 1/2 " thick
2 C. Sugar
Cut 1-inch-thick strips of peel from the grapefruit, leaving as much pith behind as possible. Stack 3 or 4 pieces of peel together and julienne until youhHave 1/4 cup of julienned peel. Add to the preserving pot. Once you have enough peel, supreme the grapefruit, reserving the seeds and as much juice as possible. I find the easiest way to catch as much juice as possible is to work over a bowl or Pyrex measuring cup. Squeeze the "rag" of the grapefruit, the membrane that remains after you have cut away all the fruit during supreming. to extract as much juice as possible. Measure 1 1/2 cups supremed grapefruit sections and juice. Tie the seeds up in a square of cheesecloth or scrap of white tea towel. Add them to the preserving pot with the julienned peel, grapefruit flesh and juice, rhubarb chunks, and sugar. Over high heat, bring the mixture to a boil that cannot be stirred down. Immediately remove from heat, let cool, and refrigerate overnight. Remove and squeeze the grapefruit seed packet into the
preserving pot. Over high heat, bring to a boil that cannot be stirred down. Reduce to medium-high and cook, stirring frequently, until it passes the plate test. This small batch sets up quickly, in less than 10 minutes. Ladle into prepared half-pint jars, leaving 1/4-inch
headspace. Remove air bubbles and wipe rims. Place the lids on the jars and screw on the bands until they are fingertip tight. Process in a water bath canner for 10 minutes, adjusting for altitude as needed. After 24 hours, check the seals. Label, date, and store out of direct sunlight without bands for up to a year.