Mango Chile Sugar Cookies
Mango Chile Sugar Cookies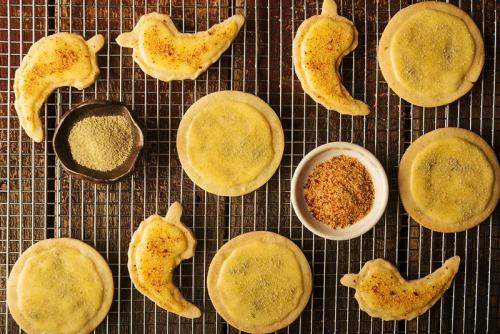 1 C. unsalted butter, room temperature
2/3 C. granulated sugar
1 egg
1 tsp. Tahitian vanilla extract
1/2 tsp fine sea salt
2 1/2 C. sifted flour
1 tsp. unsalted butter, melted
1 tsp. whole milk
4 tsp. Mango Hot Sauce
1 3/4 C. sifted confectioners' sugar
food coloring optional
1/4 C. Vanilla Bean Sugar
1 tsp. crushed Aleppo chiles
1 tsp. sea salt
1 tsp. makrut lime powder
For cookies: Cream butter and sugar with an electric mixer until well blended. Add egg, vanilla, and salt; mix until combined. Add flour and continue to mix until well blended. Place dough in plastic wrap and chill a minimum of 3 hours. Preheat oven to 300 degrees. Line a cookie sheet with parchment paper. Roll dough out to about 1/8 inch thick. Cut shapes with your favorite cookie cutter then place cookies on prepared sheet. Bake 15 to 20 min., or until edges begin to turn light brown. Transfer cookies to a cooling rack and cool completely before frosting.
For frosting: Beat together butter, milk, hot sauce, and confectioners' sugar until smooth. (Add a few drops of food coloring if desired.) Chill at least 10 min. Spread or pipe the frosting onto the cookies.
For optional sprinkles: Sprinkle frosted cookies with any one of the optional sprinkle suggestions, or mix together to make your own unique sprinkle, such as Vanilla Bean Sugar with makrut lime powder or Vanilla Bean Sugar with Aleppo chiles.
Serve right away or let the cookies sit out for 2 to 3 hours and the frosting will firm up.