Holiday Dungeness Crab Feast
Holiday Dungeness Crab Feast
Juicy and briny-sweet, Dungeness is celebration food. Any evening that begins with crabcakes instantly feels festive and special. And cracked crab is great to eat with close friends and family or with people you'd like to get to know better ― because it requires rolling up your sleeves and diving in with both hands.
What could be more fun than that? Reach across the table for legs and claws and just a little more dipping sauce, dig out morsels of meat, and go for it.
Cracked Crab with Lemongrass, Black Pepper, and Basil
2 stalks fresh lemongrass, ends trimmed and coarse leave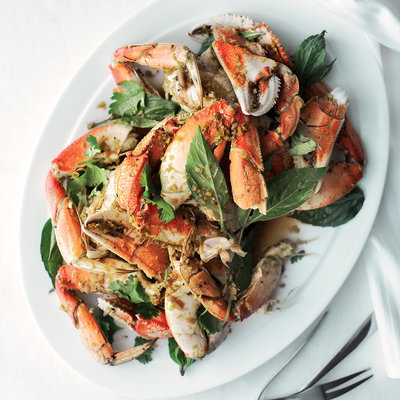 s discarded
2 T. chopped fresh ginger
1 T. chopped garlic
1/4 C. honey
1/4 C. reduced-sodium soy sauce
1 1/2 T. freshly ground black pepper
3 fully cooked Dungeness crabs (about 2 lbs. each), cleaned, legs cracked, and bodies quartered
3 T. peanut oil or vegetable oil
1 C. loosely packed cilantro sprigs
1 C. loosely packed Thai basil leaves or small regular basil leaves
Chop lemongrass. Put in a food processor with ginger and garlic; whirl until minced. Scrape into a large bowl and stir in honey, soy sauce, and pepper. Add crabs and stir to coat well. Cover, then chill at least 15 minutes or up to 1 hour. Pour oil into a 14-in. wok or a wide 8- to 10-qt. pot over medium-high heat. With a slotted spoon, add crabs (reserve marinade). Cover and cook, stirring often, 5 minutes (omit this cooking time if using fully cooked crabs). Uncover pan, add marinade, and cook, stirring often, until crabs are steaming and meat is opaque, about 5 minutes. Stir in cilantro and basil, then transfer crabs and juices to a serving bowl.
Ultimate Crabcakes
4 ounces sea scallops
2 T. lightly beaten egg
3 T. heavy whipping cream
1 pound (3 cups) shelled cooked crab
2 T. diced (1/4 in.) red bell pepper
2 T. diced (1/4 in.) yellow bell pepper
2 T. finely chopped cilantro
3 T. finely chopped chives, divided
2 tsp. green hot sauce, such as Tabasco
1/4 tsp. salt
1/4 tsp. cayenne
2 T. olive oil
Devil Sauce
In a food processor, pulse scallops and egg just until scallops are chopped. With motor running, pour in cream and whirl until smooth. Scrape scallop mixture into a bowl. Stir in crab, bell peppers, cilantro, 2 tbsp. chives, the hot sauce, salt, and cayenne, breaking up most large chunks of crab. Lay an 18-in. sheet of parchment paper on a work surface. Scoop 6 equal mounds of crab mixture onto parchment. Shape each into an even cake about 1 1/4 in. thick, using your fingers or, for neater sides, a 2 1/2-in.-diameter ring mold. Pour olive oil into a 12-in. nonstick frying pan and heat over medium-low heat. Using a thin, flexible spatula, carefully transfer cakes to pan. Cook, turning once, until nicely browned and no longer wet in center, about 10 minutes total. Divide crabcakes among 6 warm plates, scatter with remaining 1 tbsp. chives, and serve with Devil Sauce.
Devil Sauce
3/4 C. mayonnaise
1/2 tsp. ground coriander
About 1 tsp. red hot sauce, such as Tabasco
In a small bowl, stir together mayonnaise, coriander, and 1 tsp. hot sauce. Taste and add more hot sauce if you like.