Chiles Toreados (Matador Chiles)
Chiles Toreados (Matador Chiles)
Chiles toreados are jalapeno or serrano chiles that have been rolled against a work surface. The quick massage helps release their oils from the veins and seeds inside, which store the most flavor and heat. Torear means to compete in a bullfight, which gives you an indication of how fierce the result can be. Interestingly, they are common in sushi restaurants, steak houses, and taquerias specializing in meat grilled on big planchas, or griddles. They are charred in oil, then bathed in a mix of freshly squeezed lime juice and soy sauce, with some slivered or chopped white onion tossed in as well. The lime juice and soy cause them to lose some of their heat, so even though they sound like something to shy away from, I would give them a 4 out of 10 in spiciness.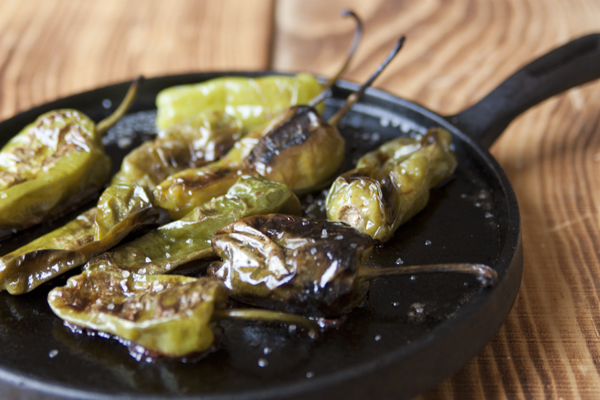 4 jalapeno or serrano chiles
3 tablespoons canola or safflower oil
1 cup thinly sliced or chopped white onion
1/4 cup plus 2 tablespoons freshly squeezed lime juice
¼ cup soy sauce or Maggi
Roll the chiles back and forth a few times under your palm on your kitchen counter. Heat the oil in a medium skillet over medium heat. Add the chiles and cook, flipping them over every 2 minutes, until deeply browned on all sides. 5 to 6 minutes. Transfer the chiles and oil to a heatproof bowl. Once the chiles are cool enough to handle, remove them from the bowl, remove the stems, and chop; discard the seeds, if desired, though I never do. Return the chopped chiles to the bowl with the oil and stir in the onion, lime juice, and soy sauce until well combined. Let sit for at least 10 minutes and serve.