Bacon & Mielie (corn) Bread
Bacon & Mielie (corn) Bread
8 slices Bacon,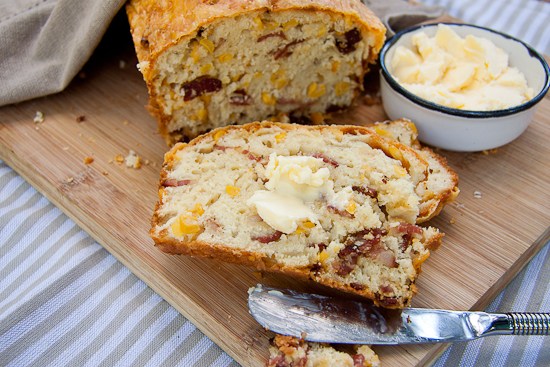 Diced
3 cups All-purpose Flour
2 teaspoons Baking Powder
1 teaspoon Salt
¼ cups Butter, Melted
1 cup Milk
4 whole Eggs
3 cups Fresh/Frozen Corn
2-½ cups Sharp Cheddar Cheese, Divided Use
Preheat the oven to 350 F and then start by frying up the bacon bits until crispy. Once they are crispy, remove from the pan and set aside on a sheet of paper towel to drain. In a large bowl, sift the dry ingredients (flour, baking powder and salt) together. Whisk the melted butter, milk and eggs together in another bowl. Add the mixture into the dry ingredients and blend well. Add the corn kernels, 2 cups cheese and bacon bits to the mixture and blend well (mixture will be thick). Pour the mixture into a parchment paper-lined loaf pan and top with half a cup of grated cheese. Bake the bread for 60-75 minutes or until a toothpick comes out clean. Then remove it from the oven and allow the bread to cool before slicing. Top with butter and enjoy as a side or for breakfast.