Uses for Vinegar
Uses for Vinegar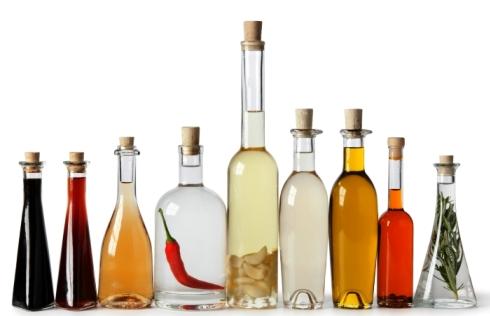 To make an outrageously good sauce for grilled beef, melt a stick of butter over medium heat. When the butter foams, reduce the heat to medium-low and cook until it turns from yellow to medium brown but not black, 5 to 7 minutes. Watch the butter carefully so it doesn't burn. Pour the brown butter into a small, heat-proof bowl, leaving the sediment in the pan. Raise the heat to medium and pour balsamic vinegar into the pan, swirling it and letting it boil down to about half its volume. Remove from the heat and pour the brown butter back into the pan to combine. Drizzle over grilled steaks. A grating of fresh horseradish takes this over the top.
To make a marinade for your favorite steaks, combine 6 ounces beer, 1/4 cup tomato sauce, 2 tablespoons balsamic vinegar, and 1 tablespoon steak seasoning. Marinate in the refrigerator for 4 to 6 hours before grilling or broiling.
To rescue an egg that cracks while being hard-cooked, add a teaspoon of distilled white vinegar to the cooking water. The vinegar will cause the egg white to coagulate and stop seeping from the shell. The same principle works with poached eggs too. Add a tablespoon of vinegar to the poaching liquid to help the egg whites set up before they spread too much.
To help a peeled and sliced cucumber stay crisp, put the cucumber slices in a colander and sprinkle them with 2 teaspoons distilled white vinegar, 1 teaspoon salt, and a pinch of sugar. Use your fingertips to rub the mixture into the slices for 1 minute. Weight down the slices with a large zip-close bag full of water and let the cucumber drain in the colander for 15 minutes. Rinse and pat dry before using for cooking or a salad.
To give shrimp cocktail just the right amount of acidity, combine 1/2 cup distilled white vinegar, 1 bottle (12 ounces) beer, 2 tablespoons crab boil seasoning, such as Old Bay, and 1/2 teaspoon hot-pepper sauce in a saucepan. Bring to a boil and add a pound of shrimp. Simmer until the shrimp are pink and cooked through, 2 to 4 minutes. Drain the shrimp and refrigerate for at least 2 hours or up to 2 days. Serve cold with cocktail sauce.
To make Brussels sprouts that everyone will love, cut the sprouts in half and cook, cut side down, in a skillet with a little olive oil until the bottoms brown, about 10 minutes. Add 2 teaspoons of best-quality balsamic vinegar, shaking the pan to distribute it evenly. Cover and simmer on medium-low until the sprouts are tender, 10 minutes. Finish with 1 to 2 tablespoons unsalted butter and season with salt and freshly ground black pepper.