Green on Green Salad with Charred Corn, Chicken, & Homemade Green Goddess Dressing
Green on Green Salad with Charred Corn, Chicken, & Homemade Green Goddess Dressing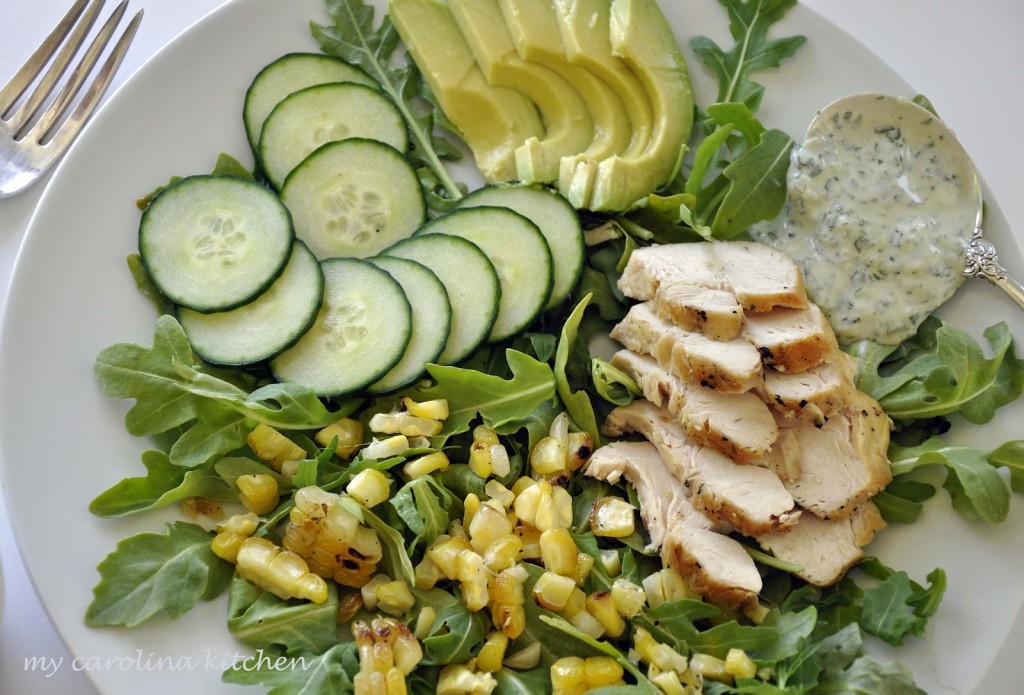 1 pound cooked chicken breasts, roasted or grilled
2 ears yellow corn, shucked & silks removed
Olive oil for brushing corn
Kosher or sea salt and freshly ground black pepper
8 cups fresh arugula
½ English cucumber, very thinly sliced
1 medium ripe Hass avocado
Homemade Green Goddess dressing (recipe below)
Heat a grill or grill pan over medium-high heat. Rub the corn with a little olive oil and season with salt and freshly ground black pepper. Grill, rotating occasionally, until the corn is charred on all sides. Remove to a cutting board and when cool enough to handle, cut the kernels off of the cobs. Divide the arugula among four plates and sprinkle with a little salt & freshly ground black pepper. Top with sliced chicken, some corn, and the sliced cucumbers. Cut the avocado in half lengthwise and remove the pit. With a large spoon, scoop the avocado out of the shell and cut the flesh into thin slices. Place ¼ of the avocado on each salad in a fan shape. Serve with Green Goddess dressing on the side.
Homemade Green Goddess Dressing
½ cup Greek yogurt
2 anchovies
¼ cup lightly packed Italian flat-leaf parsley
2 tablespoons roughly chopped chives or the white part of scallions
2 tablespoons roughly chopped fresh basil leaves
2 tablespoons freshly squeezed lemon juice
1 tablespoon Champagne vinegar, or any good white wine vinegar
Kosher salt and freshly ground black pepper
Combine all of the ingredients through the vinegar in the bowl of a mini food processor and blend for several minutes until the dressing is bright green and the herbs are incorporated. Season to taste with salt and freshly ground black pepper. Taste and add more lemon juice if needed. Makes about 2/3 cup.