Homemade Flour Tortillas
Homemade Flour Tortillas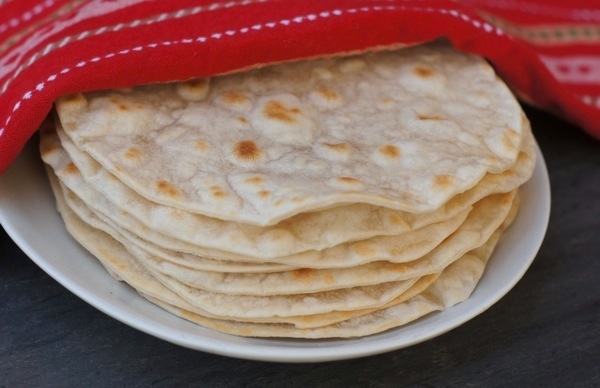 2 cups bread flour
1 tsp baking powder
1 tsp salt
1/4 cup vegetable shortening or lard
3/4 cup hot (115-130 degrees) water- I just let the tap get as hot as it can.
Combine all ingredients in a large bowl or the bowl of a heavy-duty stand mixer. Mix by hand or on low speed until the dough comes together. Knead by hand or with the dough hook on low to medium speed until smooth, 4-6 minutes.
Divide the dough into 8 pieces and roll them into balls. Cover and let rest for 20 minutes.
Roll out each ball of dough into a 6-8 inch round about 1/8 inch thick. If the dough is resistant, move to the next piece and return later to finish rolling. Heat a large cast-iron or nonstick skillet over medium heat. Slide the tortillas into the skillet one by one, cooking until brown spots appear, about 30 seconds on the first side, 15 seconds once flipped. Cover the cooked tortillas to keep warm while you cook the rest. Serve warm.