Burrata Crostini
Burrata Crostini
½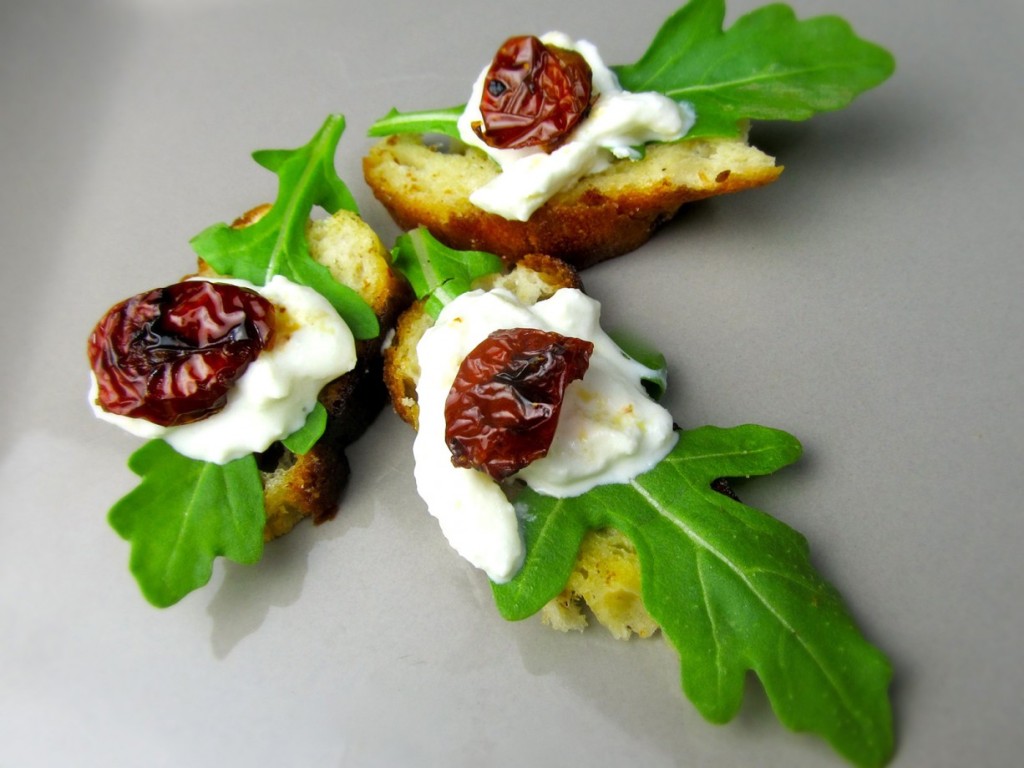 C. Baby Arugula
4 oz. Cherry Tomatoes
¼ lb. Buffalo Mozzarella Ball
2 T. Ricotta Cheese
¼ C. Heavy Cream
2 French Baguette ( 12 Slices each )
Black Pepper
¼ C. Kosher Salt
Kosher Salt, to taste
2 T. Canola Oil
1 T. Extra Virgin Olive Oil
1 qt. Water
You can use store-bought burrata if you can find it. Often, burrata is expensive and has a very short shelf life. This homemade version is a good alternative. Make sure to use fresh mozzarella. The burrata is best if left to set overnight. Allow to chill for at least 2 hours. Also make the oven-roasted tomatoes the day before if you can, then assemble just prior to serving.
A recipe for 4 should require 20-24 crostini.
Line sheet pan with parchment paper. Cut tomatoes in half and place on prepared sheet pan. Drizzle with olive oil and season with a pinch of salt and pepper to taste. Remove mozzarella from refrigerator. If it is not already in slices or smaller balls, cut cheese into 2 inch pieces. Allow to come to room temperature. Slice each baguette crosswise into 1/4 inch thick pieces to measure the indicated amount, or 6 slices per person. Preheat the oven to 350 degrees. Place tomatoes in oven and roast for [30-40 minutes]. Tomatoes should start to dry out and become shriveled. Add water and salt to medium saucepan and bring to 190 degrees. Remove salt water from heat and add mozzarella balls. Allow to sit for 3 minutes. Use kitchen tongs if water is too hot and remove 1 ball at a time from the pot. As each ball is removed, the cheese should be soft enough to easily pull into strings. Cut each string into thumbnail-sized pieces and place in a medium mixing bowl. Add cream and ricotta to mixing bowl with cheese curds. Mix to combine. Mixture should resemble cottage cheese. Cover and chill for at least 2 hours. Transfer tomatoes to small mixing bowl; cover and chill while burrata is setting. Heat a large sauté pan over medium heat. Add canola oil and warm. Prepare a plate with layers of paper towels. Set plate near the stove for the toasted baguette. Once oil is hot, add the baguette slices. Oil should sizzle when you add the bread. Do not crowd the pan. Cook until the crostini are golden brown and crispy, about 3-5 minutes. Only cook one side. Transfer to the plate lined with paper towels. Sprinkle with salt while warm. Assemble no more than an hour prior to serving so crostini stay crisp. Layer crostini with a leaf of arugula and a teaspoon of burrata, and garnish with a tomato. Place burrata crostini on serving tray. Enjoy!