Ways to Doctor a Deli Roast Chicken
Ways to Doctor a Deli Roast Chicken
1. Shred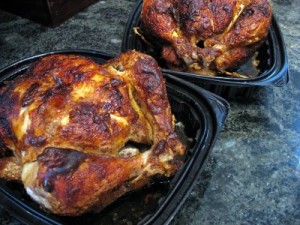 or chunk chicken while warm, place on top of a bowl of hot pasta, and add a dollop of pesto or black-olive paste.
2. Slice chicken, pile on top of slices of bread, and then put Swiss cheese on top. Pass under the broiler and serve with avocado slices and a spicy mayo.
3. Put slices of warm chicken on toast, add slices of crisp bacon and ripe tomato, then blanket with your favorite cheese sauce (or cheese, I suppose)
4. Serve warm on toasted bread or a bed of cooked spinach with a chutney or your favorite salsa.
5. Shred chicken and scatter over a salad.
6. Top sliced chicken with mushrooms that have been sautéed in olive oil with a bit of dry sherry or dry white wine.
7. Shred the meat, layer onto warmed flour tortillas along with black beans, shredded cheese, salsa, and avocado (if you've got it).
8. Spread Dijon mustard all over the chicken, sprinkle it with black pepper, then shower it with chopped fresh tarragon and bake in 350 oven until warmed through.
9. Save juices from deli packaging to make gravy then spoon over the sliced chicken and mashed potatoes.
10. Chop chicken into bite-sized pieces and toss with chopped pecans, green grapes, a little minced onion, tarragon, and enough mayo to pull the salad together. Season with salt and serve with sliced tomato.
11. Spread #10 on tortillas, roll up, and slice into pinwheels.
12. Chop chicken, heat it along with favorite curry sauce, and serve over basmati rice.
13. Spread mayo on slices of sourdough bread. Layer slices of chicken, jellied cranberry sauce, and slices of sharp cheddar. Top with more bread, brush sandwich w/ olive oil. Grill or broil until cheese melts and bread is golden brown on both sides.
14. Place chicken slices on split squares of hot corn bread. Boil the juices from the packaging and spoon on top.
15. Serve sliced chicken codl w/ a quick gribiche sauce made by adding chopped sour pickles, capers, parsley, and minced hard-cooked egg to your favorite salad vinaigrette.