15 Ways to Doctor Canned Chicken Noodle Soup
15 Ways to Doctor Canned Chicken Noodle Soup
1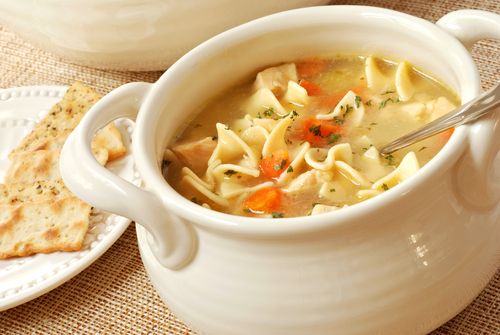 . Add a slice or two of peeled fresh ginger. Remove the ginger before serving.
2. Add a handful of tiny broccoli florets.
3. Toss in ¼ cup of mushrooms that have been lightly sautéed in butter.
4. Ladle the soup into bowls. Add a squeeze of fresh lemon juice and a tablespoon of grated Parmesan cheese to each bowl before serving.
5. Add 2 tablespoons of minced fresh parsley, snipped chives, or chervil just before serving.
6. Add a pinch of ground cumin and a chopped small tomato.
7. Mix in small can of corn niblets and a healthy grinding of black pepper.
8. Stir in a pinch of curry powder and a handful of finely diced apple.
9. Stir in ¼ cup of drained and rinsed canned white beans and a tablespoon of store-bought pesto.
10. Add a handful of young spinach leaves. Stir; the heat will cook the spinach. Dirzzle extra-virgin olive oil over the soup and serve.
11. Stir in a minced and seeded small jalapeno pepper and a squeeze of fresh lime juice.
12. Heat the soup, then puree it in a food processor or blender and ladle it into bowls. Garnish each serving with a dollop of store-bought green salsa and some tortilla chips.
13. Stir a handful of watercress leaves into the hot soup. Ladle into bowls and drizzle a little heavy cream over each serving.
14. Ladle the hot soup into bowls and shower each serving with crumbled crisp bacon and chopped scallion.
15. Add a generous handful of frozen peas, another of fresh carrot slices and a couple of sprigs of fresh dill. Remove the dill sprigs before serving and top each bowl with a sprinkling of snipped dill.
Change up the flavor.  Add 1/4 cup coconut milk, 1 teaspoon of lime juice, and 1 teaspoon of fresh cilantro (per 1 can of soup) to make a Thai Chicken Noodle Soup.  Or add half of a diced jalapeño, 1/4 cup sliced bell pepper, 2 tablespoons shredded cheese, and a few crushed tortilla chips (per 1 can of soup) for Mexican Chicken Noodle Soup
Boost the flavor with additional herbs. Try adding oregano, basil, thyme, and ground pepper to boost up the basic flavor of canned chicken noodle soup. Add small amounts of herbs at a time and taste test until your preferred flavor is reached.