Beer-Mopped Rib Eye Steaks with Bacon, Onions and Garlic
Beer-Mopped Rib Eye Steaks with Bacon, Onions and Garlic
Use a dark beer to add an extra layer of flavor to this steak dish. And make sure you build your fire under only one side of the grill.
B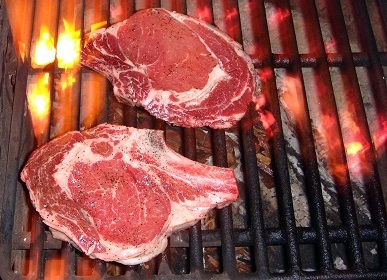 eer mop:
12 ounces dark beer
2 tablespoons ancho chile powder
2 tablespoons paprika
1/4 cup brown sugar
2 chipotle chiles, canned in adobo
2 tablespoons adobo from canned chiles
1 teaspoon salt
1/2 teaspoon black pepper
2 tablespoons red vinegar
1/2 cup peanut oil or extra-virgin olive oil
Bacon, onions and garlic:
1 large or 2 small white onions
4 cloves garlic
1 tablespoon extra-virgin olive oil
2 slices bacon
1/2 teaspoon salt
1/2 teaspoon black pepper
1 jalapeño, cut into very thin round slices
1/2 cup Italian parsley, stemmed, loosely packed
2 (16-ounce) rib-eye steaks
Extra-virgin olive oil, for garnish
For the beer mop: Pour the beer into a sauce pot. Bring to a boil and reduce to 1/2 cup. Remove from heat. Add the chile powder, paprika and brown sugar. Stir and transfer the mixture to a blender. Add the chipotle chiles with sauce, salt, pepper, red wine vinegar and oil. Purée until smooth. For the bacon, onions and garlic: Peel the onions and cut into approximately 1/2-inch pieces. Peel the garlic and roughly chop. Cut the bacon into small pieces. In a broad skillet, heat the olive oil. Add the bacon and lightly sauté. Add the onions and garlic and sauté until lightly golden brown. Remove from heat. Prepare a hot charcoal fire to one side of a grill. brush the steaks with the beer mop and grill over the charcoal fire. (For medium rare, about 6 to 8 minutes per side.) Baste occasionally to generate a caramelized and mahogany-colored look. Move the steaks to the side of the grill without charcoal and allow to rest. To serve: Reheat the bacon, onion and garlic mixture until very hot. Add the jalapeño slices and parsley leaves. Slice the steaks on the bias into 1/4-inch slices. Arrange the slices on a platter and spoon the bacon, onion and garlic mixture over the steak. Drizzle with extra-virgin olive oil. Serve with roasted fingerling potatoes.