Black Bean Omelet with Avocado Salsa Verde
Black Bean Omelet with Avocado Salsa Verde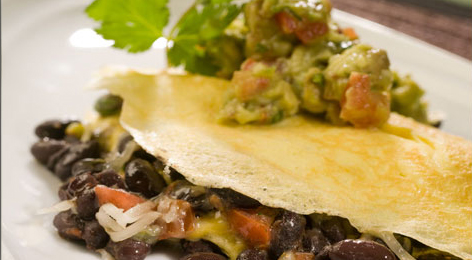 1 cup Black beans, cooked
3 Tbsp. Canola oil
2 T. White onion, diced
1 ea Serrano chile, minced
6 ea. Eggs
½ tea. Sea salt
1 tea. Canola oil
¼ cup Mozzarella cheese, grated
Avocado Salsa Verde
In a skillet with the canola oil, sauté the scallions, garlic, and cayenne for 1 minute; add the tomato and beans and cook until the liquid has evaporated. Season to taste, set aside and keep warm. In a bowl, the beat eggs and salt. Heat an 8-inch skillet over medium-low heat and add the butter and then pour in the ¼ of the egg mixture. As the eggs set, lift the edges, letting the uncooked portion flow underneath. When the eggs are nearly set, sprinkle the ¼ of the bean mixture over one side; sprinkle with ¼ cup grated cheese. Fold the omelet over the filling; cover and let stand for 1 minute or until the cheese is melted. Serve with a dollop of Avocado Salsa Verde.
Avocado Salsa Verde
1 large Avocado, peeled, seeded and cut in ½" diced
1 Tomato, seeded and cut into ¼" dice
2 T. Red Onion, finely chopped
1 tsp. minced and seeded Serrano Chile
½ tsp. minced Garlic
1 T. fresh Lime Juice
2 T. chopped Cilantro
Large Pinch Sugar
Salt & Pepper
Combine all ingredients and refrigerate at least one hour before serving.