Saganaki dishes take their name from the pan in which they are made. A sagani is a two-handled pan that is made in many different materials. In the market, look for a small paella pan, small cast iron skillet, or even an oval au gratin dish.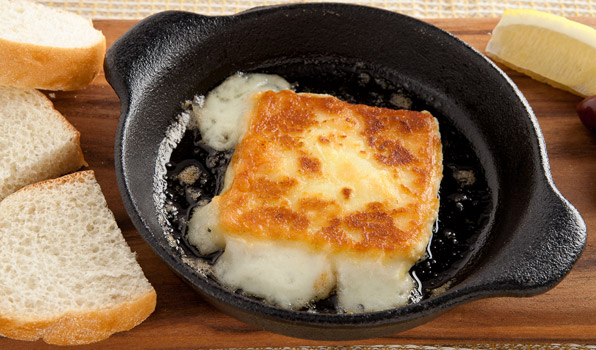 1 pound (about 1/2 kg) of kefalotyri or kasseri cheese
1/2 cup of olive oil
2/3 cup of flour for dredging
2-3 lemons, quartered
Cut the cheese into slices or wedges that are 1/2 inch thick by 2 1/2 to 3 inches wide. Moisten each slice with cold water and dredge in the flour. In a sagani (Greek pan used for this dish) or a small heavy-bottomed frying pan (cast-iron works best), heat the oil over medium-high heat, getting the oil very hot, not quite smoking, and sear each slice in 1 tablespoon of oil until golden-brown on both sides. Serve hot with a last-minute squeeze of fresh lemon juice.