Burrito Party
Burrito Party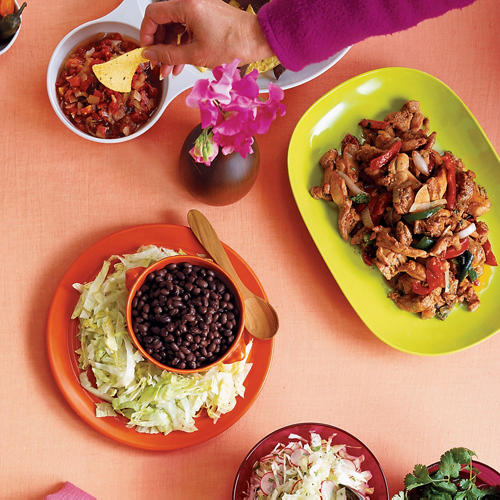 Throw a Cinco de Mayo burrito party in minutes
As a holiday, Cinco de Mayo stirs up more hoopla north of the Mexican border than south of it—but any excuse for a party that involves Mexican food is good enough for us. Best yet, it's easy to do: Just buy what you need for a burrito buffet at the supermarket; if there's a Mexican market near you, the choices for fillings and fixings get even better. Guests build their own burritos, so all you have to make is the slaw. When it's this easy, you just might want to think about a Cinco de Junio next.
What to buy ( Makes about 10 servings.)
Appetizers and drinks
Tortilla chips and salsa and/or guacamole
Fried pork rinds (chicharrónes)
Pickled jalapeño chiles
Chile-lime roasted peanuts or garbanzos
Mexican beer and sodas
Burrito bar
8 ounces cotija or feta cheese
1 1/2 C. crema (Mexican sour cream) or sour cream
1 1/2 C. salsa (1 or 2 types)
1 head iceberg lettuce
1 ounce fresh cilantro
5 green onions
2 avocados (8 oz. each)
or 1 1/2 C. guacamole
1 lime
2 or 3 cans (16 oz. each) black, pinto, or refried beans
About 2 pounds boned cooked meat or 2 roasted whole chickens (1 3/4 lb. each)
10 fresh flour tortillas (10 in. wide)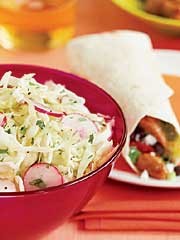 Mexican slaw
2 limes
3 T. vegetable oil
1 head cabbage
4 to 6 ounces radishes
1 ounce fresh cilantro
Salt and pepper
Pineapple sundaes
3 pounds peeled and cored fresh pineapple
1 1/2 C. caramel sauce like Mexican (goat-milk) cajeta
1 1/3 C. sweetened flaked or shredded dried coconut
2 1/2 quarts vanilla ice cream
Guests build their own burritos, so all you have to make is the slaw.
Burrito Bar
Notes: At many Mexican delis, you can find great cooked filling choices like carnitas (slow-cooked pork) and carne asada (marinated beef steak). And meat sections often carry ready-to-grill marinated meats such as lomo de res (beef), puerco adovado (pork), or fajitas de pollo (chicken). If those options aren't available, look for rotisserie chickens from a supermarket deli.
1. Crumble cotija cheese and put in a bowl. Place crema and salsa in containers. Rinse lettuce, cilantro, and green onions. Finely shred enough lettuce to make about 5 C. and place in a container. Chop cilantro and thinly slice onions (including green tops); put in containers. Pit and peel avocados, thinly slice into a bowl, and mix with 2 T. lime juice.
2. In a 2- to 3-quart covered pan over medium heat, stir beans often until hot (adding a little water, if needed, to refried beans), about 5 minutes. Transfer to a bowl and keep warm. Or heat, covered, in a microwave oven at full power (100%), stirring once, until hot, 3 to 4 minutes. If using whole beans, lift beans from liquid with a slotted spoon or drain in a colander.
3. Tear cooked meat into coarse shreds or cut into thin slices. If using a whole roast chicken, pull meat off bones and shred; sliver skin and include (or discard if desired). If meat is raw, grill it, then slice into bite-size pieces. Serve warm or at room temperature. To reheat, place meat in a microwave-safe bowl, cover, and heat in microwave oven at half power (50%), stirring occasionally, 2 to 3 minutes.
4. Drizzle 1/4 C. water over a dish towel. Wrap tortillas in towel and overwrap with microwave-safe plastic wrap. Heat in a microwave oven at full power (100%) until hot and steamy, 1 to 2 minutes. Remove plastic wrap and set towel-wrapped tortillas in a basket or covered casserole.
5. Arrange cheese, crema, salsa, lettuce, cilantro, onions, avocados, beans, meat, and tortillas on the table. Makes 10 servings.
Mexican Slaw
1. Squeeze 3 T. juice from limes into a large bowl. Add vegetable oil and mix.
2. Rinse cabbage, radishes, and cilantro. Finely shred enough cabbage to make 3 quarts. Thinly slice radishes to make about 1 C. Chop enough cilantro to make about 1/2 C. Add cabbage, radishes, and cilantro to dressing. Mix gently. Add salt and pepper to taste.
Pineapple Sundaes
Notes: Scoop balls of ice cream onto a baking sheet and freeze for easy serving. Cut pineapple into bite-size chunks. Put pineapple, caramel sauce, coconut, and ice cream balls into bowls (see notes). Makes about 10 servings.