Spiced Pear and Cranberry Pocket Pies
Spiced Pear and Cranberry Pocket Pies
Although I used pear and cranberry to fill these pies, you could really tuck almost any fruit or savory filling you want inside. The key is to keep the liquid level low, so that the bottom layer of dough doesn't become soggy during or after baking. Let your imagination run wild!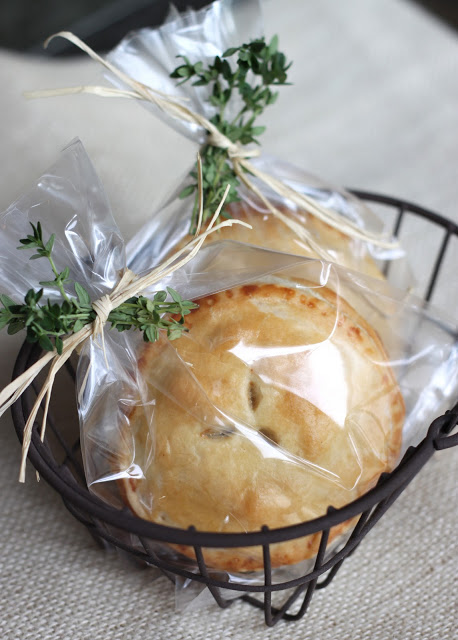 1 1/4 cup all-purpose flour
1/4 tsp salt
1 stick of butter, cold, and cut into 1/2-inch cubes
4-5 tablespoons of ice cold water
3/4 lb. (for me this was 2) sweet, ripe pears; I used Red Bartlett
1/2 cup orange-flavored dried cranberries from Trader Joes (or, plain dried cranberries plus zest from one orange)
1/2 tsp cinnamon
1/8 tsp ground cloves
1 1/2 tsp vanilla extract
1 T. flour
2 T. brown sugar
1 egg, lightly beaten with 1 tsp water
1/4 cup milk
First make dough. In a food processor, add the flour and salt and pulse just once or twice to mix. Add in all the cubes of butter, and pulse until it is all incorporated and the mixture resembles coarse, dry sand (just a minute or so). Add 4 tablespoons of the ice cold water, and pulse just until the dough comes together (only a few times). Squeeze and a bit of the dough between your fingertips: If it doesn't hold together, add more ice water 1/2 tablespoon at a time until it is soft and sticks together. I find 4 tablespoons is usually perfect for me. Turn out dough onto a lightly floured surface and work with your hands for only a minute or two to evenly distribute butter (remember, keep this quick so the heat from your hands doesn't warm the butter in the dough). Roll dough into a ball, then flatten into a 5-inch disk. Chill, wrapped in plastic wrap, until firm, at least 1 hour. Meanwhile, make the filling. Peel and mince the pears, then mix with the remaining ingredients in a medium bowl. Let fruit sit for 15 minutes to macerate. To make pies, preheat oven to 375 degrees Fahrenheit and line a baking sheet with parchment paper. Dust a clean surface with flour, and roll out the dough very thinly (the thinner the better). Use a round cutter, or the rim of a drinking glass, to cut 3-3 1/2 inch rounds from the dough. (The dough should make 12 rounds (for 6 pies) but you will need to re-roll the dough at least once or twice to cut them all out.) Place one round on the parchment-lined baking sheet, and carefully place about 2 heaping tablespoons of filling in the center of the round, making sure to leave the edges clean. Lightly brush the edges with the beaten egg, then top with a second dough round; press the edges together gently with your fingertips, then press completely together using the tines of a fork. Use a sharp knife to make a few slits in the top for venting. Repeat for the remaining pie rounds. Just before baking, brush the top of each pocket pie with a little bit of milk, then bake at 375 degrees Fahrenheit for approximately 25-27 minutes, or until tops are golden brown. Remove from the oven and allow to cool on the baking sheet for a few minutes, then transfer to a cooling rack.