Salsa Chili Pepper (Molho de Piri Piri)
Salsa Chili Pepper (Molho de Piri Piri)
Piri-piri is the Portuguese name for an extremely hot variety of pepper that traveled to Portugal via Angola. Much of the pepper's heat comes from the seeds, so use all or part of them, depending upon how hot you want your sauce. Serve this fiery condiment as a marinade or sauce for grilled marinated shrimp (prawns), lobster or chicken.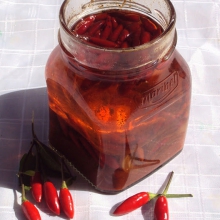 1/2 C. coarsely chopped fresh hot red chili peppers
3 cloves garlic, finely minced
1 tsp. kosher salt
1 C. olive oil
1/4 C. red wine vinegar, optional
Combine all of the ingredients in a jar. Cover and let stand in a cool, dark place for at least 1 week or for up to 1 month. Shake well before using.
Yield:
Calories:
Fat:
Fiber: