Asparagus Rolls with Herb Sauce
Asparagus Rolls with Herb Sauce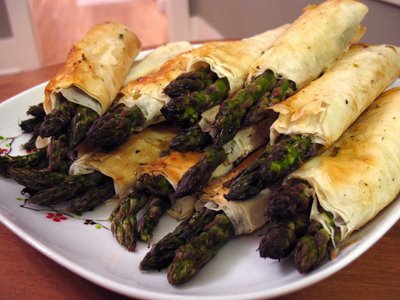 10 Asparagus spears
5 Phyllo Pastry Shears
4 T. Butter
For the sauce:
2 Shallots (finely chopped)
1 Bay leaf
1/2 C. Dry white wine
1/2 C. Butter (soft)
1 T. Herbs (fresh, finely chopped)
Salt and Pepper (to taste)
Chopped Chives for garnish
Preheat oven to 400 degrees. Melt the butter. Cut the phyllo pastry sheets in half, then brush a half sheet with melted butter. Fold one corner of the sheet down to the bottom edge to give a wedge shape. Trim the asparagus. If it is thick, then peel the asparagus (as all good European chefs would do). Then lay a spear on top at the longest pastry edge and roll up towards the shortest edge. Make nine more rolls the same way. Lay the rolls on a greased baking sheet. Brush with the remaining melted butter. Bake in the preheated oven for about eight minutes or until golden brown. Meanwhile, back at the sauce: put the shallots, bay leaf and wine into a saucepan. Cover with a tight-fitting lid and cook over a high heat until the wine is reduced to 3-4 T. Strain the wine mixture into a bowl. Whisk in the butter, a little at a time, until the sauce is smooth and glossy. Stir in the herbs and season to taste with salt and pepper. Return to pan and keep the sauce warm until ready to serve. When you drizzle the sauce over the rolls at serving time, sprinkle with a few chopped chives for garnish.