Secret Message Decoder Cookies
Secret Message Decoder Cookies
Cookies with a twist! Red candy melted in the center of each cookie acts as a decoder on your handwritten valentines. On white paper simply write your secret message with a light-blue fine point marker. Then, using orange, red, and pink markers, doodle shapes, scribbles, or words over the rest of the paper. Go ahead and doodle right over your secret message because your decoder cookie will only reveal your secret message and everything else will disappear!
1 cup butter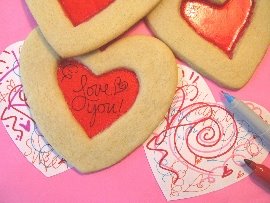 2 cups sugar
1 tsp. vanilla
2 eggs
5 cups flour
1 tsp. salt
1 1/2 tsp. baking powder
1 tsp. soda
1/4 cup milk
Red, hard, transparent candies/crushed to fine pieces
Preheat oven to 350 degrees. Cream butter and sugar together with mixer. Add vanilla. Add eggs and beat until fluffy. In separate bowl add flour, salt, soda, and baking powder. Stir together. Add flour mixture to the butter mixture alternately with milk and stir until dough is smooth. Chill until dough is stiff.  Prepare baking sheet by covering with a sheet of foil and lightly coat with cooking spray. Don't skip this step–you need the foil or the candy will stick to the pan! On floured surface roll a portion of the dough to 1/4″ thick. Cut out with large heart cookie cutter (approx. 4″) and place 1″ apart on baking sheet. Cut center with a slightly smaller heart cutter and remove dough. Using a small teaspoon carefully fill center with crushed candy. Bake for 10-12 min. or until lightly golden on edges. Cool completely before removing cookies. Store in an airtight container or individual cellophane bags and attach paper valentine.
Yield:
Calories:
Fat:
Fiber: