This week I am focusing on the "buh" sound (which is one of the first 6 sounds that children usually vocalize) with Baby L, so I've picked activities that will afford me lots of opportunities to use B words.
Baby L is 14.5 months
Contact Paper Collage.  The first one we tried a couple weeks ago was such a success that I decided to do another one with her. Like last time, I created a cardstock paper frame for the contact paper to keep it from curling and to make it easier to move around.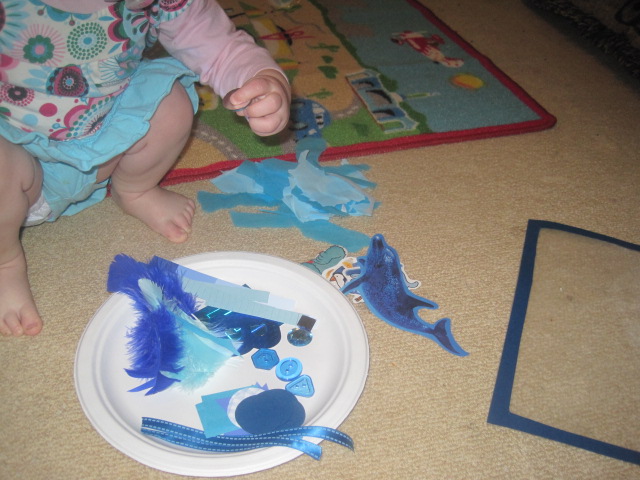 I gathered a bunch of blue papers, pictures and objects.  To make a more interesting tactile experience, I included things other than paper this time, like feathers, rhinestones, etc. The baby was pushing buttons on my camera to entertain herself yesterday and apparently changed the picture quality, which I didn't notice, so these photos are all pretty small.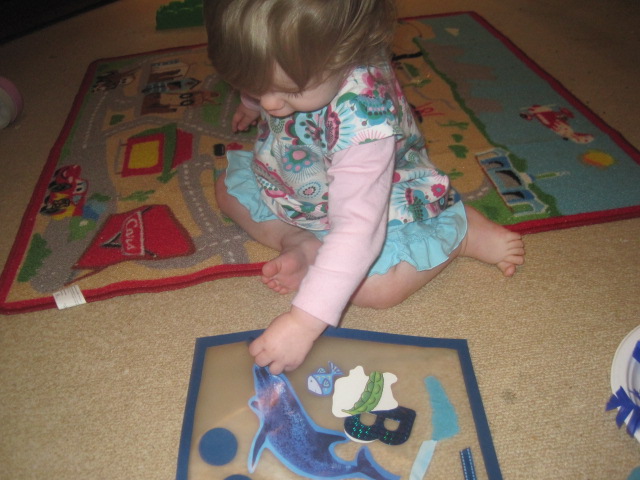 She discovered pretty quickly that (unlike the last one, which was mostly tissue paper and was stuck for good once she put it down) she could re-position objects.  I just let her choose what she wanted from the pile, and place it wherever she wanted and move it at will, and just narrated what ever she was doing.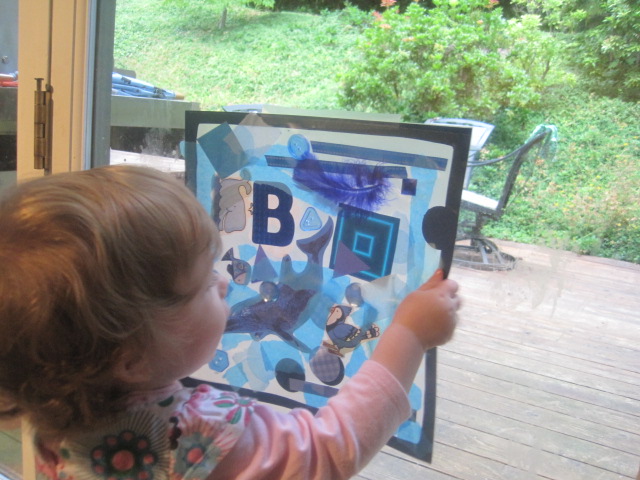 When she lost interest and it was looking pretty full, I covered it with a second piece of clear contact paper to seal it.  I hung her art at toddler eye level on the glass door in the family room.  Her finished work remained on display on the door for about 20 seconds before she pulled it down. 😉
Vocabulary: Picture, Sticky, Blue, B, names of the pictured items
–
Basket of shaker bottles.  I filled recycled plastic water bottles with a variety of dry materials.  Baby L helped with the rice, using a funnel.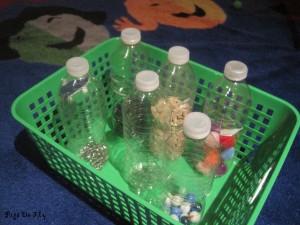 We ended up with bottles filled with marbles, rice, metal bits, pom poms, glass gem vase filler things, and left one empty for comparison. I sealed (lets's hope!) the lids with glue before we played with them.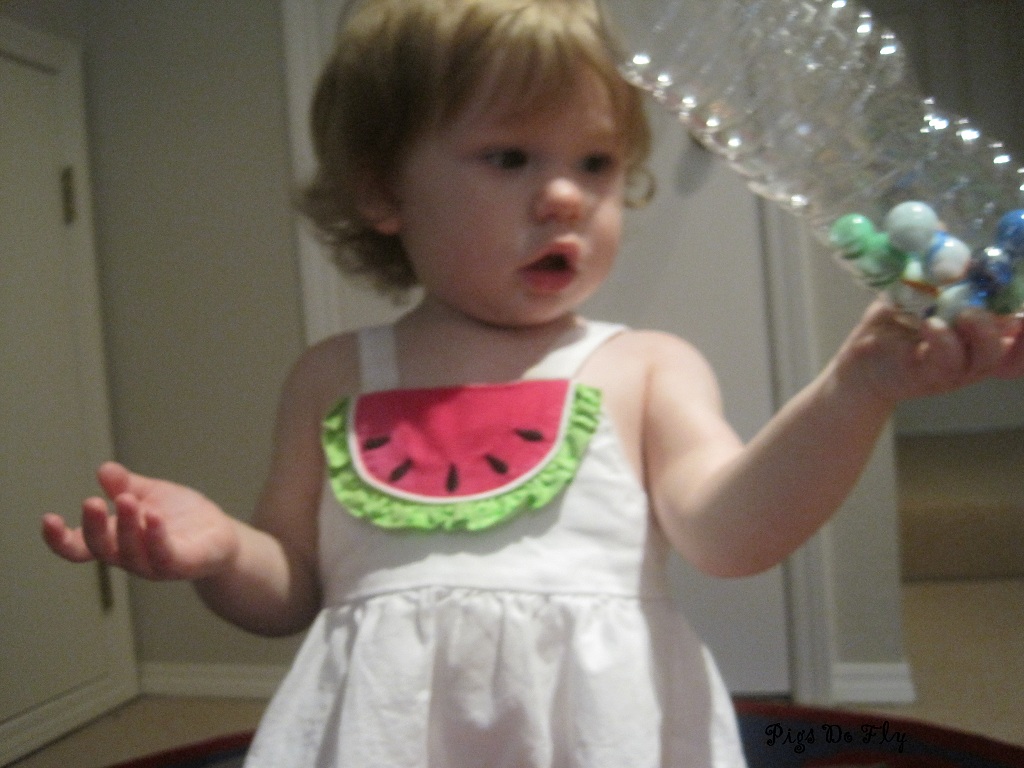 Baby L enjoyed shaking the bottles to hear the different sounds.  The more full ones took more effort to get noise out of them (had to turn them further) and she got so proud when she managed to make the bottles dance and sing.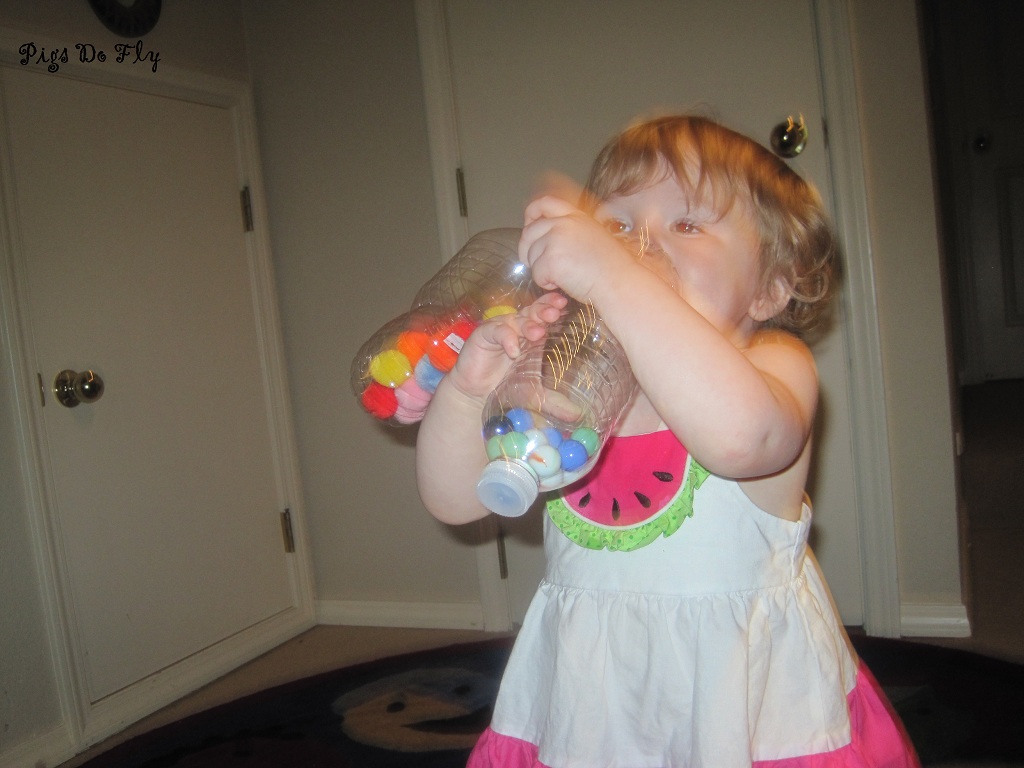 Her favorite way was by "drinking" from the bottles and getting the filler to rush down at her face.  LOL
Vocabulary: Bottle, shake, music, loud, soft, noisy, quiet, empty
–
I had meant to do a sensory box with dried beans and some "Three Bear Family Counters" (I bought them at a local Learning Palace, and paid about half what they are on Amazon though) along with our measuring cup scoops.  I think the counters will be great in the future for comparing sizes and making patterns.  Anyway, I discovered that I only had one little tiny bag of dried beans, so instead I used some bear shaped pasta that I had picked up for bento.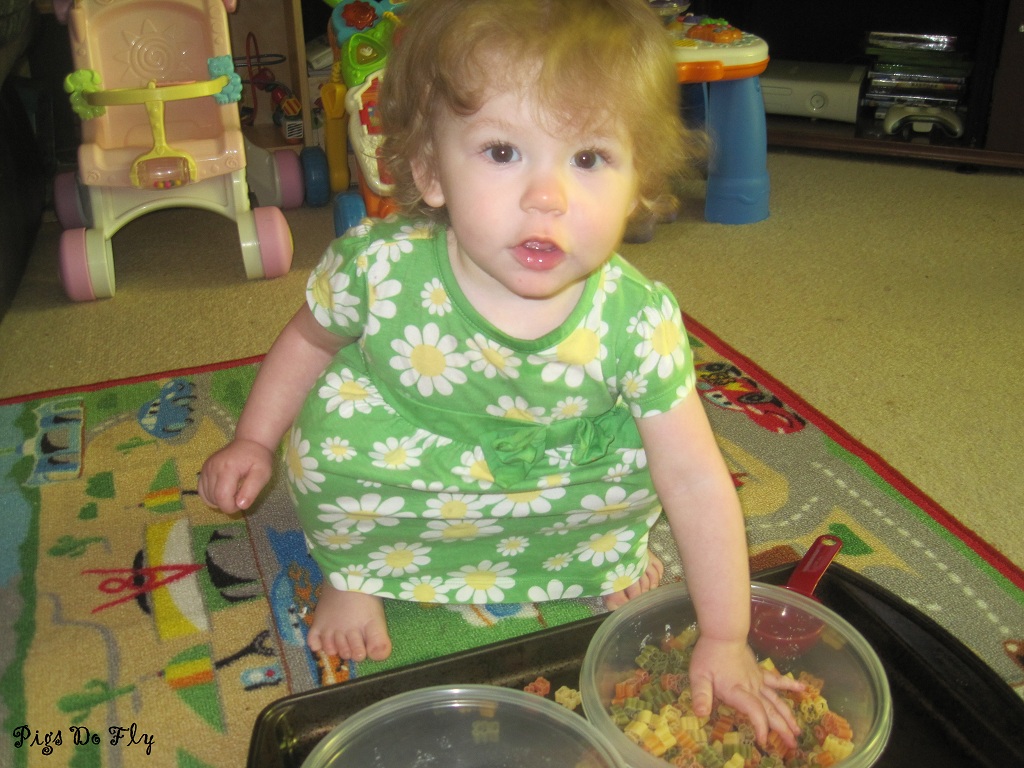 I gave her two plastic containers and a scoop on a sheet pan and showed her how to scoop and transfer from one bowl to the other.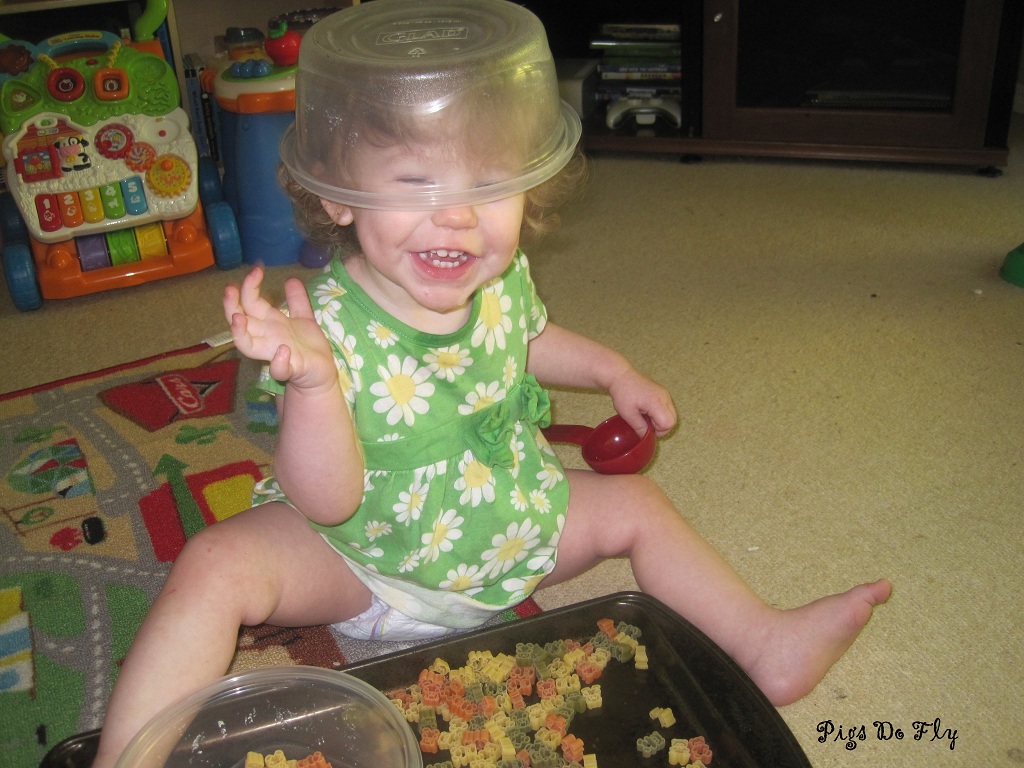 This is by far my favorite picture of the week =)
Vocabulary:  Bear, Bowl, Dig, Pour, Scoop
–
Alphabet Letters.  I picked up a tub of large magnetic letters at Learning Palace and set them up in a basket along with a small magnetic wipe board.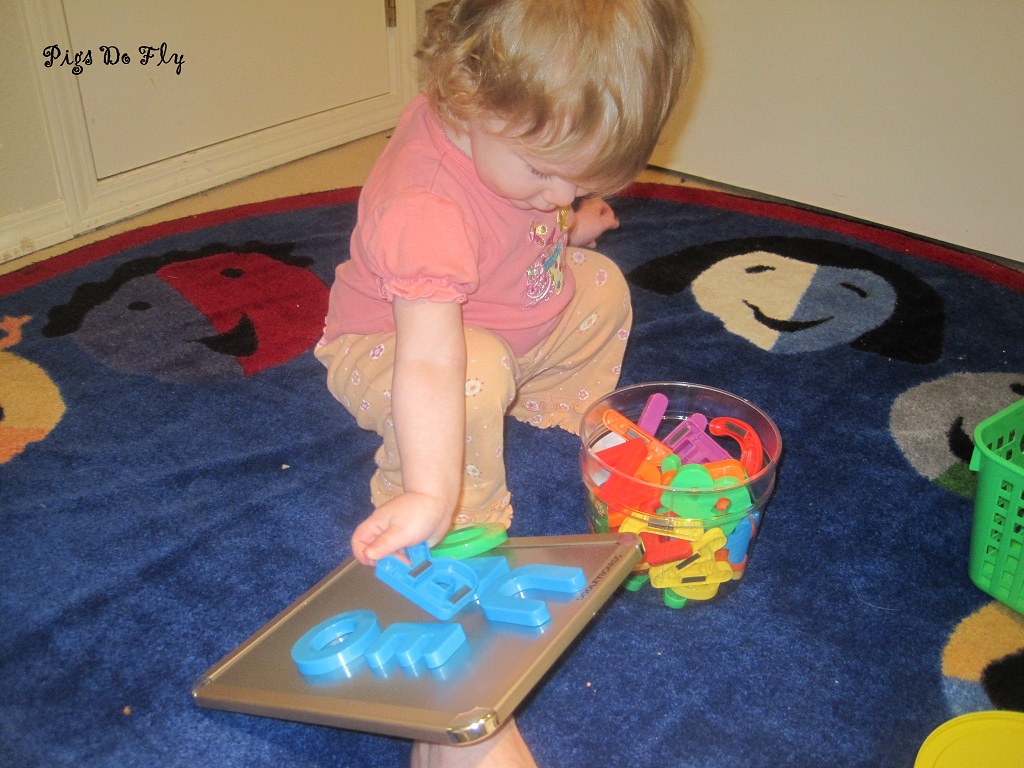 We started with just the two B's, but she wanted to dig into the bucket.  I just let her stick them on and pull them off, making the letter sound for each one that she picked up.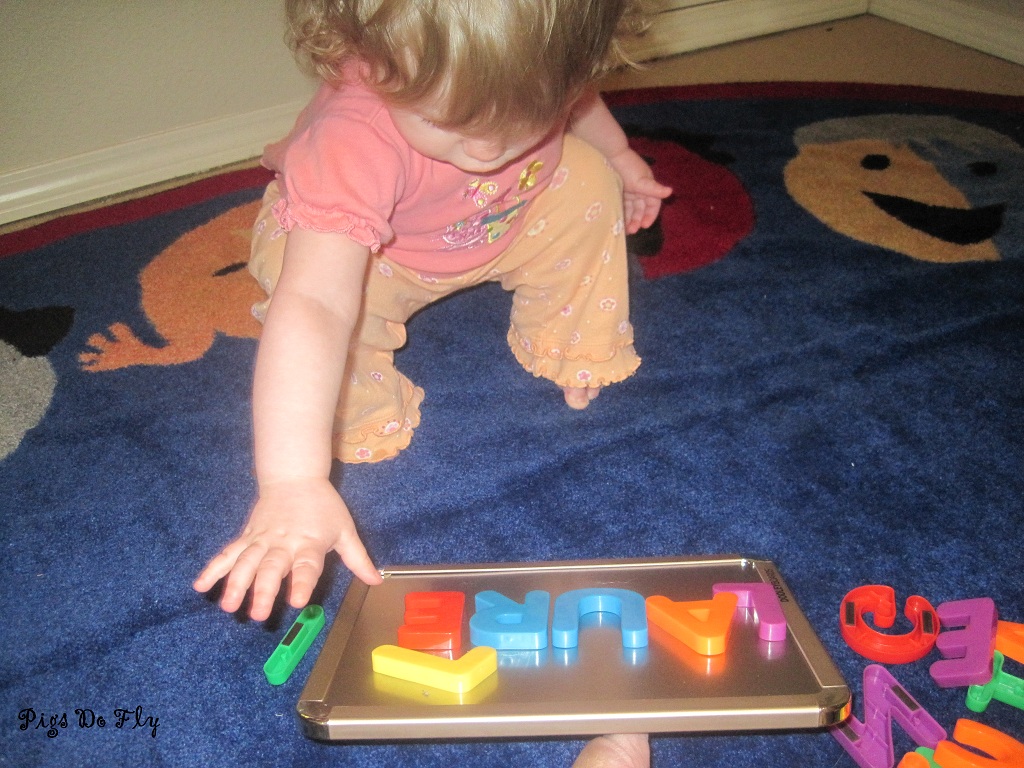 I spelled out her name for her and gave her the final "L" to put in a row, but as you can see she didn't get the lining up of the letters and just put it where she liked it instead 😉
Vocabulary: letters, alphabet, letter names & sounds, stick, lift
–
We also spent some extra times playing will balls.  She likes the o-balls as well as the holey wiffle ball style colorful balls I picked up from Gymboree a few years back.  A lot easier for her to grip and manipulate, I guess.  I hung some of them on a piece of yarn and strung them between 2 offset door handles and showed her how to move them to the high side and let them slide down. 
She moved them back and forth for a while, and then started to get frustrated that she couldn't get them off.  I had to go track down a couple more balls to give to her to play with on the floor. 😉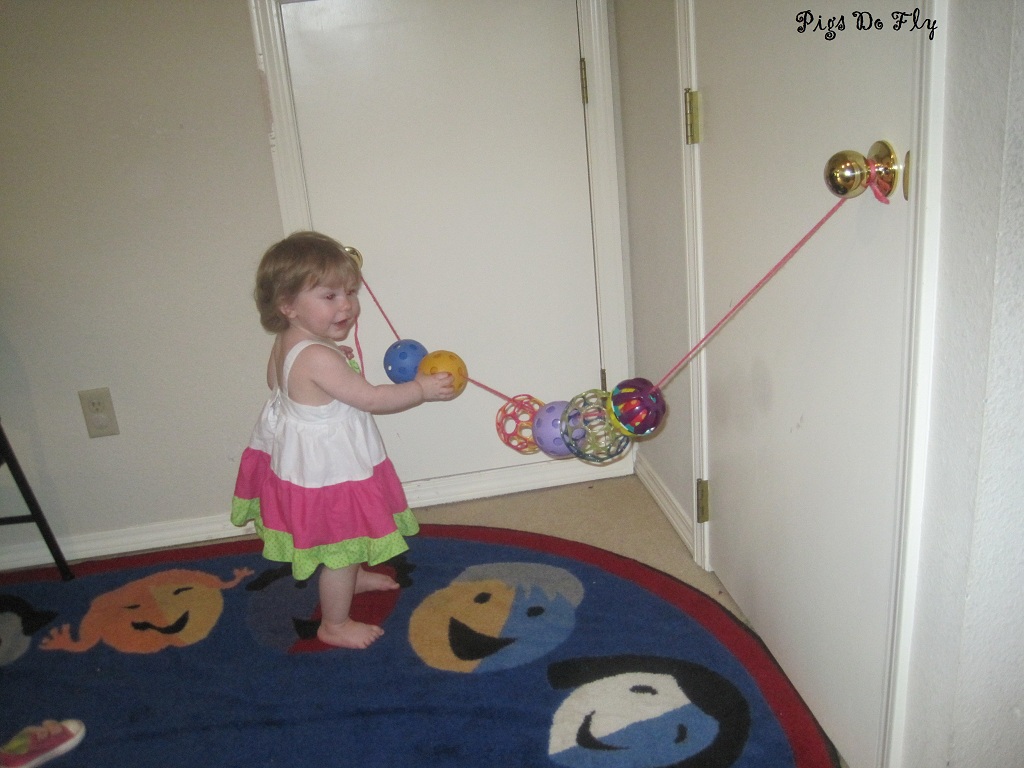 As normal for the summer, we spend some time outside every day.  In keeping with reinforcing the "buh" sound, we blew bubbles and played with buckets and boats at the water table.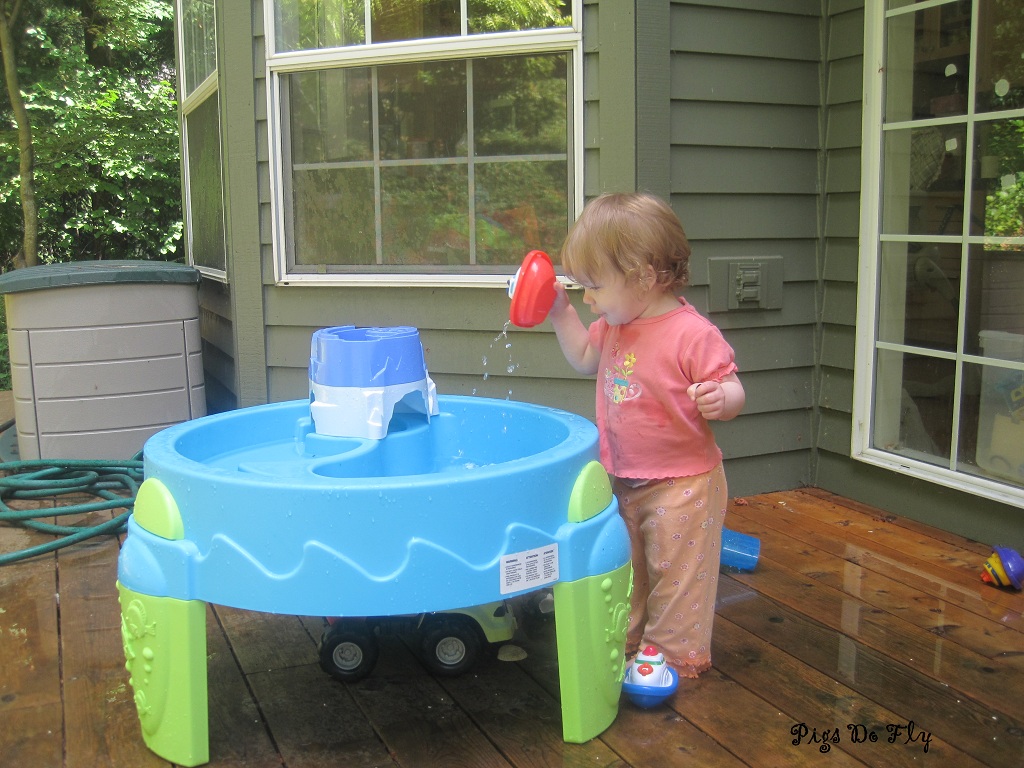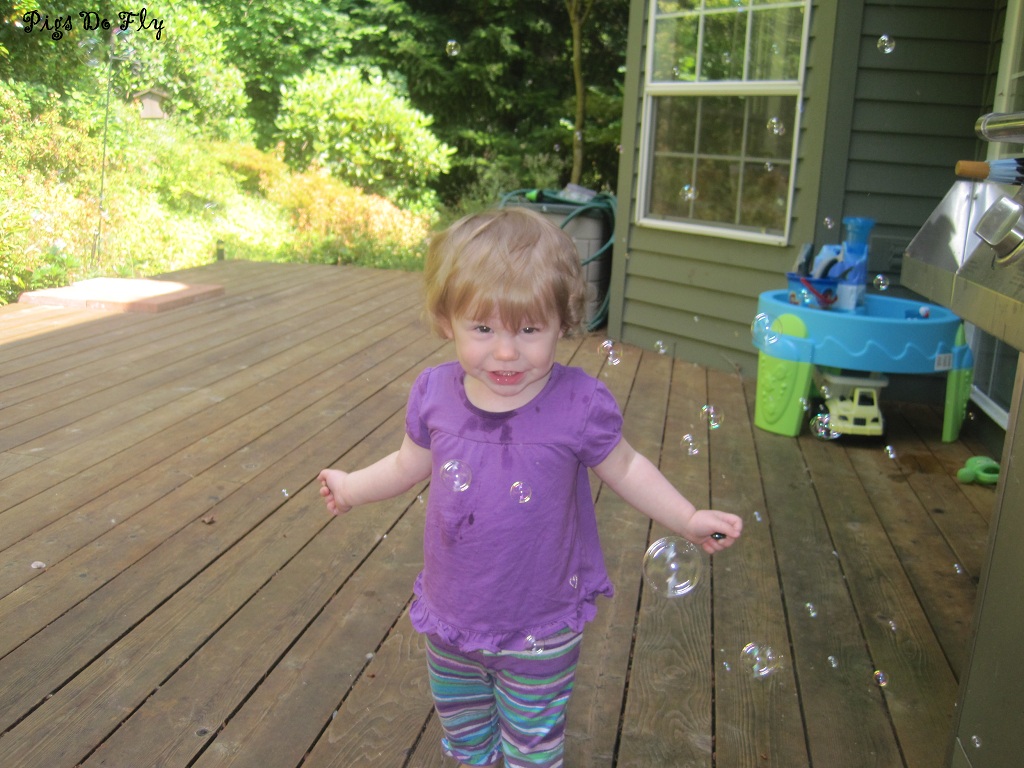 New sign: Bear – Cross your arms and claw your chest a couple times.
Books we read this week (in addition to lots of other reading we do daily): Going on a Bear Hunt, More Bugs in Boxes, Boats, Brown Bear, Brown Bear What Do You See, Belly Button Book
Find more terrific tot school posts over at 1+ 1 + 1Â  = 1