As I've mentioned before, I am not putting a lot of emphasis on learning over the summer for kidlet, but I have been fitting in things like writing practice and doing a lot of introductory chatting about food groups, mainly in "sneaky" ways.  As we come to the last few weeks before school begins, I'm planning on including more "formal" learning time, a little bit more each week, to get him back into the habit.
I have some serious concerns about kidlet's weight, so I'm preparing to move beyond just learning the food groups into the food pyramid, servings and sizes, and focus more on why some things are more healthful choices than others.  I will not talk about weight or do anything that will imply different body shapes are "bad". 
Anyway, as I was creating a rough outline for a lesson plan for next week, I realized that  a lot of the materials could be used in simpler activities for tot school, and decided to use food as a focus for tot school as well.
To supplement the things that I do have that will work for baby L, I made these fruit and vegetable stick puppets for us to play with.  I thought they came out very cute!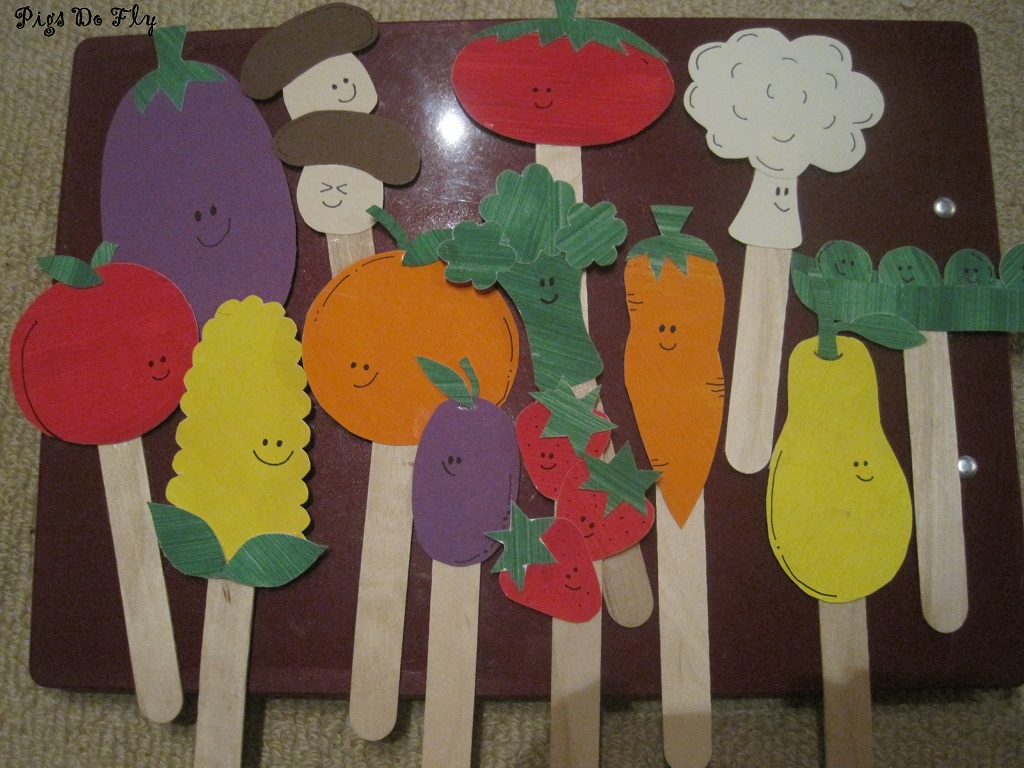 Kidlet and I had painted about 50 sheets of white cardstock in various shades (practicing color mixing and to have painted papers that would lend themselves to creating the collage-y look of Eric Carle or Lois Ehlert) and I used that cardstock, which is what gives the pieces that paint-brushy texture that you can see in some of the colors especially well.  I cut out the produce shapes, added the faces and a few little lines and such for accents and then glued them to popsicle sticks.