My Bean finished her second year of Daisy Girl Scouts this past year.  She'll be entering second grade in the fall and that means bridging to Brownies.  Although not officially transitioned, I did want to do some girl scout events this summer, so I planned on doing the bug badge from the Brownies Guide to Girl Scouting.  I invited our 6 brownies to participate and planned for 6 hours on a lazy summer day in August.  Of course I am not one to do the actual suggested activities in the book.  I'm more ambitious (HAH!) and too addicted to Pinterest for that.
Like all badges (or "Try-Its"), it has 5 steps, and each step has 3 suggested activities for completing that step.   In addition to what I planned for each step, we had caterpillars that were in the process of forming their crysallides (just luck) as well as empty ones from earlier hatching under a magnifier, Painted Lady Butterflies (which we released), Ladybug Larvae, Darkling Beetles (raised from meal worms that came home with my daughter from school in June at the end of their insect unit) and a mess of ladybugs from a local nursery; each girl got to take home a bunch in bug jars that we made later.
Draw a bug poster
I had a bunch of library books on various insects, iPads with some apps for research, a couple of videos (DK Insect and Bill Nye Bug Episode — we didn't have time to watch the videos really, but I let them run while we worked on our posters)
Along with their paper for posters, I provided a bunch of craft supplies.  Different coloring supplies (Markers, colored pencils, solid poster paints), stickers, scrap scrapbook paper and glues, bug stamps and bug rubbing plates.
For the fast finishers I had a "Create your own insect" sheet and a Buggy mini book they could assemble.
Try a bug craft
We made refrigerator magnet "Buggles" from those flattened marble craft stone things, Wristlet Butterflies, and Ladybug Collages.
See bugs in action
We made Bug Jars. Oriental Trading has reasonably priced, plastic & foam kits.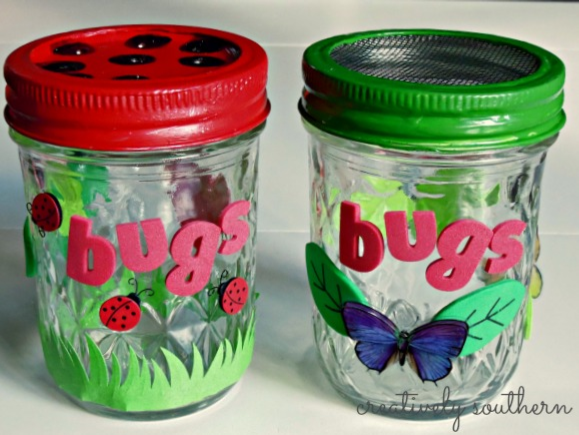 I soaked some raisins in water until nice and plump.  We put a little oatmeal in the jars, added a raisin or two, then a couple dozen ladybugs for each girl to take home and release in their yards.  I told them that they could keep them a day or two to observe and enjoy, but after that they should release the bugs.
We took a look at One Small Square: Backyard (I love the One Small Square books). I gave the girls spiral journals and pencils (for them to keep as nature journals later as well) to record their finding and we went on a backyard bug safari. They had some plastic rings (from a Venn Diagram kit) to define an area to search and magnifying glasses.  We tried several different locations.  It was HOT and we didn't find nearly as many bugs as we would have liked; I think they were all hiding from the heat – but we did find an ant trail, and the girls all found several other things they could record.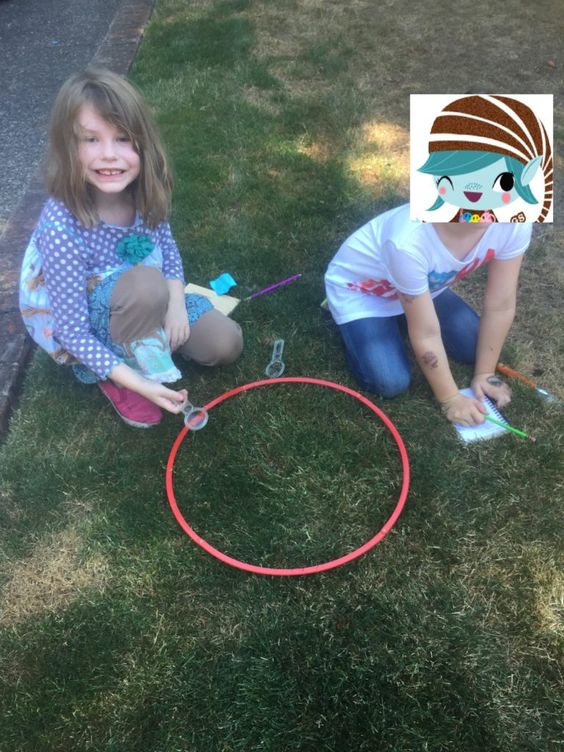 Explore bug homes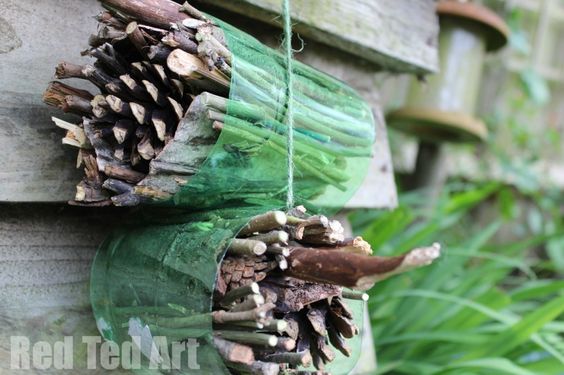 First we took a look at the chrysalis' that I had saved and we talked about the places that bugs live, and what bugs would need to make a place their home.  We did this step last, because we needed supplies from our bug field trip (step 5), but we made insect hotels for the girls to take home and set up some place in their yard in the hopes of providing habitat for bugs. (So we talked about insect homes, then went for our forest safari to see if we could find some as well as collect cones and sticks for the hotels).
In addition to the collected materials, I also supplied various types of mason bee tubes and moss to make sure that we had enough supplies to fill the bottles without stuff easily falling out.
Take a bug field trip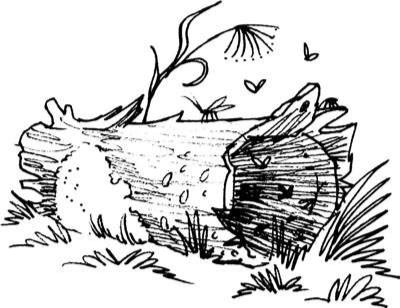 Initially I thought we would visit an insect zoo.  The Oregon Zoo does typically have a neat insect exhibit.  However, it is temporarily closed while the new zoo education center undergoes construction, and won't re-open until 2017, so I had to scratch that as our field trip.
Instead, we took a Bug Hike, out into the untamed forested area up the hill behind my home, along with a minibeast spotting sheet (which we did as a group, not as individuals), large paper bags, garden gloves, our magnifying glasses, our nature notebooks and pencils for our Bug Hike.
I had previously scoped out a fallen log for us to investigate, and we collected a bunch of pine cones, twigs and other detritus for our bug hotels.
We didn't have much more luck with the bug finding, outside the log, even though it was moderately cooler in the woods.
In between the various activities, the girls wanted short breaks and did some playing.
I also planned on lunch and snacks:  Sandwiches (cut with Insect shaped cutters), Ants on a log, Honeycomb cereal Bee Bags, Mozzarella & Tomato Caprese Caterpillars, Cheese & Cracker Bugs, Ladybugs on Crackers, Grape Caterpillars, Bee Oreo Pops, Boom-Chicka Pop Kettle Corn, Fresh Lemonade, Watermelon Agua Fresca.  Girls were with me from 10-4, so we had a small snack available when they arrived, lunch at noonish, and then another snack break a couple hours later.  We had re-hydration breaks everytime we came back in from an outside activity too.  As I mentioned before it was HOT HOT HOT! =)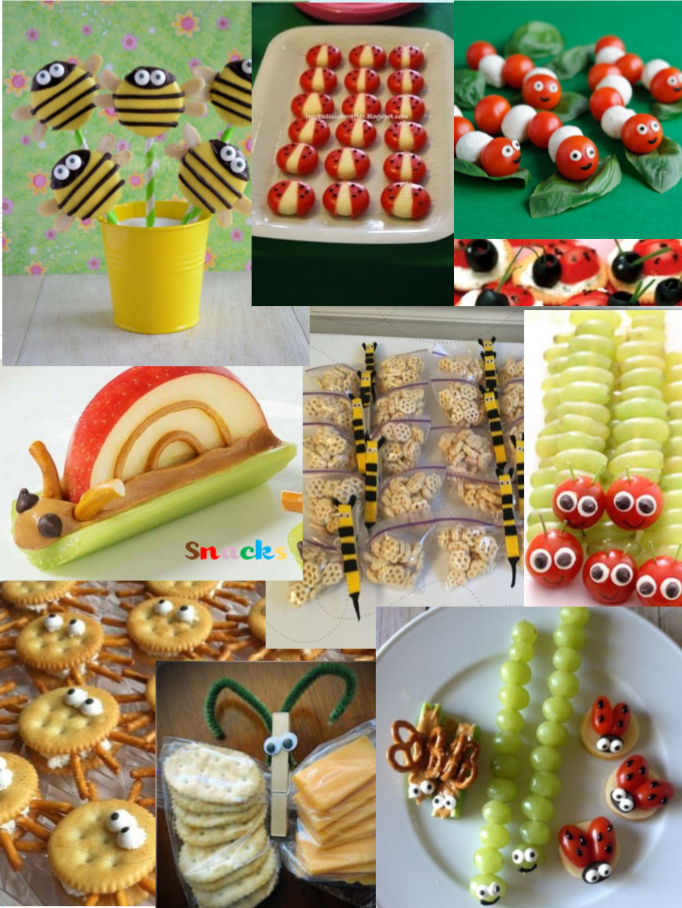 And finally, I had supplies for SWAPS if the girls wanted to make them.  Most of the brownies elected to hang out and play with Bean's toys, but the option was there.  Lid bugs, wire and bead butterflies, and Hermie the Worm (I know this is not technically a "Bug" but the Try-It allows the girls to count most mini beasts as such).
When it was time to leave, the girls left with all their crafts, their insect hotels, badges, journals, small magnifying glasses, swaps, a couple of informational sheets about gardening to attract pollinators, and I hope a great time and additional knowledge about bugs =)
I had put everything into a document.  Step by Step with needed supplies for the crafts we chose.  I never really intended to share this document, and I didn't cite my sources for the various crafts and such in there.  I in no means am trying to take credit as the originator of much of the information; Mostly I just collated and organized.  There's a lot more in the Bug Try-It PDF than I actually ended up using.