Menu plan Monday!  Long time no see!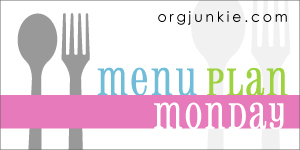 Monday: Salmon Cakes and Lemon-Garlic Aioli, Lentil salad with Watercress, Broccoli, Cauliflower and Carrots
Tuesday:Â Â Curried Coconut Chicken, Noodles, Green Beans, Pink Fruit Soup
Wednesday: Ravioli with Sausage Sauce, Garlic Toast, Asparagus
Thursday: Garden Vegetable Soup (from the book Growing Vegetable Soup), Grilled Cheese & Tomato Sandwiches, Pineapple Spears
Friday: Easy Skillet Tacos, Mexican Corn, Corn Chips and Salsa, Cucumber Salad
Saturday: Pesto Chicken Breasts with Summer Squash, Polenta
Sunday: Grilled Turkey Tenderloin, Black Bean and Corn Salad,
 
Even when not listed, I generally serve green salad and some kind of fruit at dinner each night.  Next week the kids are both in mild learning mode with a food theme.  The soups on tuesday and thursday are recipes that kidlet will be making.
This post is linked to Menu Plan Monday at Organizing Junkie.  Check out the hundreds of other menus posted.