11/18/2009
 Week 12 – Danny Boome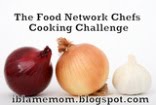 This week's chef for the Food Network Chef Cooking Challenge is Danny Boome.  Never heard of him!  I checked out his food network recipes as well as his recipes from his UK show.  I was just uninspired.  I'd wanted to a beef recipe to use up some of the meat in the big freezer, but his beef selections (either on food network or on his UK show) were very limited — mostly to whole roasts / tenderloins.  I finally picked a simple roasted vegetable dish. 
Roasted Carrots and Parsnips with Thyme

 

1 pound carrots

1 pound parsnips

3 tablespoons extra-virgin olive oil

2 tablespoons honey

Coarse salt and freshly ground black pepper

6 sprigs fresh thyme

 

Preheat the oven to 350 degrees F. Peel the carrots and parsnips and cut them in half lengthwise, larger ones can be quartered.

 

 

Place them on a large rimmed baking sheet. Drizzle the carrots and parsnips with the olive oil and honey. Season with salt and pepper and toss to coat. Scatter the thyme sprigs on top.

 

 

Place them in the preheated oven.  After 10 minutes, give the veggies a toss and put back in the oven for another 10 minutes until the vegetables are soft and slightly caramelized. Serve warm.

 
I cut my parsnips into 1/8's instead of the halves or quarters suggested because they were really fat and I wanted them the same size as the carrots.  It took slightly longer than the 20 minutes listed here to get them cooked, even cut down to size.  An extra 5-8 minutes and they were soft as I like them.
What we thought?  Too sweet.  Carrots and parsnips are already very sweet vegetables.  Roasting brings that out more.  Add in the honey and I thought they were almost cloyingly sweet.  Yuck.   
I thought that would make them successful with the kidlet.  He said he liked them when I asked but when I said, "should I make them again?" he quickly said No thanks! So I think he was being polite 😉
Be sure to check out the linky over at I Blame My Mother for more Danny recipe reviews!