I didn't spend much on groceries last week.  I didn't entirely follow my meal plan, but instead we ended up eating out of the freezer and pantry more.  The hubby wanted pizza one night, didn't feel well another night (so I didn't make what we'd planned, and just fed the kidlet and I something easy).  So I'm spending a little more this week than normally.  After 4 weeks of rubber chickens, we're a little tired of simple roast chicken and shredded chicken X's, so I'm including a couple of whole piece chicken recipes.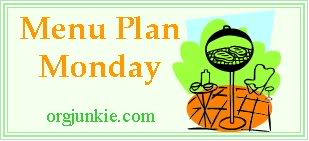 Monday: Salmon Cakes, Lentils, Broccoli and Carrots 
Tuesday:  Spicy Shrimp and Pasta Casserole for the Food Network Chef Cooking Challenge., Salad
Wednesday: Crockpot Chicken Cordon Bleu, Green Beans, Cheese Toast
Thursday: Kielbasa with Red Beans and Rice (I mostly follow this recipe, except I don't put all the meat in it.  I just serve the Kielbasa, cut on the bias, lightly sauteed, on the side instead, Salad
Friday: Creamy Lemon Chicken Pasta, Peas (I'm not sure if the chicken sauce stuff is available here, but if not, I'll improvise)
Saturday:  Rib Eye Steaks with Tomato Tapenade, potato wedges, broccoli and cauliflower (missed last week)
Sunday:  Pizza or Eat Out
For breakfasts we always have oatmeal, cold cereal, scrambled eggs, toast, freezer muffins, yogurt, cottage cheese and fruits to choose from.  I've got ingredients to make mini waffle grills this week (apple and cheese between 2 waffles as a sandwich). I also keep us stocked with lunch meats, cheeses, etc for bentos.  I'll probably be making a big pot of soup for my lunches.  Maybe my mom's clam soup; I have all the ingredients on hand.  Even when not specifically listed, I usually have a mixed greens salad and fruit available for dinner.