I didn't do as well this week sticking to plan or budget.  I was sick a good portion of it, and ended up buying convenience foods, ordering in and otherwise paying over and above since I didn't feel up to cooking.  I think I can make up for it this week a bit.  I don't have to buy any meats this week except tilapia, the rest is already in the freezer, and I tried to pick  sides I could prepare mostly from my pantry.  My grocery list is pertty small; most of it is lunch making stuff.  So I *should* be able to come in budget for the month once it averages out.  Knock Wood.
 
 I'm running out of farmers market weekends, which makes me sad.  I've been relying on thier beautiful inexpensive produce, especially for the kidlet's bento lunches. Although they continue through the end of October, what's available isn't as appealing.  This is Oregon, after all.  September was already pretty bleak, without much local items aside from apples, pears and some squashes.  Our favorite heirloom tomato vendor has had a few baskets the last couple of weeks, but as of today, it looks like he's exhausted what he can coax from his plants.  What even grows locally to be harvested in October?  Squash, brussel sprouts and pumpkin.  Not easy lunch packing materials!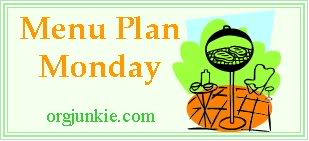 Monday: Whole Wheat Spaghetti with Beef Bolognese Sauce, Green Salad
Tuesday:  Salmon Cakes & Tartar Sauce, Garlic Noodles , Asparagus, Pecorino and Red Onion Salad for Food Network Chef Cooking Challenge.
Wednesday: Italian Roast Chicken, Tomato Bruschetta, Green Beans
Thursday: Chicken Ramen Stir Fry
Friday: Ribeye, Gnocchi with Zucchini Ribbons (Buying the gnocchi, way too much work from scratch!  Will toss cooked gnocchi with zucchini ribbons and shallots that I sauted in browned butter), brussels sprouts
Saturday:Â  Bacon Ranch Tilapia (method below), Rice, Peas
Sunday: Chicken & Dumplings (chicken broth, veggies, cooked chicken, poultry seasoning topped with bisquick dumplings), Fruit Salad
For breakfasts we always have oatmeal, cold cereal, scrambled eggs, toast, freezer muffins, yogurt, cottage cheese and fruits to choose from.   This week we also have Apple Cheddar Bagels and link sausage. I also keep us stocked with lunch meats, cheeses, etc for bentos.  My lunches this week are  taco soup (4x), chicken salad on greens (2x), and veggie ramen stir fry (1x). Even when not specifically listed, I usually have a mixed greens salad and fruit available for dinner.
For the tilapia on Saturday, I'll fry up a few slices of bacon.  Once nice and crispy, I'll remove from the pan and set aside.  Dust the fish with some flour mixed with part of a packet of dry hidden valley ranch dressing, and then fry them up in the bacon fat (sinful, but tasty!).  Set fish aside.  Deglaze pan with a little veggie stock, add a squeeze of lemon, some chopped green onions and crumbled bacon. Swirl in a pat of butter, and serve over fish immediately.
Linked to: Menu Plan Monday.  Check out all the other menus you can find this week!