Apple week   
Baby L is 16 months  
Tot Basket: V-Tech Learning the Alphabet Apple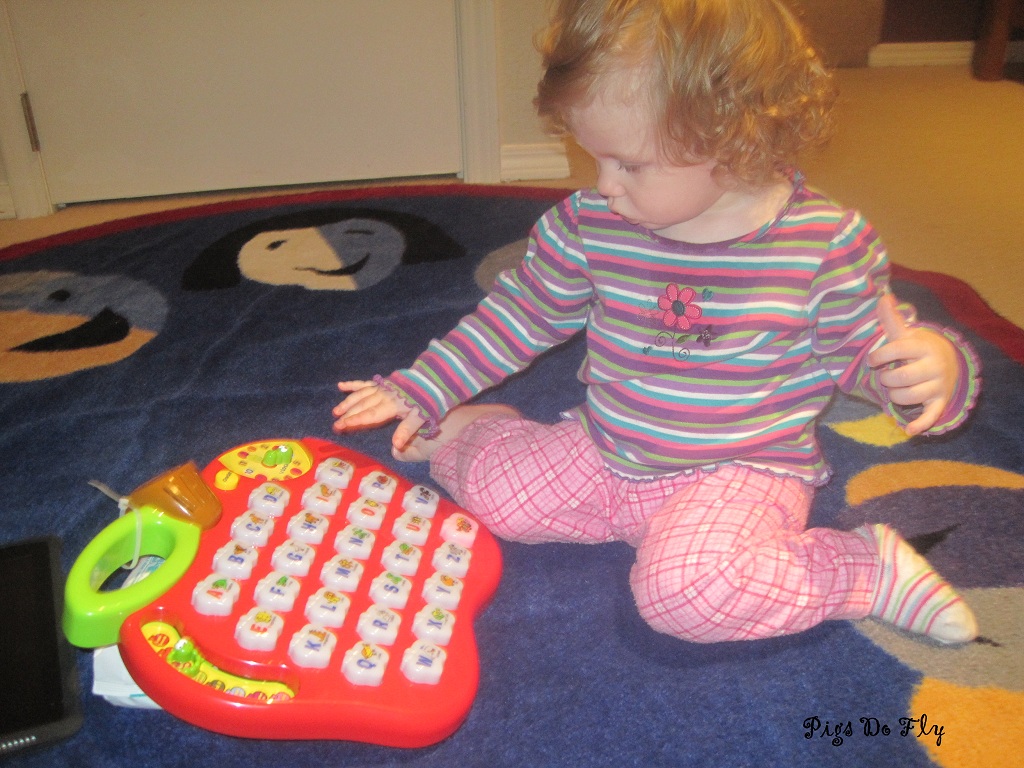 This toy has a number of settings, some are defintely for the older preschool set.  At 16 months, her favorite mode is "music"; when she pushes any of the letters it launches a different instrumental, generally toddler faves. She also really enjoyed spinning the clock handles. 
–  
Felt Board. I made these felt pieces new for this week with a bit of felt, some nice sharp scissors, and some fabric glue.  It has 10 little apples for apple chants and of course the apple tree.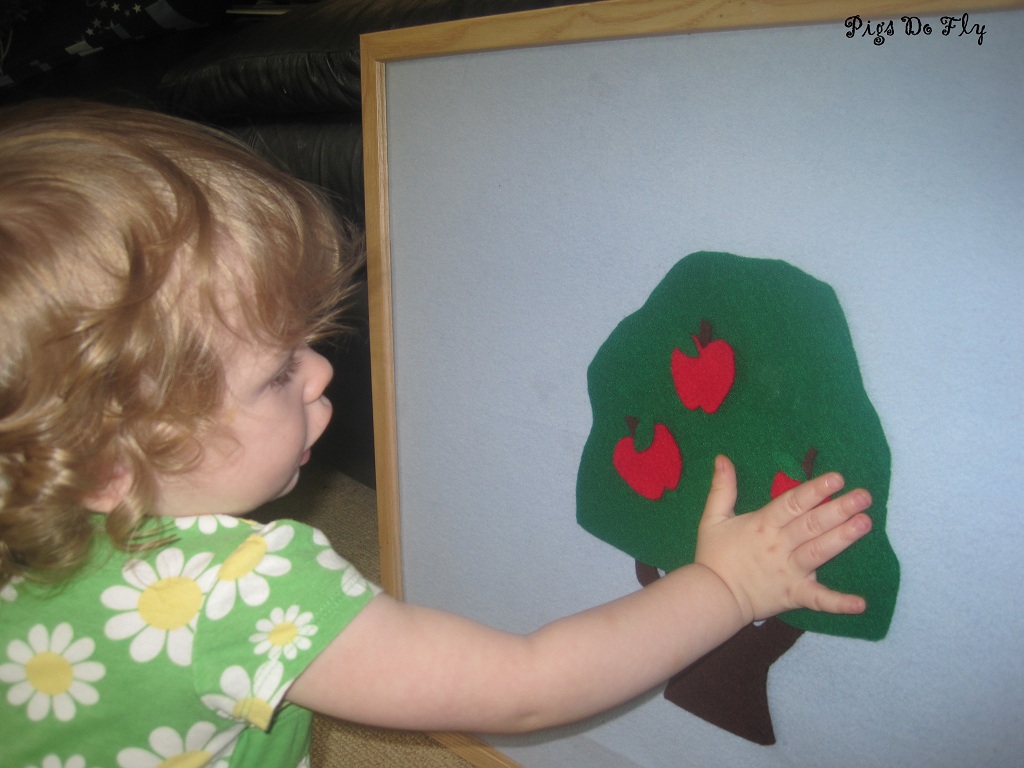 We did "10 little indians" with apples instead.   As well as a chant ala 5 little monkey with apples instead.  And another, which makes a good fingerplay as well. 
Way up high in the apple tree
Two red apples smiled at me
I shook that tree as hard as I could
Down came the apples,
Mmmm–were they good! 
–  
Tot Basket: Magnetic Apple Fractions.  Technically, these belong to big brother, but she kept wanting to play with them.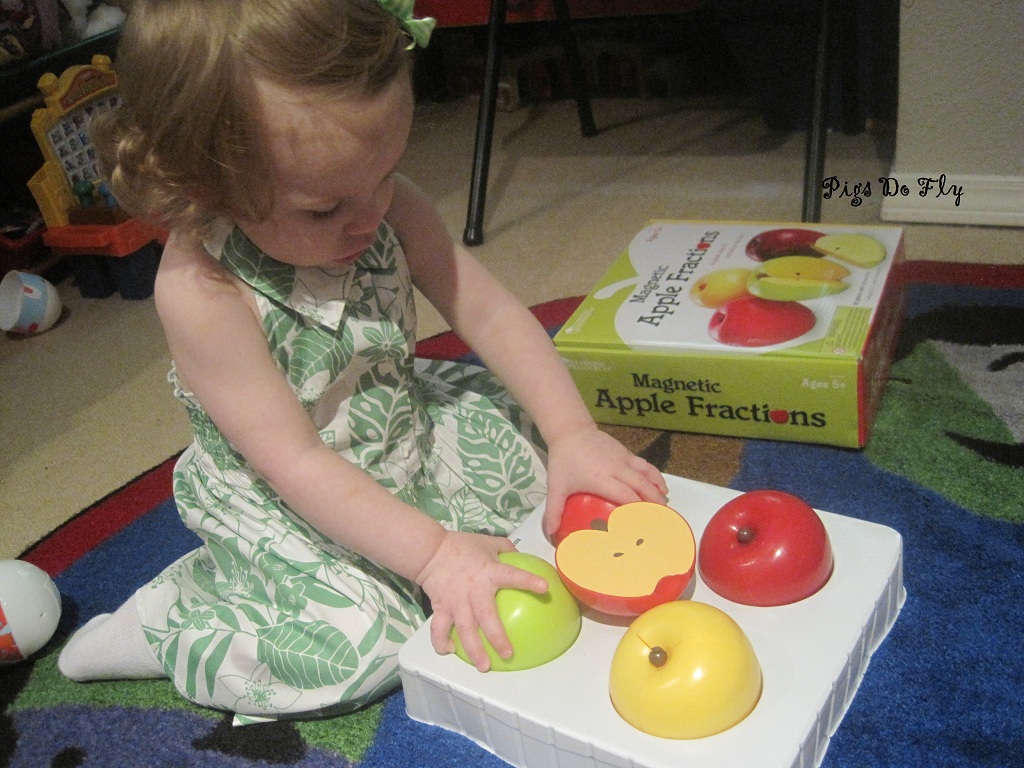 Pulling them out and fitting them back in like a shape sorter, and dividing them into pieces and then having them snap back into place when she got the pieces lined back up were loads of fun.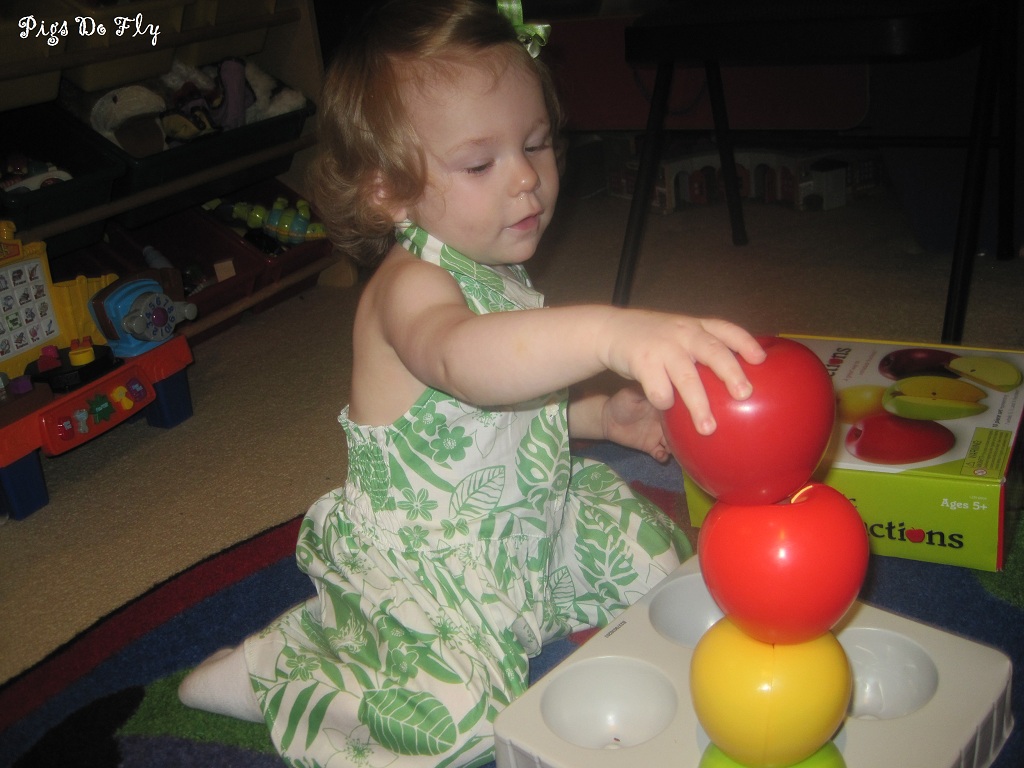 She also enjoyed stacking them, and I was very suprised to see that she was able to balance all four apples on top of each other, despite the fact that they aren't flat. 
– 
Crafts: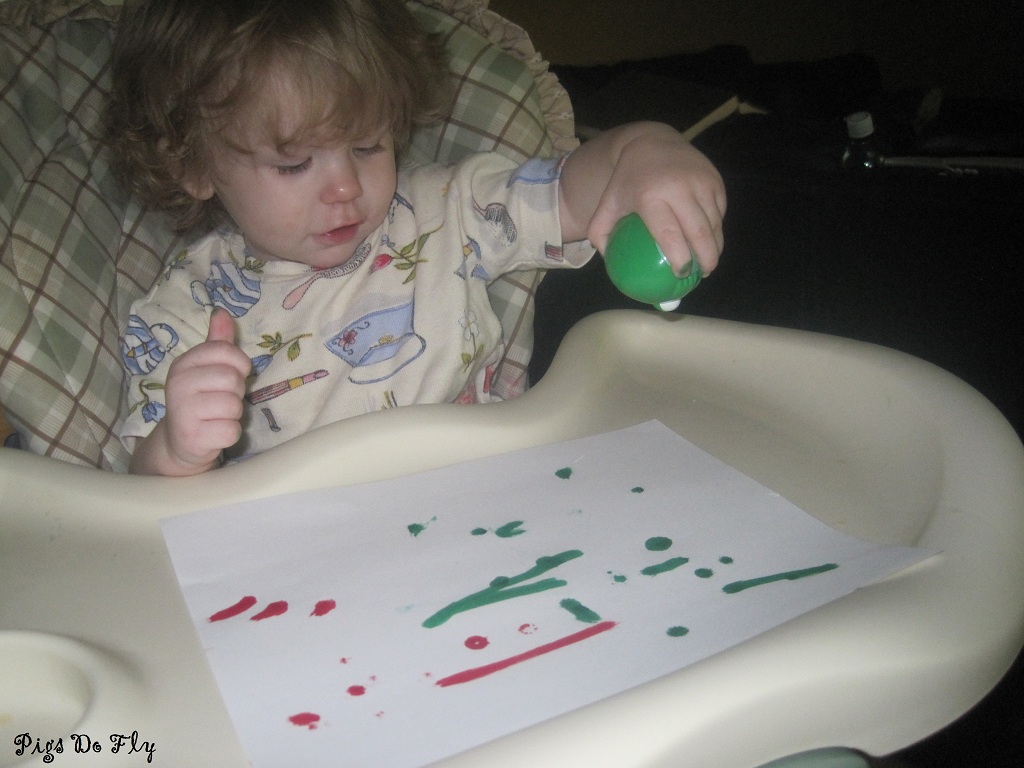 We looked at red and green apples and talked about the colors, and then I gave her red and green tadoodles markers to see how she would do with them, as the last time we tried markers a few weeks back, it was disasterous. It went a lot better this time, though much marker ink still ended up all over hands =)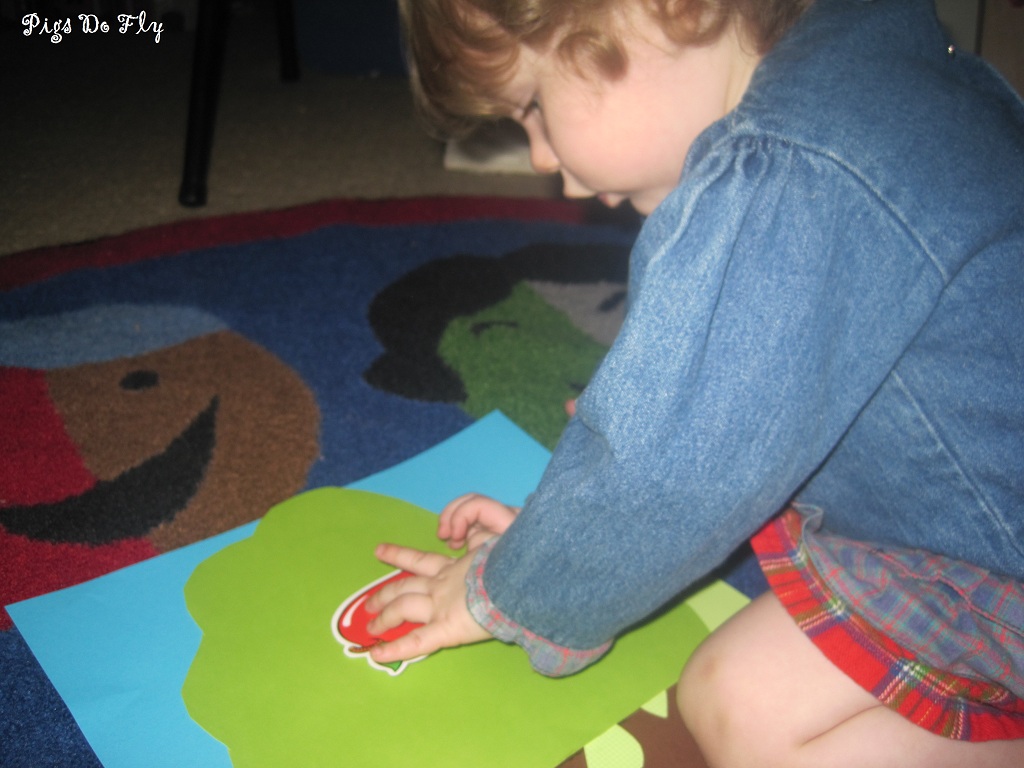 I made an apple tree out of cardstock and glued it down on a background.  The intent was to let her use up a whole sheet of smaller apple stickers, but I couldn't find them, so instead I used spray adhesive to turn some larger paper apples (bulletin board decorations) into "stickers".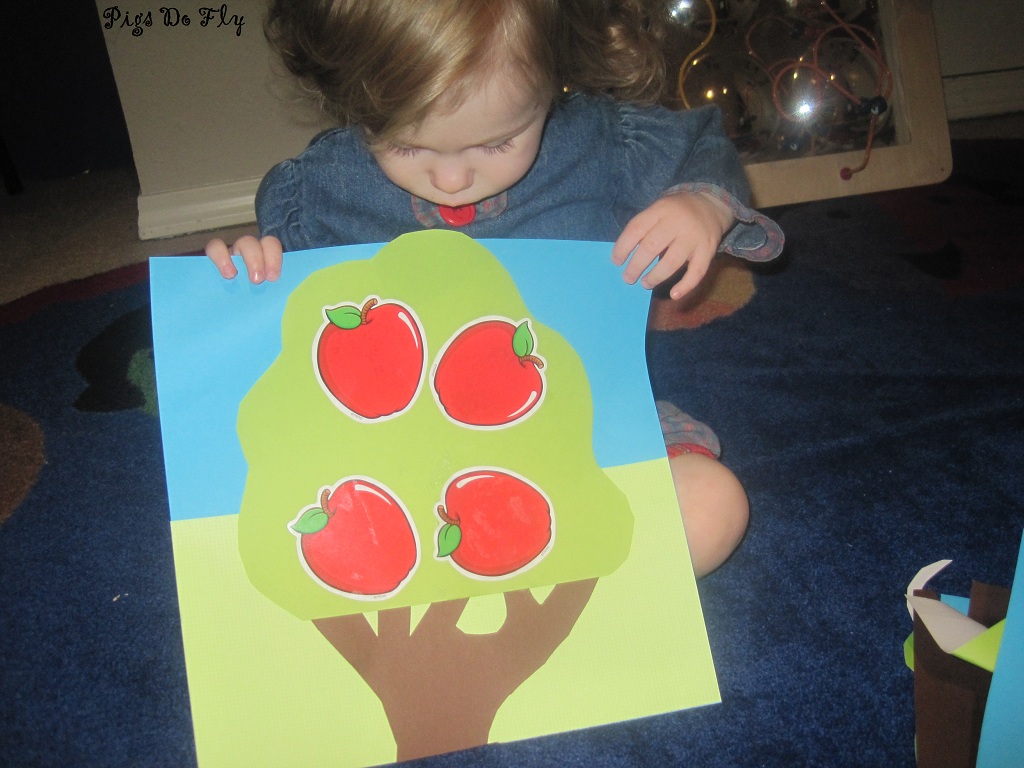 That left us with apples rather out of proportion to the tree, but I don't think she minded 😉 
– 
Others: Washed apples with a vegetable brush in a pan of water; paper apples graduated in size downloaded from File Folder Fun, which we used to talk about big, bigger, biggest and small, smaller, smallest; 
On topic books we read this week: 10 Apples Up on Top, The Apple Pie Tree, Apple Farmer Annie, Five Red Apples (pat the bunny series) 
On topic snacks this week: apples, apples and more apples!  raw in thin slices, applesauce, baked with cinnamon, apple muffins, thin apple sliced cut into apple shapes with mini cookie cutter 😉
The Favorite:
Applesauce on a Stick
1/2 cup unsweetened pineapple juice
3 medium apples unpeeled cored and cut up
1/4 teaspoon cinnamon
1/2 cup dark raisins
1 tablespoon sugar or to taste
Popsicle sticks
Process apples, juice, cinnamon and raisins in blender or food processor until smooth; add sugar to taste. It will taste less sweet when frozen. Spoon into 3-4 ounce paper or plastic cups or frozen sucker molds. Place in freezer. When partially frozen, insert a stick in each cup and finish freezing.
New sign: "Apple" isn't really new, but of course I focused on that this week!  Make either the "X" or "A" sign, place the knuckle of your right index finger against your cheek and pivot the hand back and forth. 
Find more terrific tot school posts over at 1+ 1 + 1 = 1