This week I used gardens (flowers and bugs mostly) as a very general theme this week.
Baby L is 15 months 
Tot Basket: Alex Little Hands Stack a Puzzle – Garden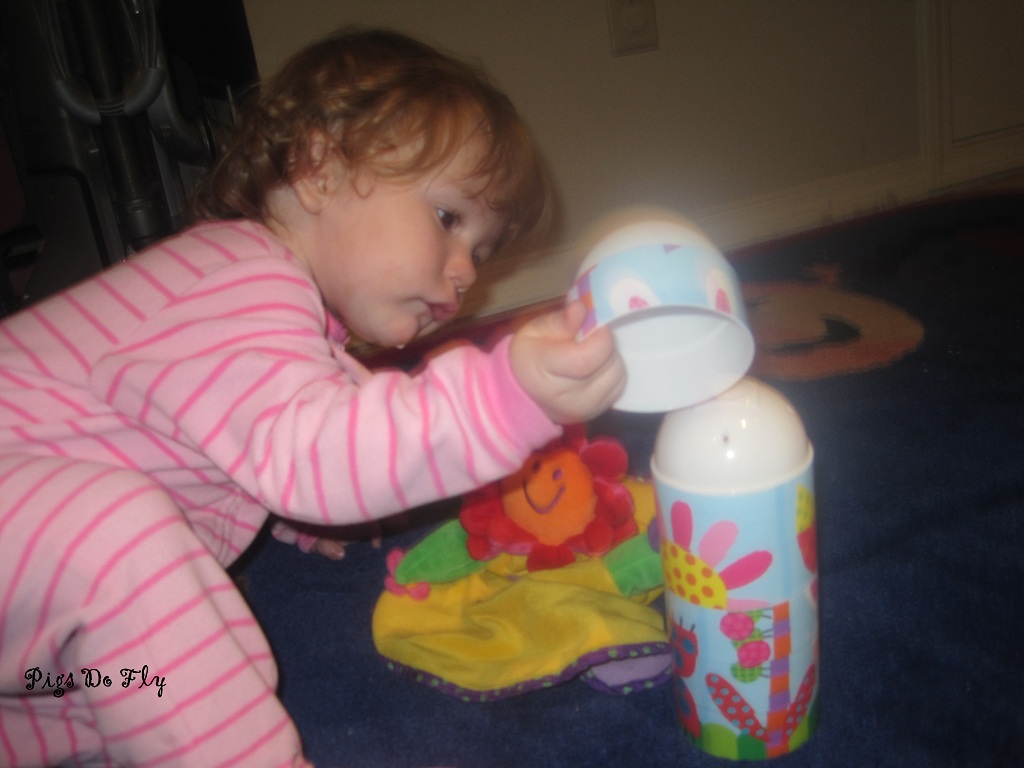 She really liked stacking these.  They are nice and fat and easy to hold and were fairly easy for her to get into place.  No, she didn't stack them in the correct order.  She's 15 months, not 30!  She then lined them up in a row unstacked and I called out a number as she put each one down.  Then she started touching them randomly out of order and I would call the number of the position it was in.  She caught on pretty quickly that I was responding to her action and got quite a kick out of making mommy say "one, one, one, one, one" over and over 😉 
Vocabulary: stack, top, rounded, smooth, numbers 1-6 
– 
Tot Basket: Magnetic Bug Catching Game (this is just like the fishing game, only its bugs.  The fishing game is a smarter buy.  The magnet hanging from a line attached to a wooden net handle makes far less sense than a magnet attached to a line attached to a fishing pole!).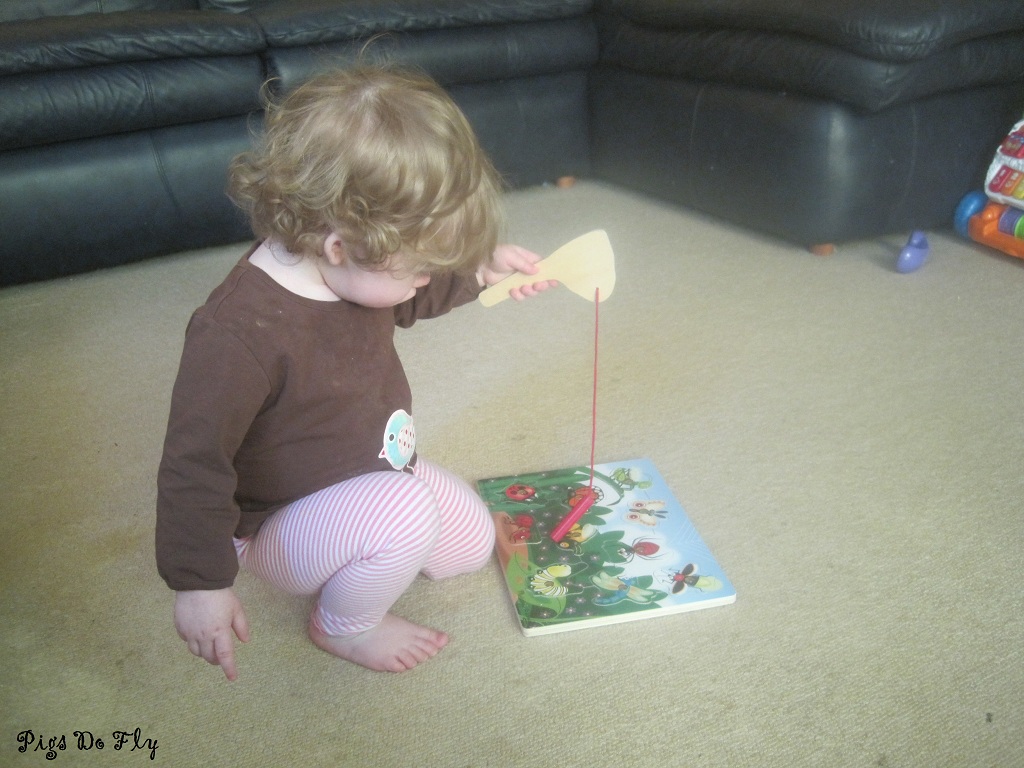 She played with it for a while, and while she couldn't really control the magnet, she started using this trolling technique, dragging the magnet across the board until it caught something
Vocabulary: net, bug, specific bug names, magnet, catch, lift, metal
–
Tot Basket: Tub Garden.  These are thick foam pieces that are meant to be used in the bath tub.  You get them wet and then they stick to the side of a shower door or whatever.  We just used them dry and played mix and match.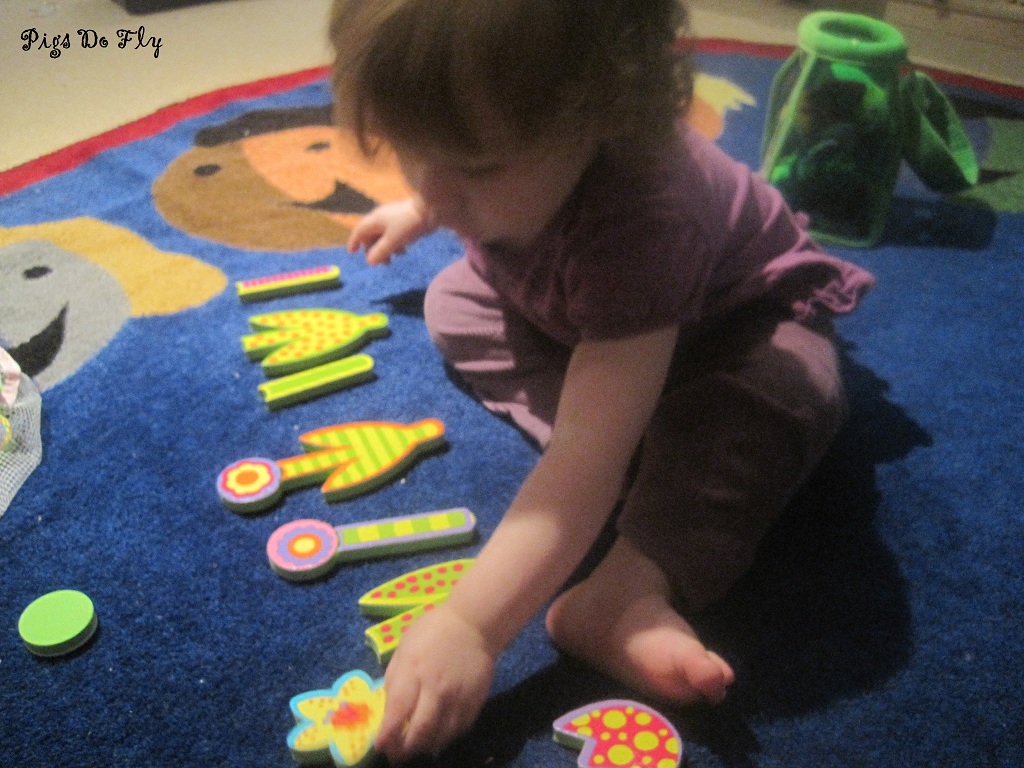 After a bit of just playing together with them, I lined up some of the stems and piled up the blossoms to see if she was "getting" it and would put the flowers together.
Vocabulary: flower, bug, stem, leaf, blossom, grass 
–
Collage.  I cut out some grassy knolls, stems, leaves, clouds and flower shapes for a contact paper collage (in a cardstock frame for support). I used the template from Wondertime's Felt Garden for some of the pieces; others I just cut out free hand (from scrapbook papers).

At first I gave her the pieces in order, like the grassy bits first and then some stems, knowing that she would put them on closest to her first, then further away once the closest parts had something on it so the grass would be on the bottom, then the stems above that, etc).  But she kept grabbing the little plastic sleeve with all the cut outs in it, and got frustrated that she couldn't figure out how to open it up to get at the shapes, so I just dumped them out and let her put things where she liked.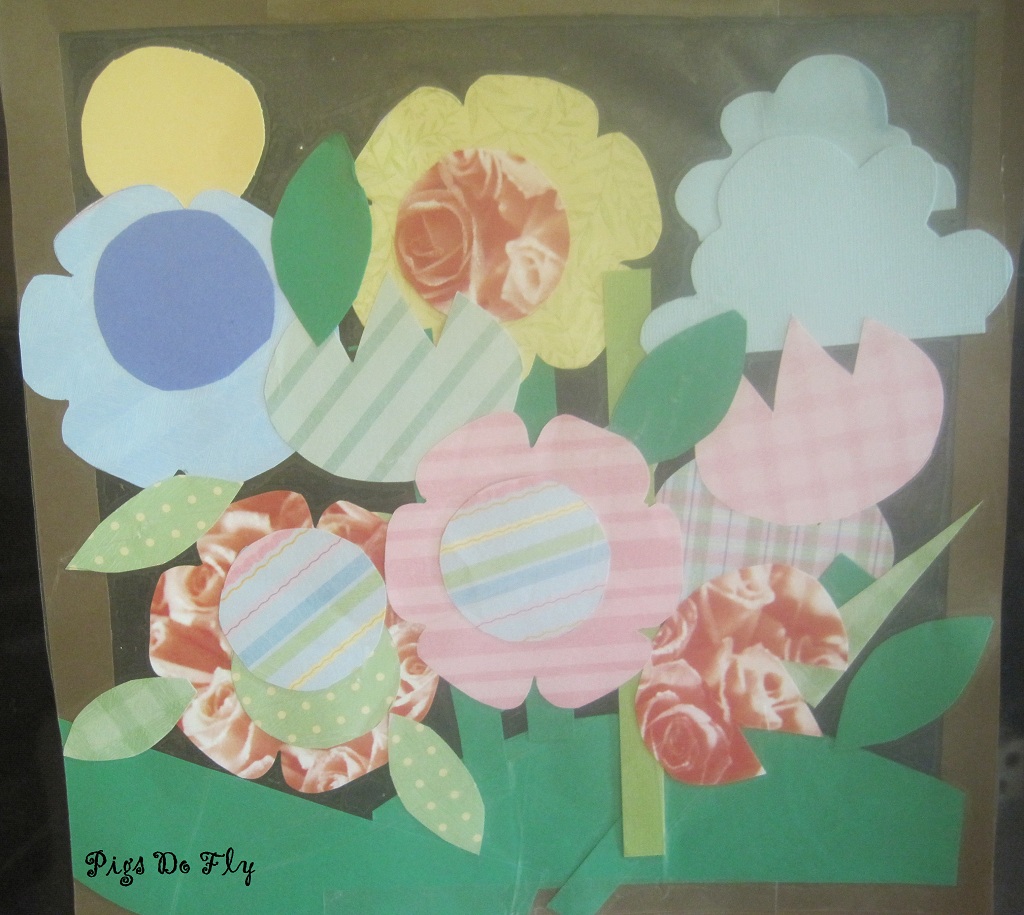 It didn't come out looking badly at all – it's Baby L's abstract flower garden — yea, that's it! 😉
Vocabulary: grass, stem, bloom, flower, leaf, cloud, center, stick, sticky
– 
Tot Basket:  Imaginary Play Garden. I used the bottom of an egg carton, turned it upside down and painted it brown and then cut an X in each of the cup bottoms so we could push seeds through (dirt mounds), a shaggy brown bathroom rug (dirt patch), large lima beans (seeds), empty watering can, artificial flowers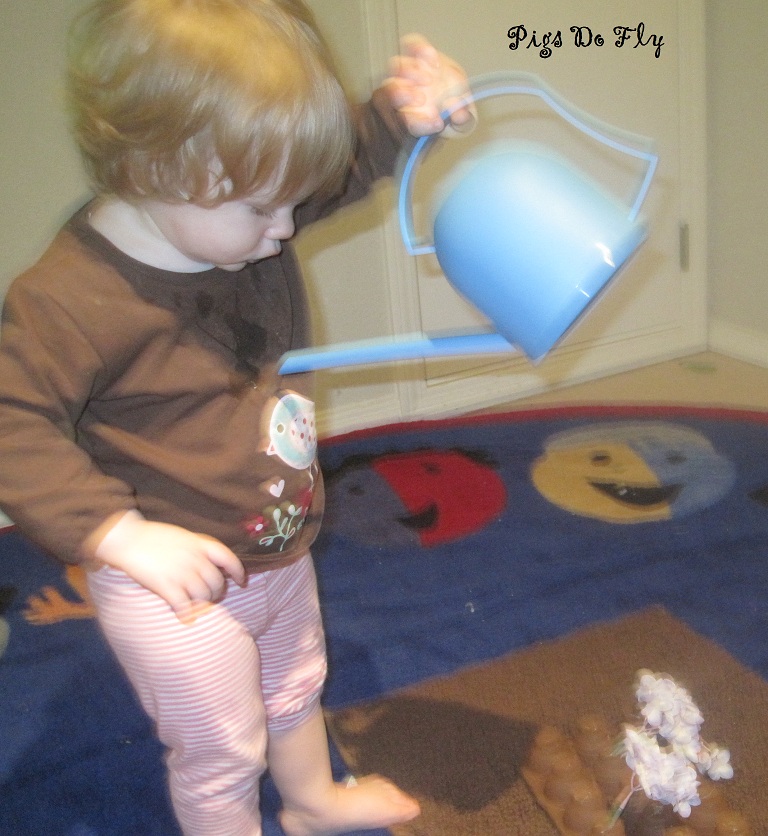 We placed the beans on each little "dirt mound", pressed them through, pretended to water them, and then stuck silk flowers in the hole as if they had grown.  She did terrific picking up individual beans and setting them on each little egg cup bottom and using one finger to press the "seed" through.  When the beans got pushed through, she KNEW they were there, and kept trying to get them back out by getting a finger in the hole, but of course couldn't reach them.  I showed her that they were under the egg carton and how to lift and move it to get them out.  She particularly enjoyed when I'd put a bean on each mound, wedged into the X so she could go down the line poking them through.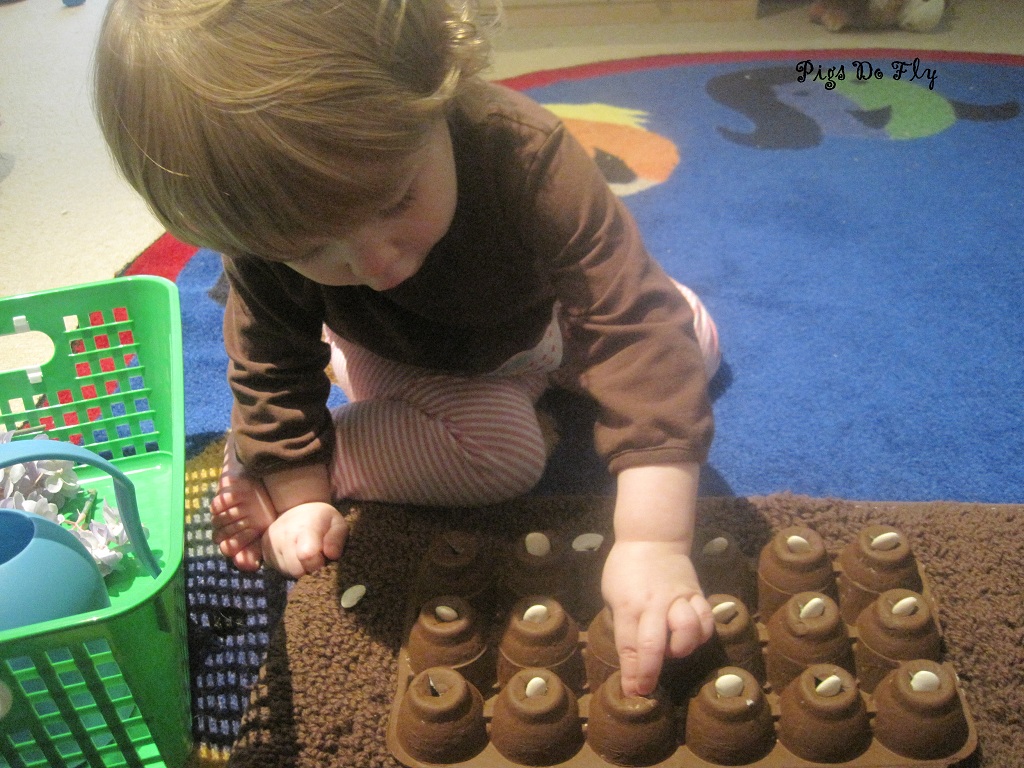 She had quite a long attention span for this activity, mostly playing with the beans; she couldn't get the stem of the silk flowers into the holes.  I think she'd have done better with artificial flowers that had a single bloom instead of the clusters at the top (like a carnation or something).  The bunches of flowers made it so she couldn't see the stem when she was aiming for the holes.  We also flipped the carton over and put a bean in each cup.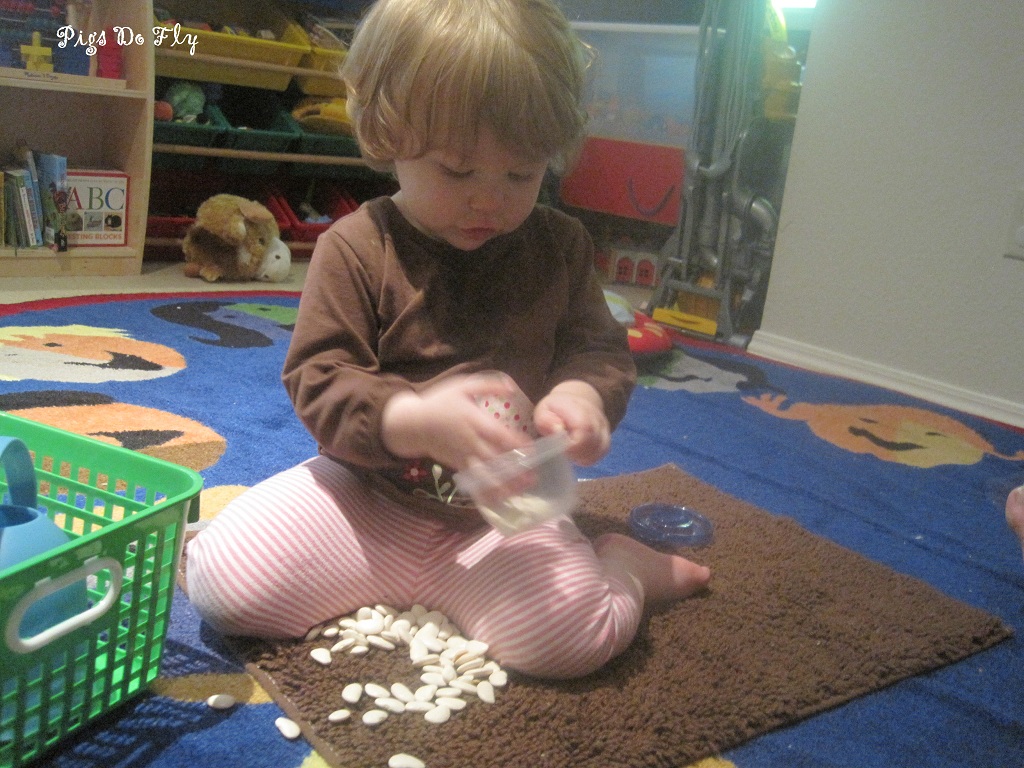 Eventually it "degenerated" to playing fill and spill with the beans (a large handful stored in a small gladware container).
On a side note, I think I'll save these items, add a straw hat, maybe a piece of old garden hose, some seed packets, a neckerchief, some seed catalogs, index cards and popsicle sticks for making plant markers and set it aside for a gardening "Prop Box" for when she is a little older and interested in dress up.
Vocabulary: Dirt, seed, push, poke, plant, water, sprinkle, flower, grow
– 
Sensory Bin: Potting soil, large lima beans for pretend seeds, a couple of plastic pots (technically biodegradable bamboo pots ;)), trowel and small rake.  Later we added a watering can.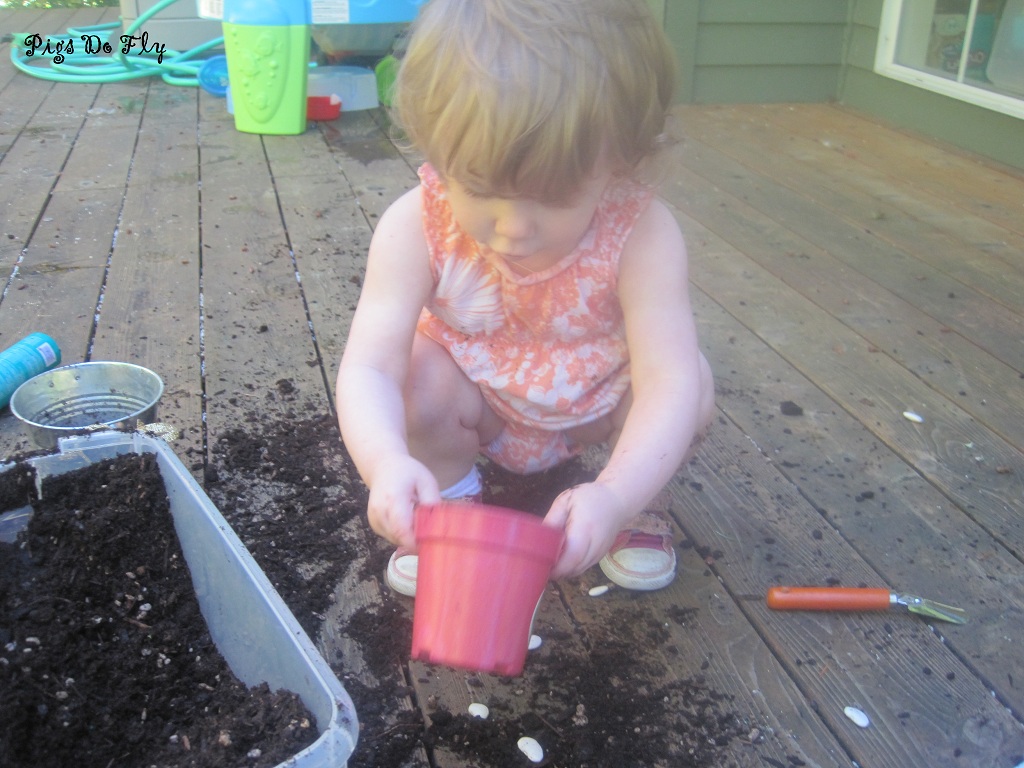 Although she followed my lead and imitated me with digging, filling the pots, and pretending to plant seeds for a short time, it didn't take long before all she was doing was throwing the dirt all over the place.  I tried to re-interest her in confining everything to the tub with a couple of watering cans for sprinkling our seeds and making some mud to squish around in (potting soil really doesn't make satisfying muddy messes, at least ours didn't.  Too much of non dirt stuff in it, I guess for lightening up the soil or whatever), but it didn't really convince her to stop throwing dirt everywhere.  After a short time and a half empty bin, we moved to the water table to get rid of the worst dirt, then headed in for a bath 😉
 Vocabulary: dirt, soil, dig, trowel, shovel, rake, seeds, plant,
 –   
Others: Fill and Spill Bugs, an old Mommy and Me Flower Puppet,  Art Cards – Garden
We played with them individually mostly, but I did try a new activity for us with the fill and spill bugs and the art cards and a few other 3D objects that I had around the house (which matched the cards). I lined up a few cards, piled a few of our items near by to see if she would be able to move the stuffed bug to the bug card, the plastic bird to the bird card, etc.
After a few demonstrations where I would name the cards on the ground, then pick up a 3D object and name that and lay it on the card, she did manage to get a few to the right place, but it was hit or miss, and I don't think she was really getting it.  I'll try something like this again in a few months.
On topic books we read this week: Sparkly Garden, In the Garden with Van Gogh, Jack's Garden, Scratch and Sniff Garden, Inch by Inch, The Carrot Seed
On topic snacks this week:  Flower Quiche, flowers cut from fruit and ham and cheese (so many flower cutters b/c of the bento lunches), "butterflies" out of graham crackers, peanut butter and mini pretzels
New sign: Flower.  Make a "squashed O" with your hand, and touch it to your cheek on one side of your nose and then the other. 
Find more terrific tot school posts over at 1+ 1 + 1 = 1