Week 13 – Dave Lieberman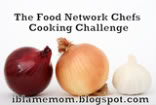 I forgot last week was an off week, which is a good thing.  I've been sick this week, and probably wouldn't have gotten my recipe made.
I picked his Black Bean Soup.
10 slices bacon, finely chopped
2 medium onions, chopped (about 2 1/2 cups)
6 garlic cloves, pressed
1 (14 1/2-ounce) can reduced-sodium chicken broth
1 1/2 cups canned chopped tomatoes
2 tablespoons ketchup
2 teaspoons Worcestershire sauce
1 tablespoon chili powder
4 (15 1/2-ounce) cans black beans, drained but not rinsed
Kosher salt and freshly ground black pepper
1 bunch cilantro
juice of 1/2 lime
Thinly sliced scallions, for garnish
Sour cream, for garnish
Grated cheddar, for garnish

Put the bacon into a large heavy pot and place it over medium heat. Cook until it starts to give up its fat, about 4 minutes. Stir in the onions and cook, stirring, until they start to turn translucent, about 4 minutes. Stir in the garlic and cook until you can smell it, about 1 minute.

Add the broth, tomatoes, ketchup, Worcestershire, and chili powder. Stir in the beans, turn the heat to high and bring to a boil. Adjust the heat so the soup is bubbling gently and cook 10 minutes. Season with salt and pepper.

Meanwhile, pick off all the thick stems from the cilantro. Wash it and shake dry. Chop the cilantro coarsely and stir it into the soup when it has been simmering 10 minutes. cook until the soup is thickened, about 5 minutes. Stir in the lime juice. Serve with the garnishes
I followed the recipe to the letter up until the point of adding the beans (well, I halved the recipe, and used homemade stock instead of canned broth).  Then I tasted it and to me, it tasted like nothing except salt.  Now, we are sensitive to salt around here.  I don't add it much when I'm cooking, nor do we salt at the table.  About 6 years ago  cut it out of my diet for health reasons, and because my hubby was diagnosed with high blood pressure.  So maybe a normal salter wouldn't think so, but to me it was like a salt lick.
So I started looking for something to dilute it a bit and give it more flavor than just salt.  I added an extra couple cups of stock (homemade, no salt), and some cooked ground beef (from the freezer) and a can of diced green chilis — which is why the final result isn't just a black bean soup 😉  After letting it simmer long enough for the meat to come up to temperature, I added the cilantro as directed and served. At that point it was edible.  Kidlet and I enjoyed it.  DH was ill and sleeping and didn't try it.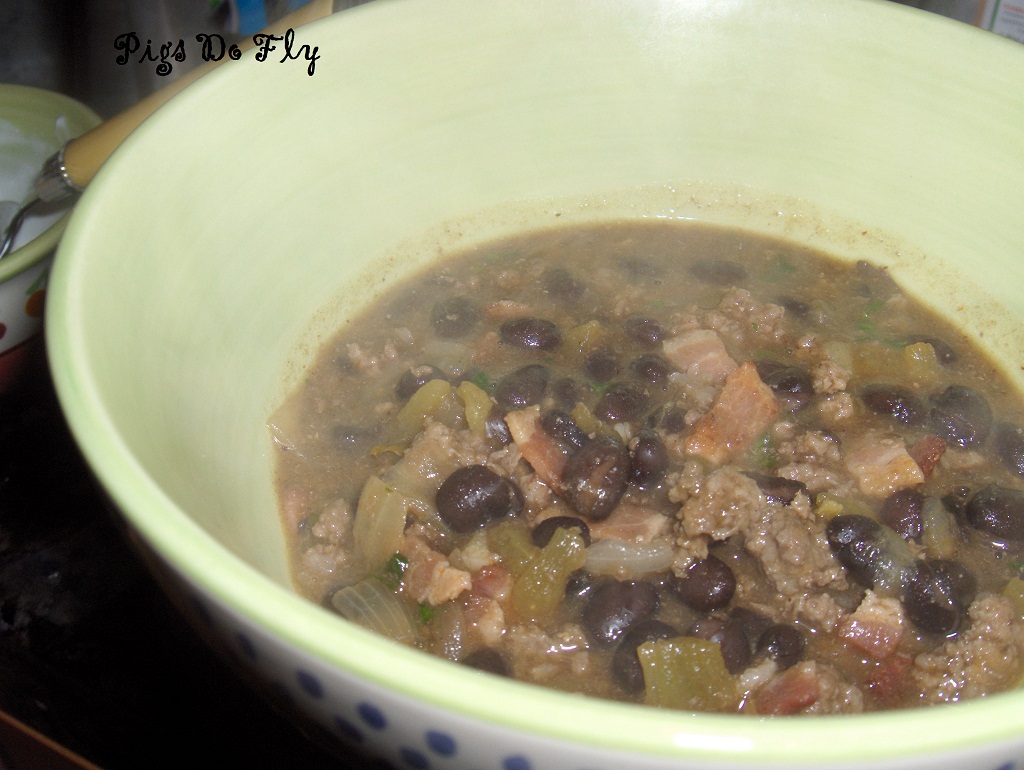 Linked to the Food Netowrk Cooking Challenge at I Blame My Mother.  Check out more Dave Lieberman recipes this week!