09/20/2009
Last week I did very well.  I stuck to my list and came in under budget.  Thanks for hosting MPM Organizing Junkie; joining the planners there was the kick in the pants I needed to start getting my budget under control!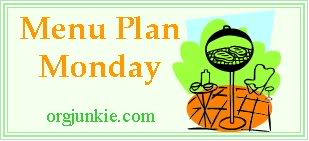 Monday: Cube Steak with Balsamic Glazed Onions (method below), Corn, Garlic Toast (whole wheat bread)
Tuesday:  Shrimp & Grits, Whatever dark leafy green looks the best when I'm shopping cooked via Alton Browns Recipe for the Food Network Chef Cooking Challenge.
Wednesday: Crockpot Roast Chicken, Onions and Fennel, Pea Salad (Sydney at Food for Foodies reminded me how much I love it!), Mashed Potato
Thursday: Shredded Chicken Paprikash, Noodles, Broccoli
Friday: Steak Tacos
Saturday: Honey-Jalapeno Chicken and Sesame Soba Noodles, Snowpeas and Mushrooms
Sunday: 5 Spice Roast Salmon, Wild Rice Blend, Green Beans
For the balsamic glazed onions, I cook up the beef in a large saute pan, then remove it from the pan and cover with foil to keep warm.  I dump diced onions in the pan, adding a little evoo if necessary, and saute them until they are a little soft.  Deglaze the pan with 1/2 cup stock (beef for this, but I do these onions on chicken cutlets too, and I'd use chicken stock then), and bring to a boil  Add maybe a quarter cup of balsamic vinegar (not the aged thick expensive stuff, just a decent grocery quality is fine) and a good dollop of honey.  The vinegar fumes up really bad, but it tastes so good in the end, you won't mind.  Stirring occasionally, adjusting heat to keep it at a low boil, cook until liquids reduce by half.  Return meat to pan, turn to coat, sprinkle with fresh chopped herb if you have some on hand, and serve.
For breakfasts we always have oatmeal, cold cereal, scrambled eggs, toast, freezer muffins, yogurt, cottage cheese and fruits to choose from.   This week we also have waffles from the freezer and apple topping.  I also keep us stocked with lunch meats, cheeses, etc for bentos.  My lunches this week are clam soup (4x), shredded chicken wraps with cilantro mayo and veggies (2x) and leftover shrimp and grits (1x), Even when not specifically listed, I usually have a mixed greens salad and fruit available for dinner.
 Find more menus from other MPM participants