The theme for this week's Open Ended Art project was simply "black and white".  Once again I wanted to go with the spirit of the challenge and provide only materials to him, without any specific project in mind, and without assisting or correcting in any way.  He is old enough that it works.  When he was younger I think he would have been at a loss on his own like that.
We started out upstairs in my office / the playroom and he was asking to "make a project".  I said of course and hey, do you think we could make something cool if we only used black and white? and he said yes we can!  He started rummaging (my scrapbook stuff that isn't packed up is all over the place), dug out some buttons and some patterned paper.  He asked for scissors and glue.  Then he went to work.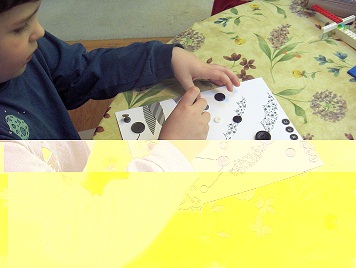 SEE, this is the dipped in dye thing I was talking about when I was complaining about my camera the other day.  Oh Honey, if you are reading this, I need a new camera!  All the in progress shots ended up like that or worse.  At least one of the finished pictures came out!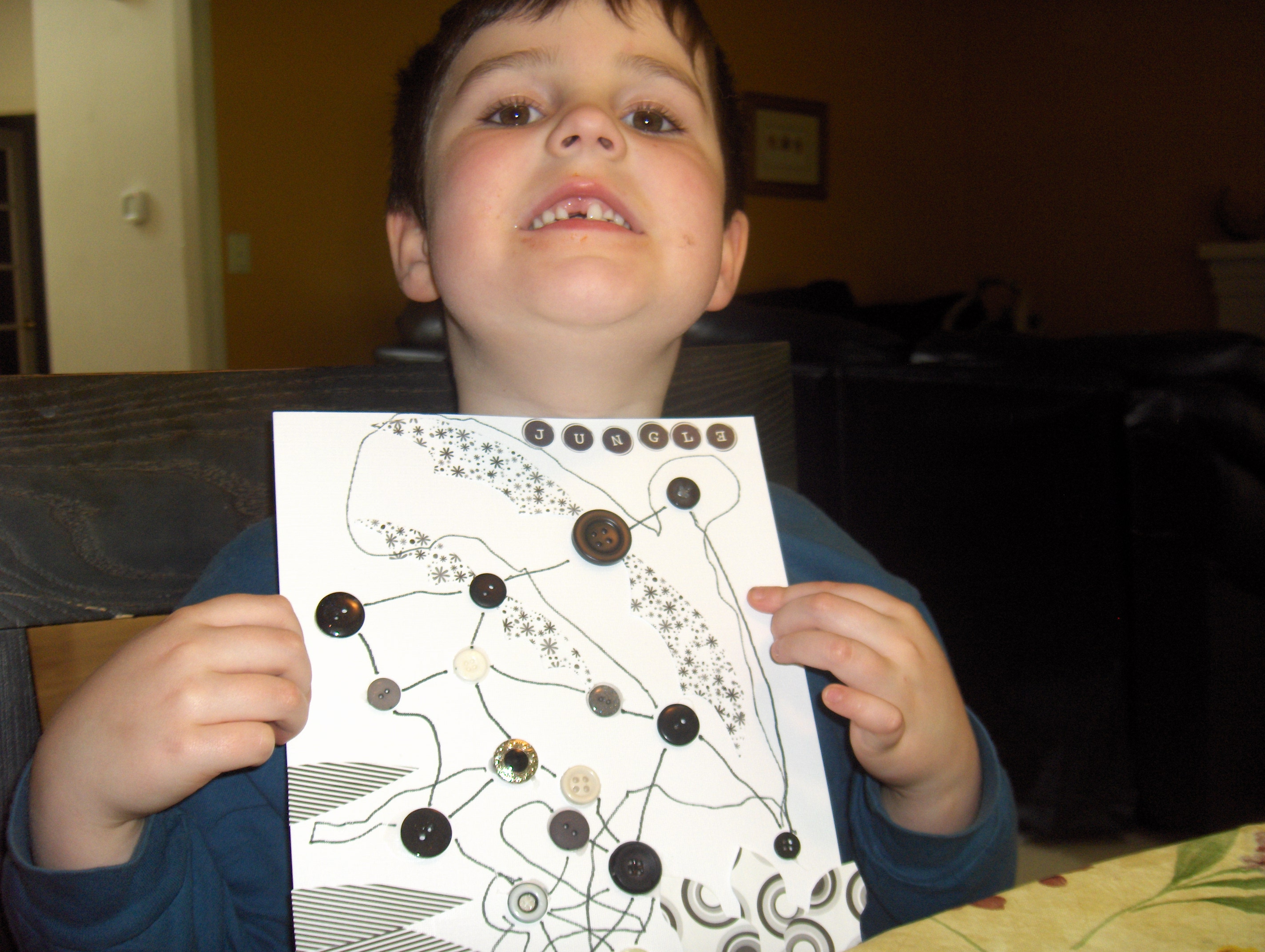 Once he had everything glued down the way he wanted, we set it aside to dry, but he very earnestly informed me that it wasn't finished and he needed to "draw in the lines" when the glue was dry.  He had a very clear vision, apparently!
What is it?  It's a "jungle at night" of course.  He even spelled out "jungle" with scrapbooking stickers all on his own!
I really have enjoyed these open ended art projects.  If you haven't tried one with your kids, I highly recommend it!   The schedule posted at Mommies Wise Little Bookworms looks like:
Oct 21-27: Black and White:Glitter, Chalk, Paint anything goes
Oct 28-Nov 3: Pumpkins: Real, Collage anything goes
Nov 4- 10: Henri Matisse Collage (more in this in a week or so)
Nov11-17: Feather
Nov 18-24: Corn
Nov 25- Dec 1: NON Open Art: lets see those Turkeys!