This week I used a few recipes that I have picked up from other folks' MPM posts.  I don't always do a very good job of noting where it came from; I snag them and stick them with my recipes.  If you ever spot one of yours and I haven't credited you, please let me know, and I will be happy to link back.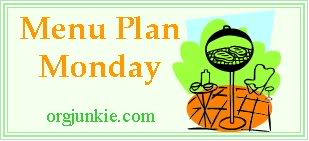 Monday: Roast Chicken with Lemon, Orange and Basil (method below), roasted fingerlings (farmers market), broccoli
Tuesday:  Bobby Flay's Shrimp and Grits for Food Network Chef Cooking Challenge, green beans
Wednesday: Quick Crescent Taco Bake, Green Salad, Fruit 
Thursday: Thai Red Curry (from Modern Gal) Rice, Fruit
Friday: Chicken Cacciatore Pasta, Asparagus
Saturday:  Salmon Turnovers (from the Happy Housewife), Salad, (frozen) corn on the cob
Sunday: Rib Eye Steaks with Tomato Tapenade, potato wedges, broccoli and cauliflower
For breakfasts we always have oatmeal, cold cereal, scrambled eggs, toast, freezer muffins, yogurt, cottage cheese and fruits to choose from.  This week I'll make a Croissant Breakfast Casserole as well.  I also keep us stocked with lunch meats, cheeses, etc for bentos. I'm probably going to mix up another big pot of taco soup and bake some corn muffins (extra for freezer) for my lunches.  For some reason, its been tasting really good and I'm not sick of it yet.  Even when not specifically listed, I usually have a mixed greens salad and fruit available for dinner.
For the roast chicken, I won't be cooking it whole this week.    I'm going to basically butterfly (?  there's some fancy name for it, i'm sure) it and flatten it out.  Season with salt and pepper, squeeze a lemon and orange over the top (tuck the rinds under), drizzle with evoo, sprinkle with dried basil and roast until done.