The theme this week is Transportation / Things That Go
Baby L was quite sick earlier in the week and still runny nosed and fussy today.  I got hit hard with her cold halfway through the week, so once again, things were cut a little short, and my documentation is less than ideal.
Baby L is 16 months
Sensory: Whipping Cream "Clouds" with plastic airplanes & helicopters (from a bin of Lakeshore Learning Vehicle Counters).  Shaving Cream would make nicer "clouds" to squish in and last longer, but Baby L is still putting a lot in her mouth, so I went with something edible.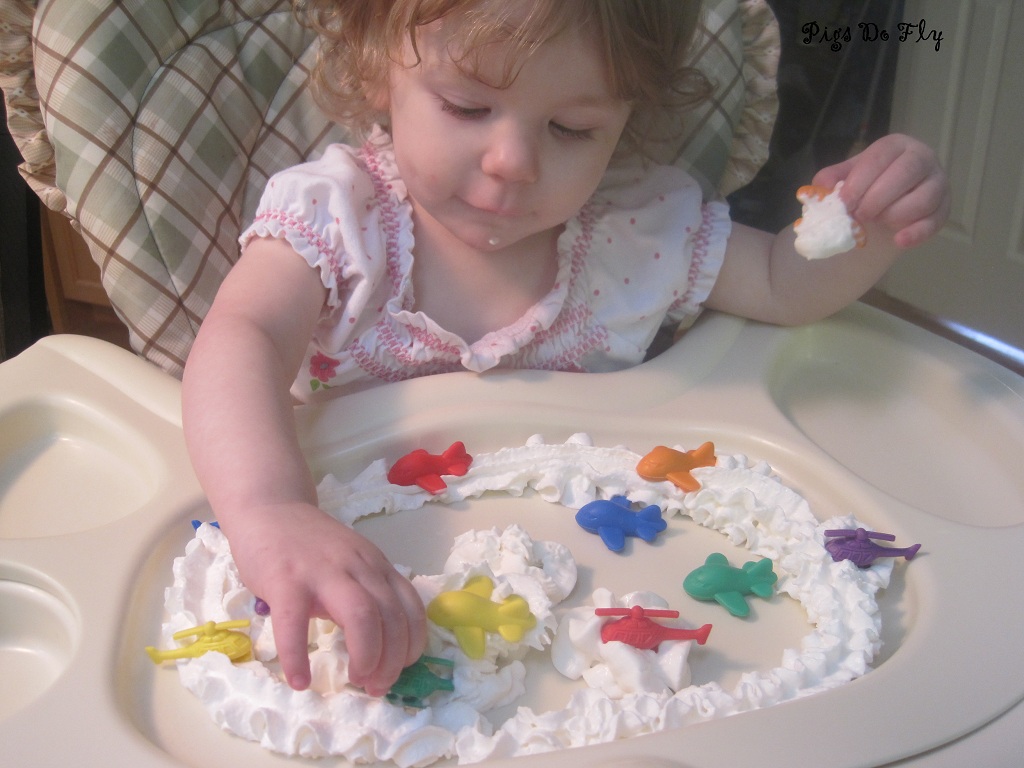 This was a big hit, especially once she figured out that whipping cream tastes delicious ;)Â  She did zoom the airplanes and copters around for a bit, but then started using them as utensils to zoom the "clouds" right into her mouth.
–
Tot Basket: Transportation Magnets and magnetic board.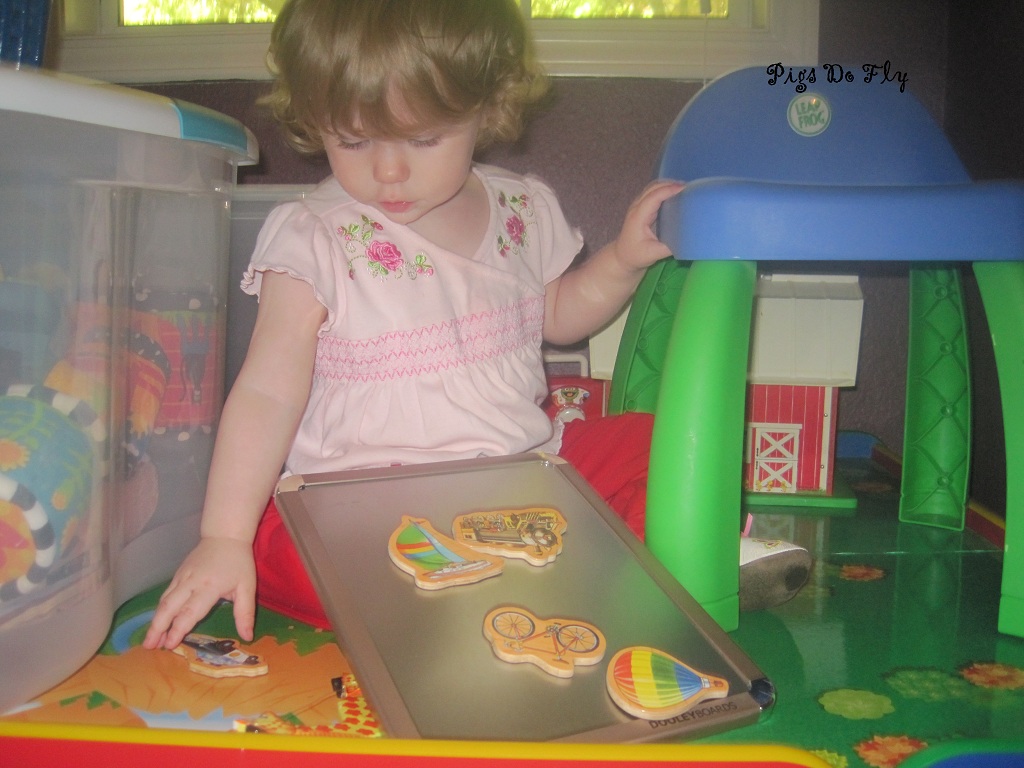 These magnets are made by Melissa and Doug; but we've had them a long time and I don't think they are sold now (at least I couldn't find them on thier site or Amazon to link them).  Baby L likes placing magnets and pulling them off
Vocabulary: various types of vehicles
–
Tot Basket: Maxim Ramp Race.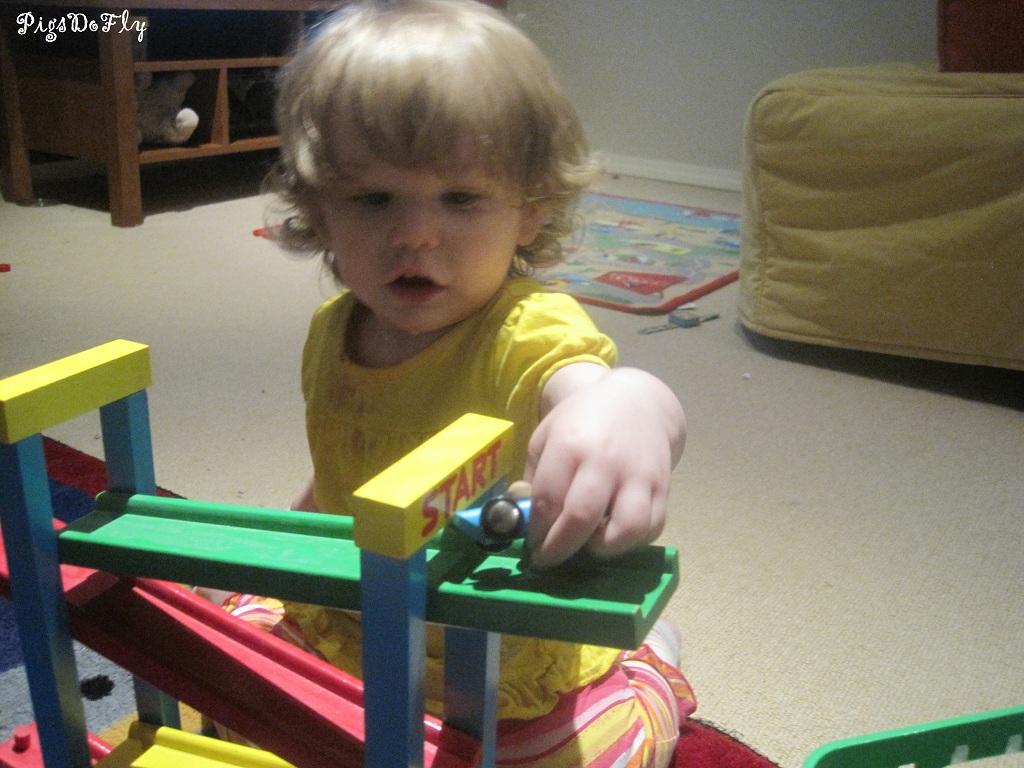 This is another toy that is from Kidlet's toddler hood, and I couldn't find the little ramp at the bottom so the cars slide off smoothly (I know I've seen it around here somewhere!) but it didn't seem to matter to Baby L; she really liked watching the cars swoosh down the levels.
Vocabulary: car, blue, green, zoom, top, bottom
–
Tot Basket: Wooden Trains & Tracks (legacy of Kidlet who would literally spend hours pushing Thomas around on tracks)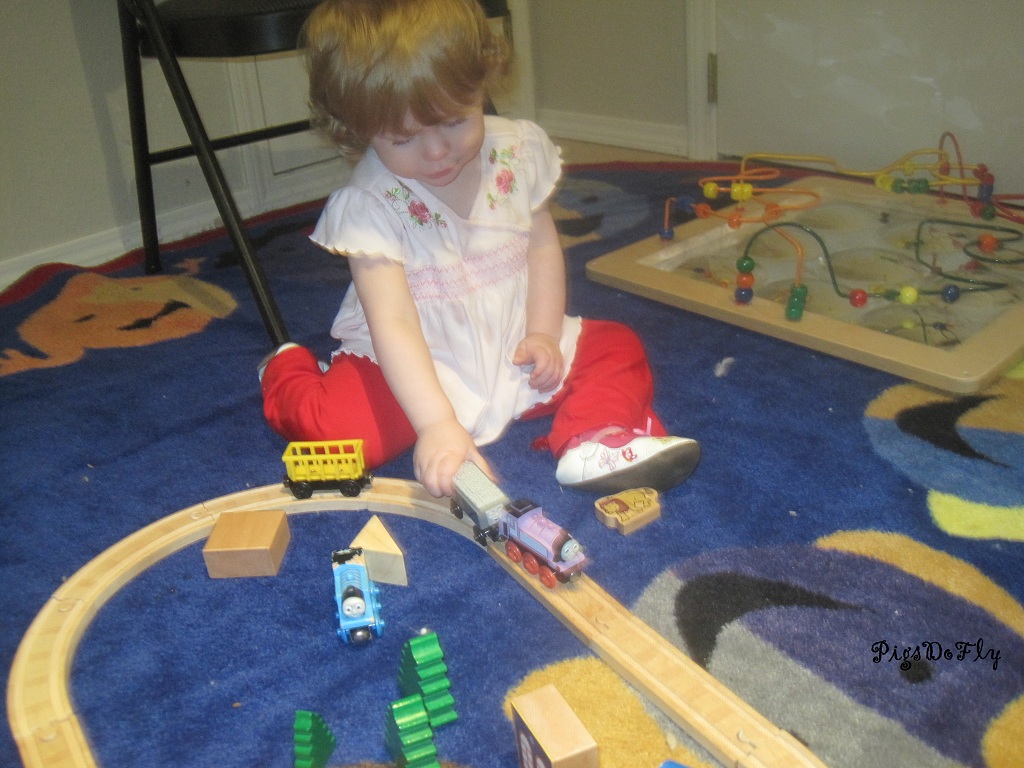 Vocabulary: train, track, engine, caboose, front, back, push
–
Tot Basket: Transportation Manipulatives sorting.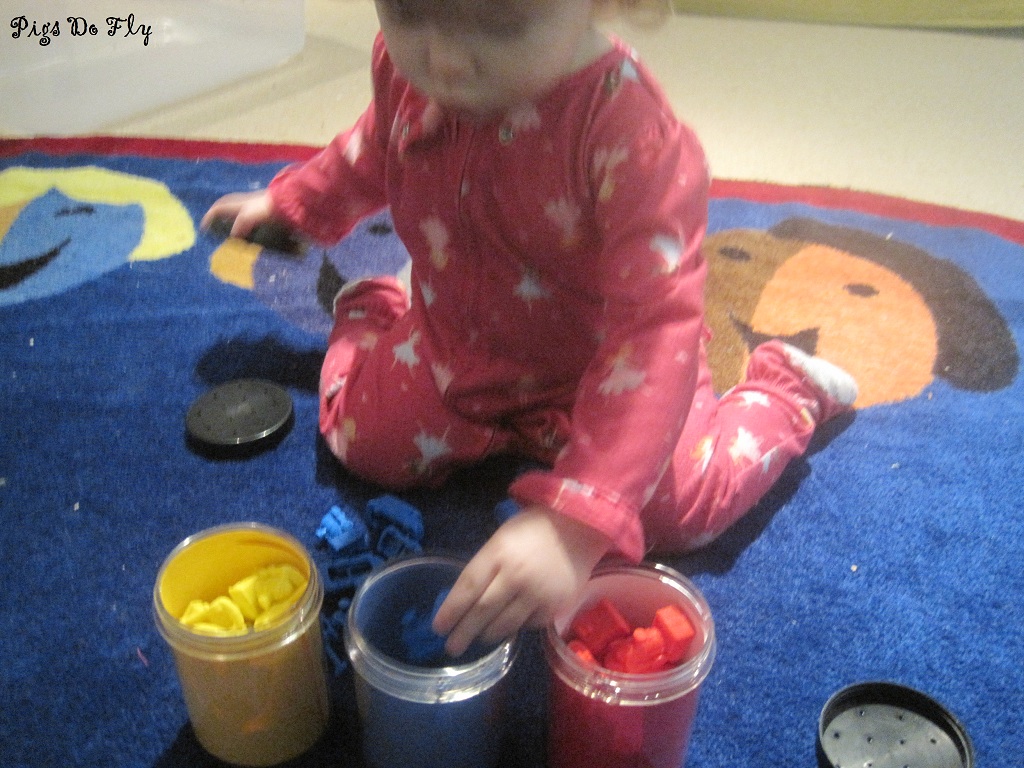 I took a few Oriental Trading "bug jars" (thin plastic cups) and inserted a piece of rolled up paper inside to make a red, blue, and yellow cup.  I took out a handful of the Lakeshore Learning transportation manipulatives in each of those colors to see if she could sort by color yet.  Not so much.  She did enjoy filling the jars and then dumping them out.
–
Tot Basket: small cars (brother's hot wheels, etc) + blocks + street rug
We number of different things with the small cars this week.  I collected several of the same colors and we tried grouping reds with reds, blues with blues, etc.  Made a "garage" for the cars out of a shoe box. We drove the cars on the roads on the play rug, lined up cars and talked about front, behind, and next to, faced each other and rolled cars back and forth, created a "main street" with blocks for cars to drive between, and created a road out of blocks for her to drive the cars along.
Vocabulary: cars, colors, wheels, road, drive, line up, front, behind, between, in, out
–
Others: pretended that a large box was a car/train and pushed her around in it, played with boats in the bathtub (weather has been rainy now for a few weeks, so outside time has been curtailed), Fisher Price Rumble & Learn Driver, V-Tech Animal Train
Nursery Rhymes & Songs: Wheels on the Bus, The Choo-Choo Train (chanting game), Down by the Station, Little Red Caboose,
On topic books we read this week: My Little Book of Trains; Sesame Street My First Book of Things That Go; The Race; Zoom, Zoom, Zoom; Bear's Blue Boat; Traffic Jamboree;
New sign: Car.  Mimic grasping a steering wheel with both hands and driving an imaginary car.
Find more terrific tot school posts over at 1+ 1 + 1 = 1