Not really a "theme" this week, except I guess "basics" – the alphabet in general, numbers, colors and shapes.
Baby L is 15.5 months
I had *so* much going on with the volunteer coordination job for Kidlet's school (I had to teach 2 training sessions, and spent a lot of time prepping for that) that I did a really poor job of documenting totschool time this week, so we are low on pictures.  Then to make things worse, I somehow managed to lose all the updates that I made to the post half way through the week, so my post is looking a little anemic! 
Tot Basket: Alphabet Puzzle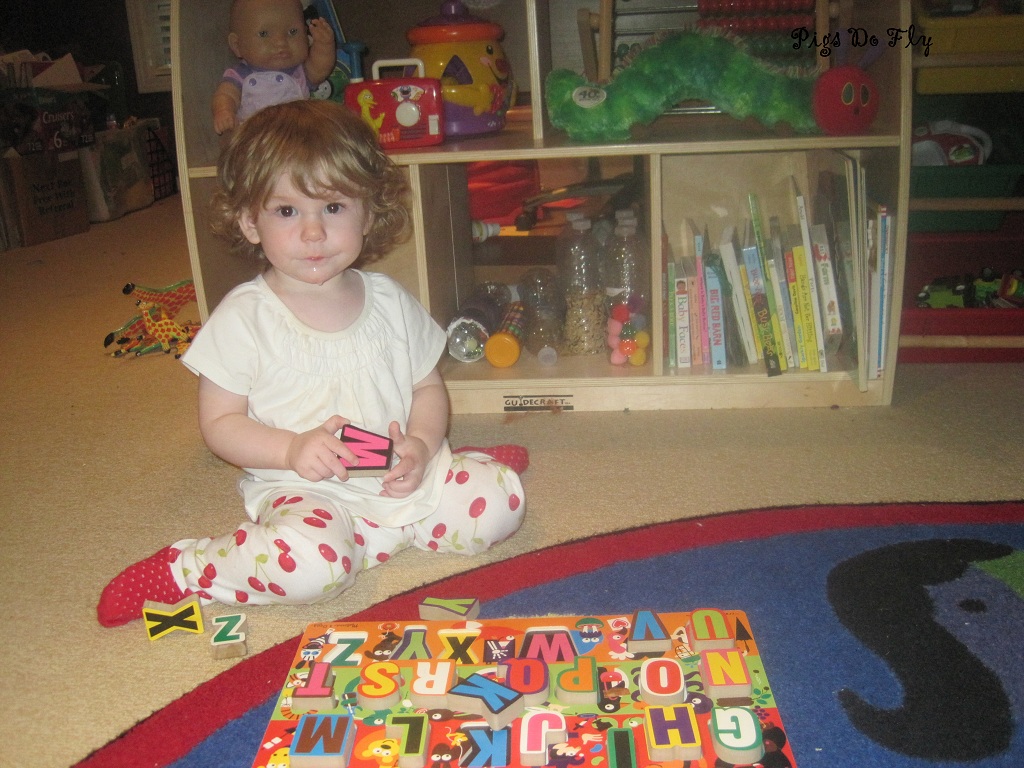 She hasn't got the idea of matching the picture on a puzzle piece to the picture on the board really (with any puzzle).  She tries to fit it into any hole that looks close.  That works OK when we are using her blocksters or one of the 3 piece chunky handle puzzles, but not so much for one with this many choices.  Sang the ABC song while touching each letter; named each letter as she touched it. 
–
Tot Basket: Stacking Blocks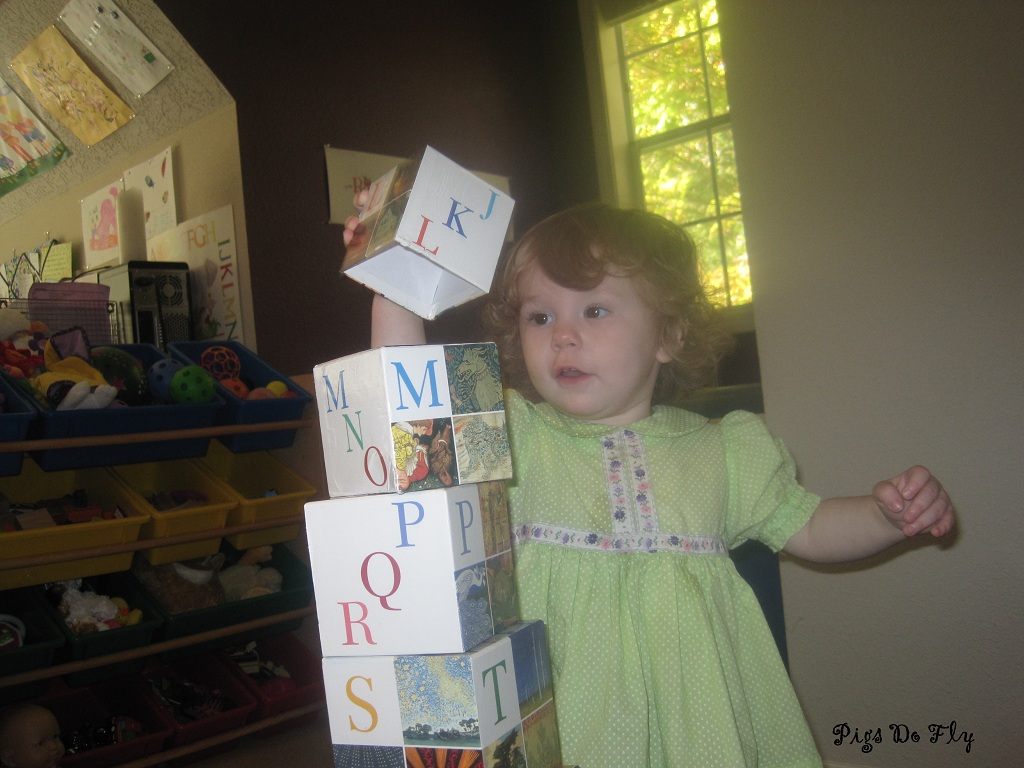 These Metropolitan Museum of art nesting blocks (and books on ABC, 123, and shapes) were gifts from my MIL back when Kidlet was younger.  She did a really great job of getting them stacked quite high.  Knocking them over of course was the best part 😉
–
Tot Basket: Wooden Clock Shape Sorter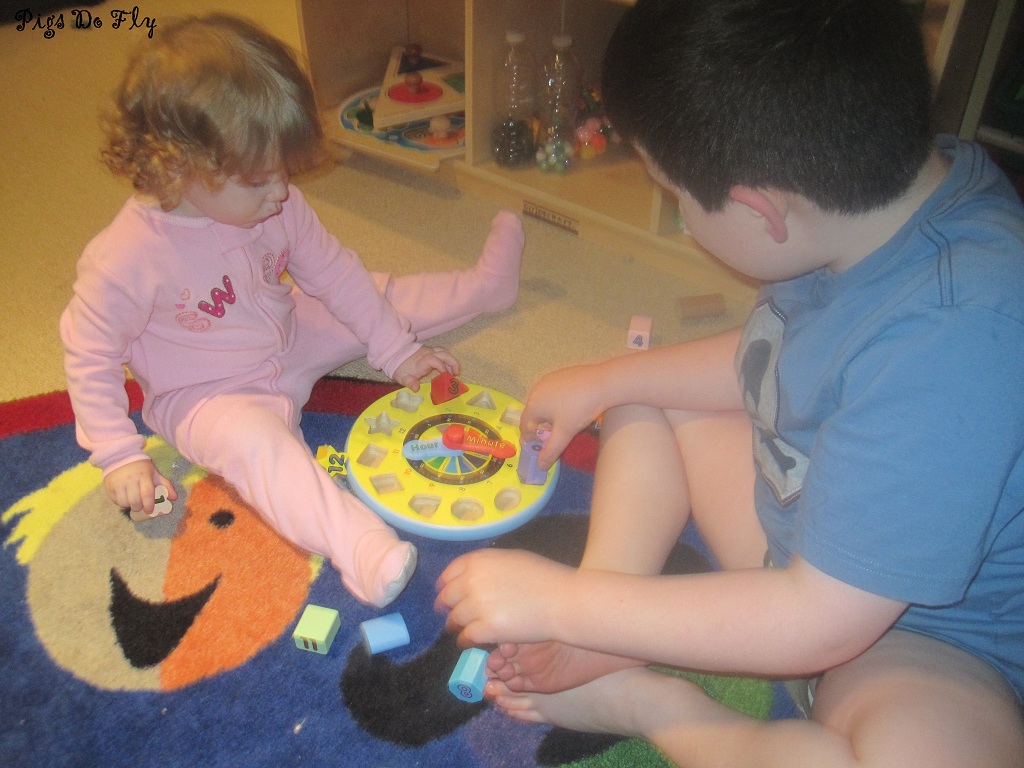 Although this picture shows playing with big brother, we did have 1 on 1 tot school time with it as well.  She was as "successful" fitting the shapes here as she was with the alphabet puzzle.  I let her play as she wanted though, with mommy naming the color and number and sometimes the shape of each block as she handled it.
–
Totbasket: 1-10 Counting Bees and Hive (from last week)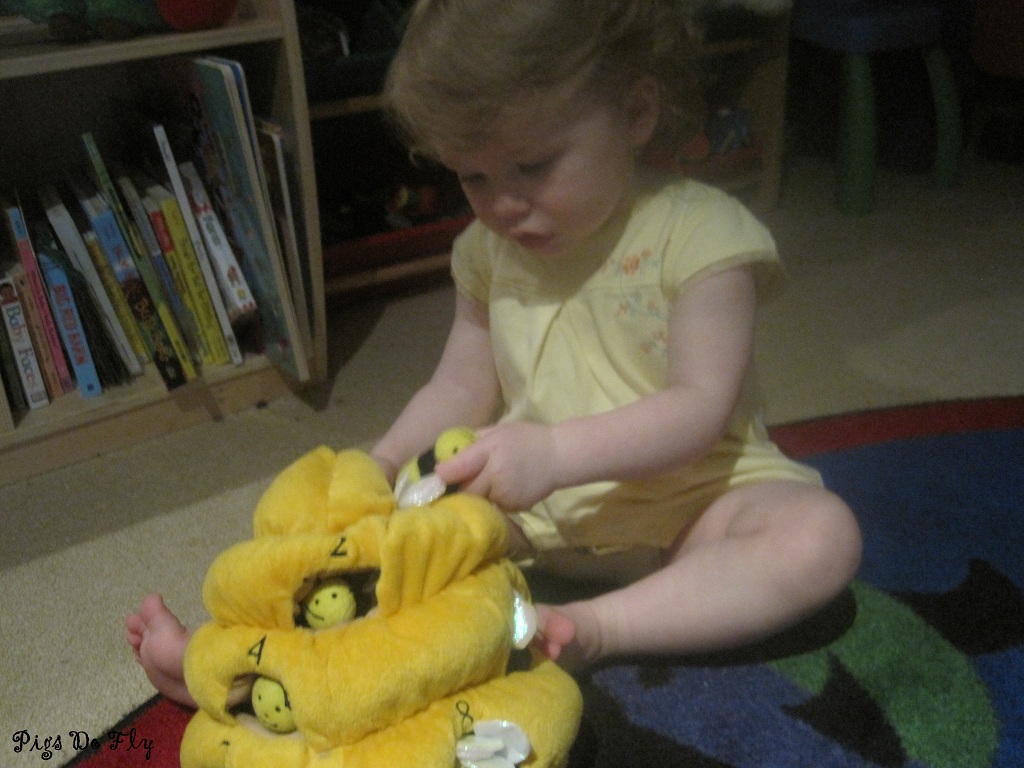 She kept trying to make the bees kiss her toes again, so we did some more of our bumblebee chants from last week, as well as talking about the number on each bee and sorting them into thier holes on the hive.
–
Others: Alphabet Cards from the 1 + 1 + 1 = 1 Members Section.  I printed a quick and dirty copy so we could just play with them a bit and talk about the various items (eventually I'll print them out on cardstock and laminate them), Magnetic Alphabet Letters & Board, Felt Board: basic shapes in small, medium and largest sizes, chunky handle shape puzzle (triangle, circle, square), Melissa & Doug Stack and Sort Board
Nursery Rhymes & Songs: Alphabet Song (and a backwards version that my Kidlet loves to sing), TMBG "Here Come the ABC's" and "Here Come the 123's", Fingers and Toes by Milkshake (counting song and we do it as a "fingerplay")
On topic books we read this week: Musuem ABCs, Museum Shapes, Museum 123, Sesame Street Elmo's Guessing Game About Colors, Big Bird's Guessing Game About Shapes, Annie Ate Apples, Lift & Learn ABC 123, 10 Little Rubber Ducks,
New sign: Instead of introducing a new sign, we worked more on "Book".  I've been using it all along, but she had made what seemed to be a try at the sign, so I wanted to focus on that and see if it would develop fully. 
Find more terrific tot school posts over at 1+ 1 + 1 = 1