It can be overwhelming to parent at times.  I want to be a great mom and give my kids as much as I can.  I buy so many books, research so much on the internet, collect ideas.  Sometimes it seems that I can't even work my way through everything before my kiddo is out of the stage I've been studying!  I know I barely scratched the surface of my infant books and here Baby L is already a toddler! 
I'm going to try and particpate in Tot School.  I spend so much time collecting and implementing the ideas and far less time on documentation, but at the end of the day I'm never confident that I've done everything I could and should have done, so I thought I'd try keeping track for a while to (hopefully) show myself that I am not slacking off on the parenting =)
Baby L is 14 months
Baby L still isn't doing much talking at 14+ months, so I continue to try and talk to her as much as possible, narrating if nothing else.  Truthfully, it gets tiresome, and sometimes I feel a little silly, but she needs to hear it!
Putting stuff into other stuff.  Wooden puzzles with handles.  Blocksters.  Buttons into recycled can.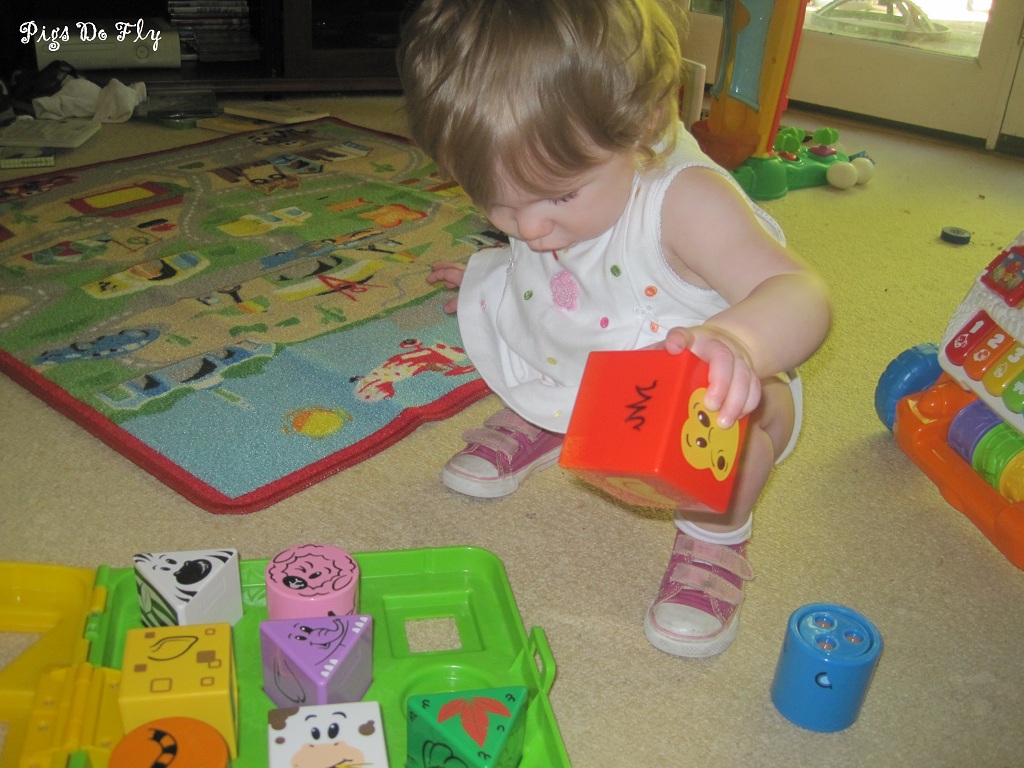 The blocksters are a pretty good toy.  The blocks are brightly colored with various animals printed on them.  A number of them "do" things (rattle, mirrors, roller, etc).  They are easy to grip and baby L likes to stack them (3 high is about as far as she can manage so far).  The carrying box acts as a simple shape sorter, which is what she has been enjoying doing lately.  She just beams with pride when she gets one into a hole where it fits!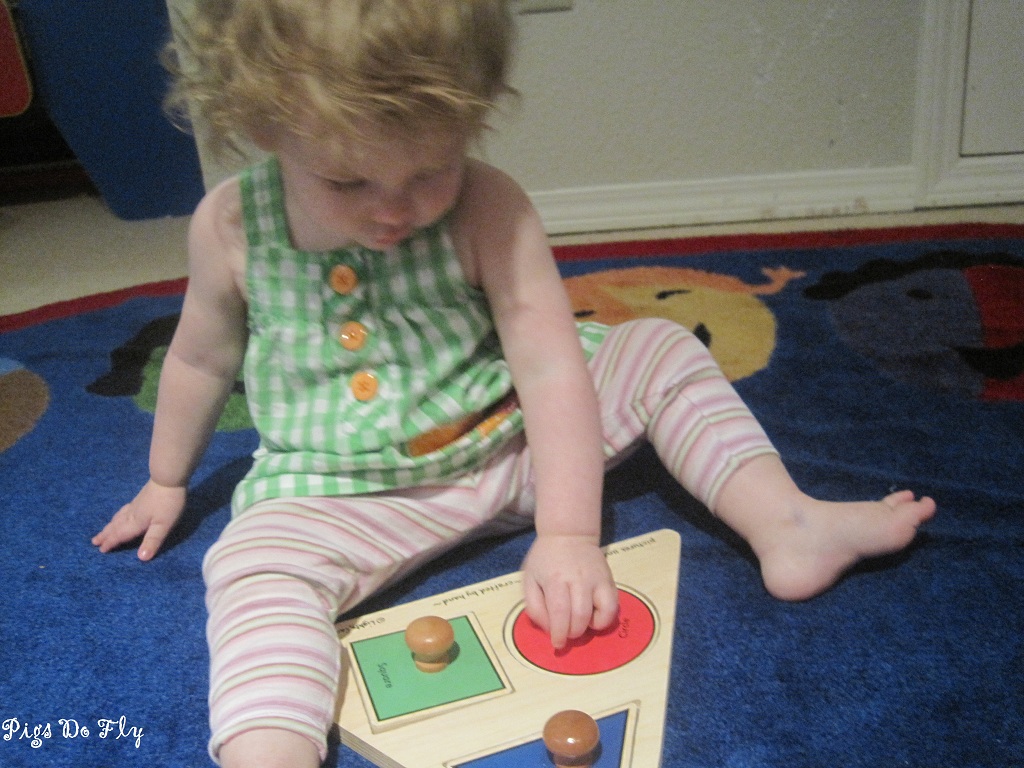 In addition to the shape puzzle, we have the crab/turtle/fish puzzle also with big grip handles by Melissa and Doug as well.  She still struggles getting those into place. 
Vocabulary: in, out, circle, square, triangle, turtle, crab, fish, button, red, green, blue
–
Tissue Box.  Every time we change her diaper, baby L wants to pull out all the wipes, so this week I picked up a few tissue boxes just for her and tot school time.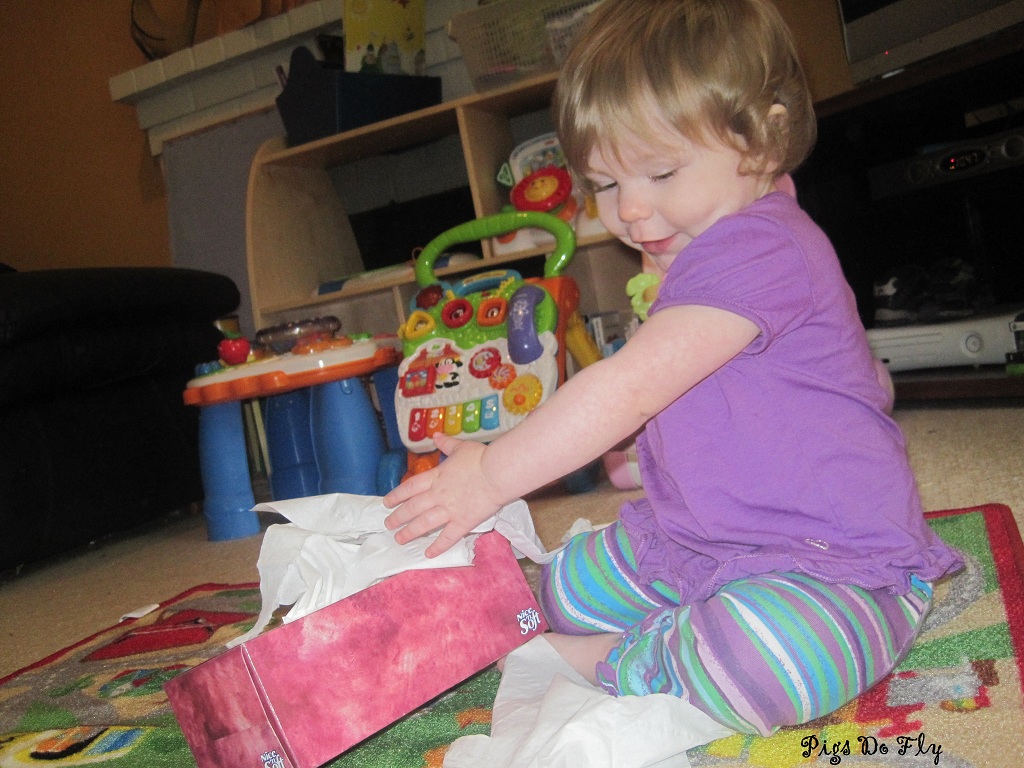 When she emptied one box, we gathered up the sheets and shoved them back in for her to pull out again, but she didn't enjoy pulling them the second time nearly as well since a new tissue didn't pop out conveniently as they do on a fresh box.
Vocabulary:  Pull, push, in, out
–
On Thursday during scheduled Tot School time, she didn't want to focus on our planned activity, and ended up bringing me one of her brothers DVDs (Fantastic Field Trip to the Planets, which is old and still gives Pluto planet cred 😉  I think they have released an updated version; I may have to pick it up because both kids really like the video (even though its pretty cheesy and you just KNOW the child actor that plays the lead is totally embarassed for anyone he knows now to know he made the video! lol), and its actually got a nasty crack in the inner hole and it flakes a little more every time we play it, and I suspect it's life span to be short), which I think she likes because the planets have human faces transparently super imposed on them and they all sing catchy songs.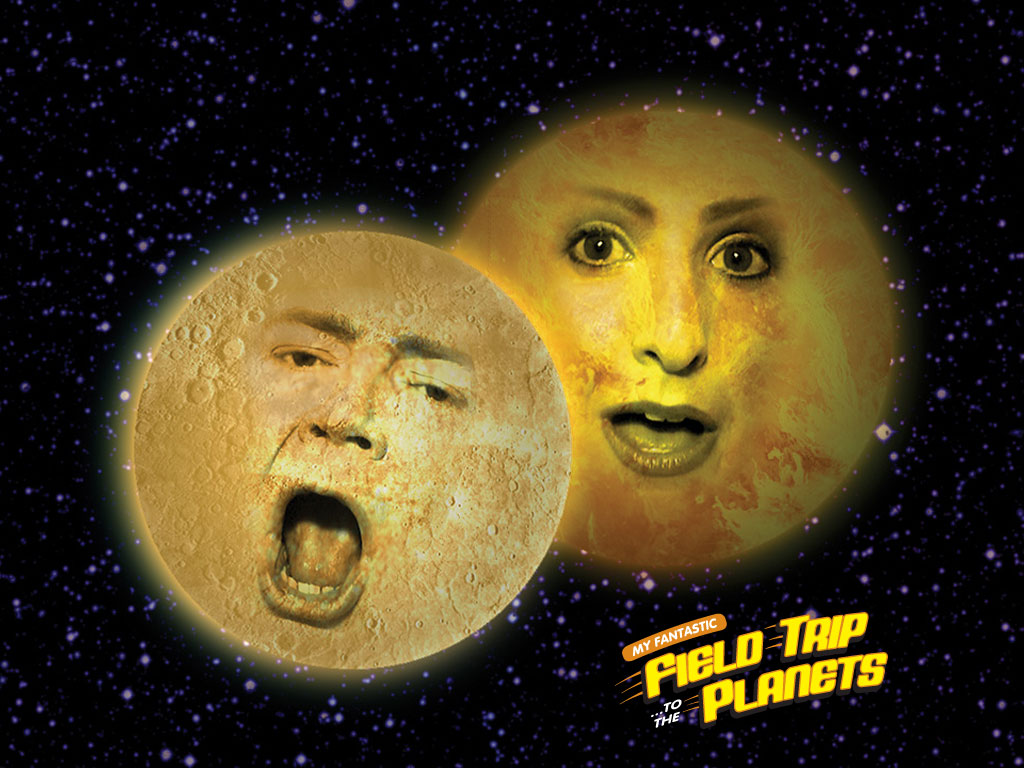 So I just went with it.  I hardly expect my 14 month old to learn the planets, but after all, tot school is really just about exposure, and if I'm sitting there with her and we are singing along and talking about celestial objects, how can that be a bad thing, when its what she wanted to do?!
Vocabulary: planet names, Sun, Space, Sing
–
Rice Box.  We don't have a sand box, and I haven't been able to convince my (relatively) unhandy husband that he could easily build one with plans off the internet, so this box filled with 40 pounds of rice is our sustitute.  This is the first time Baby L had seen it, and although we started out inside on a rug that I could pick up and shake out, she was tossing rice way out beyond the rug borders, so I moved us outside.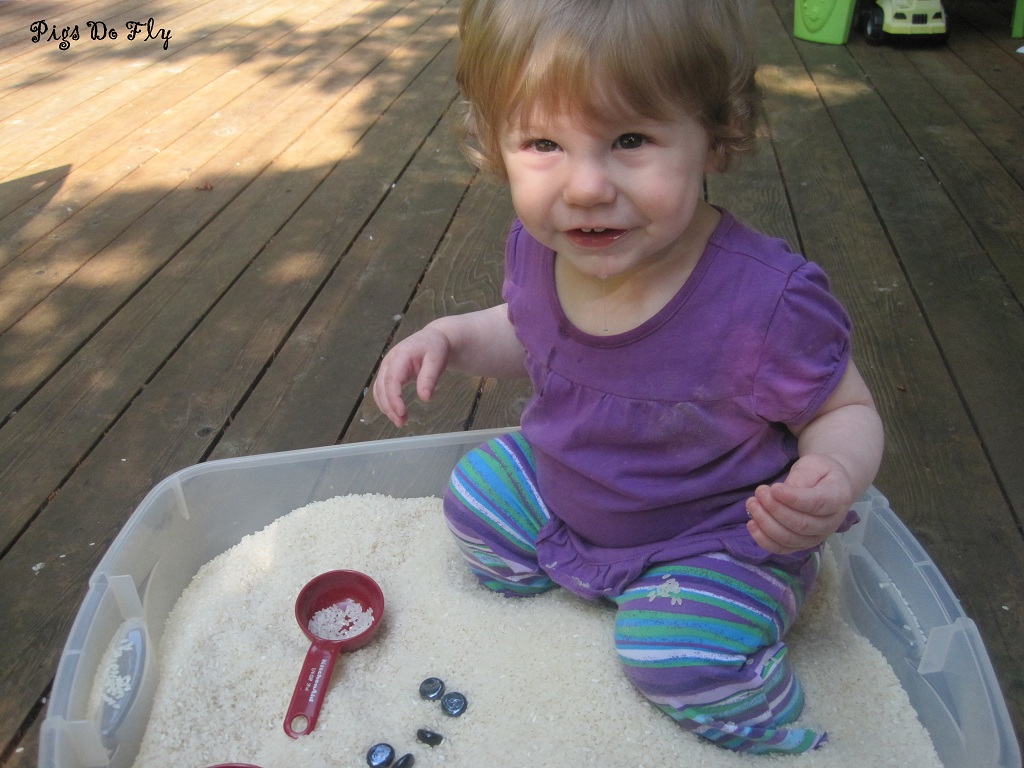 You can see that she climbed right in.  When she tried to get out, her wiggling would just move the rice out from under her so she sank down further.  Finally she just sat down all the way and played in the box for a while =)
We used measuring cups and glass stone gem things (vase filler) for scooping, digging, pouring and burying.
Vocabulary:  Rice, Dig, Pour, Scoop, Bury, Find
–
New sign: Cheese ( I probably have an ASL vocabulary of about 50-60 words, and I use them throughout the day, but I've been choosing one a week to really focus on and she if she will pick it up.  So far she has "more" (but she does it with open palms instead of pressing the fingers and thumbs together), "all done" and "milk".)
Find more terrific tot school posts over at 1+ 1 + 1  = 1
Daily: Read, Walk, Outside/Water Table, Dance (she really likes the "hold still — wiggle, wiggle, wiggle" song from Yo Gabba Gabba),