One of the sites that I like to visit is Little Nummies.  Kellie has a brilliant way of looking at food, taking common kid friendly ingredients that most moms would have on hand and elevating them into something cute for children.  Her culinary creations aren't usually something you can transalte directly to a bento, but I often leave there thinking "I wouldn't have thought to use [food X] in that way", with inspiration for making it my own and making it work in a bento lunch. 
Since I am not making packed lunches right now (although we have day camp next week, so I'm planning on some cute summery or sports themed (its a sports camp) ones!), I've been trying to just make breakfasts and lunches a little bit fun and keep my hand in. Kellie recently posted Oscar the Oyster, and I thought I would make one as well.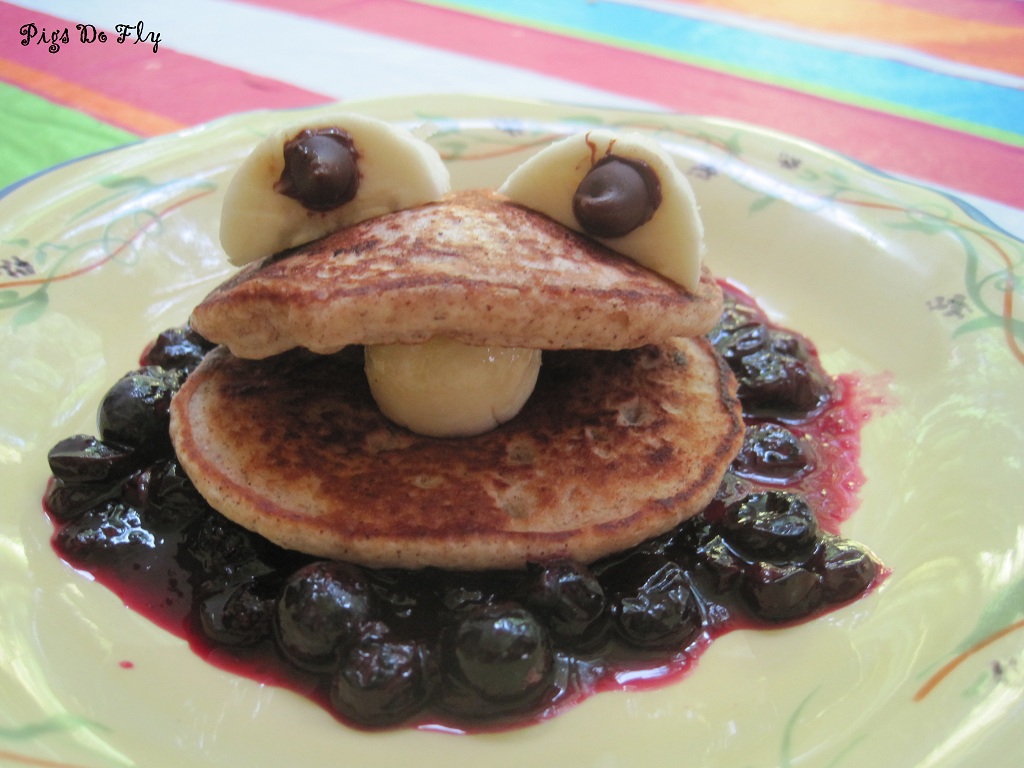 Mine didn't turn out nearly as cute.  Her pancakes stayed nice and flat so the top "shell" didn't sink down on the sides like mine and it looks more mollusk like.  I made an oat bran pancake for the extra healthiness and they were just too thick and soft to maintain a crisp edge when propped up.  My banana eyes are out of proportion with my cake too.  And my chocolate chip eyes wouldn't stick so I melted them a little and they smeared all over.
I added the blueberry "sea", which I made by heating up fresh blueberries in a little bit of water and white grape juice until they popped, then I tossed in some new berries at the end for texture and a little squeeze of lemon for some brightness in flavor.  I thought that I might need to add a little cornstarch to thicken it up, but I left it cooking a little bit too long (caught it just this side of burning, eep!) and that thickened it up enough to make a nice syrup without any added thickeners.
Despite the flaws that I see, Kidlet said "Awwww, that's so cute ma!" and gobbled it right up.  That's what counts in the end!