Here comes summer!  Who is ready?!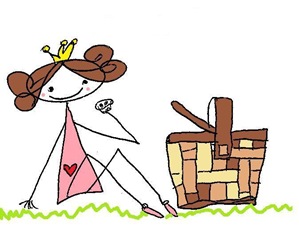 First, choose a container that suits the personality of the person who will be using the kit. It might be a traditional basket, since there are pie baskets made by hand to carry around pie and other foods, a large canvass bag, or even a small backpack. 
Next, use the list below as a guideline for what to keep in your kit. Maybe you won't need all of the items, but these are good essentials to have on hand so you'll always be prepared for spur of the moment picnics.
A blanket or sheet to spread the whole thing out on, should you need or want to sit on the ground

Utensils — forks, knives, spoons, plates

Cloth Napkins

Corkscrew (if serving wine) and can opener, or better yet, multi-tooled Swiss Army knife.

Cutting boards for slicing or assembling foods

Sharp knife

Anti-bacterial gel to clean hands before handling food is also useful

Non-perishable foods — dried fruit, peanut butter, crackers, nuts, etc.

Beverages – bottled water, juice boxes, etc.

Salt and pepper, either small shakers or disposable packets.

Basic condiments – ketchup, mustard, relish – collect extra packets from trips to fast food restaurants or look in the grocery store for small non-glass containers of your favorite condiments and sauces.

Flashlight

If you like to grill, you'll also need a lighter or matches, charcoal, lighter fluid, and grilling utensils

A large trash bag to clean up the mess later.

A small plastic bag containing sunscreen, lip balm, insect repellent, band-aids, wet naps and a bandana.

If you bring your dog along, don't forget a bowl, water, and food for the pooch.
Options:  You might also want to pack some fun extras, depending on the amount of room in your container:
CD Player

Single use camera

Inflatable beach ball

Frisbee

Small bottle of bubble mix

Deck of cards, crossword puzzle book, etc.